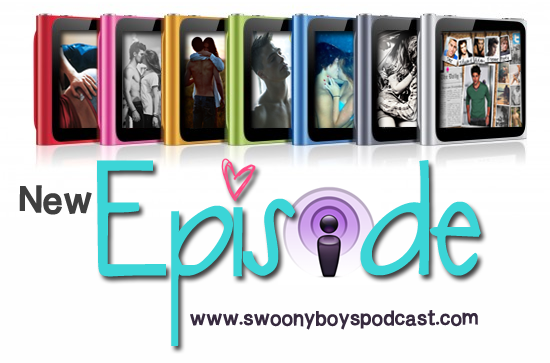 We're back with another episode with our favorite twinnies, Jaime and Erin, from Fiction Fare. This time we're all about Blasts from the Past. This is another fun episode in response to Book Bangin', which is hosted by Kelly at Belle of the Literati. Have a listen and leave us comment to let us know who's your favorite blast from the past!
While you're here, donut forget to subscribe to our podcast in iTunes.
Podcast Notes
Erin starts us off with Dmitri Belikov from the Vampire Academy books by Richelle Mead.
Kassiah talks about Todd Wilkins from the Sweet Valley High Series by Francine Pascal.
Jaime names Edward Cullen from the Twilight Saga by Stephenie Meyer as her blast from the past.
And Meg names her top three faves: Gilbert Blythe from Anne of Green Gables by L M Montgomery, Peter Savinar from Heidi by Johanna Spyri, and Dickon Sowerby from The Secret Garden by Frances Hodgson Burnett.
Next we talk about our hotties of the month:
Jaime: Bishop Lattimer from The Book of Ivy by Amy Engel, Tamlin from A Court of Thorns and Roses by Sarah Maas, and Jesse Oliver from Also Known As and Going Rogue by Robin Benway.
Kassiah: Theodore Finch from All the Bright Places by Jennifer Niven.
Erin: Arin from The Winner's Crime by Marie Rutoski, Tamlin from A Court of Thorns and Roses by Sarah Maas, and Jackson from Collide by Melissa West.
Meg: Darrow (and Pierce Brown! from Golden Son by Pierce Brown.
Then we have a long discussion on how readers' experiences change when they have to wait for the books to come out vs. reading them all at once.
You know we can't get by without our extensive list of Honorable Mentions, named at the end of the show and throughout the podcast:
Almanzo Wilder from the Little House Series by Laura Ingalls Wilder.
Logan Bruno from the Babysitter's Club by Ann M Martin.
Patrick from the Alice Series by Phyllis Reynolds Naylor.
Count Vlad from Bram Stoker's Dracula.
Mr. Darcy from Pride and Prejudice by Jane Austen.
Romeo from Romeo and Juliet by William Shakespeare.
Let us know what you think! Ask Us a Question or Make Suggestions via our Handy Dandy Suggestion Form and tell us who's got you swooning here.
Related Posts