Red Rising
by
Pierce Brown
Series:
Red Rising Trilogy #1
Published by
Del Rey
on January 28, 2014
Genres:
Dystopian
,
Sci-Fi
Pages:
400
Goodreads
Buy the Book
Darrow is a miner and a Red, a member of the lowest caste in the color-coded society of the future. Like his fellow Reds, he digs all day, believing that he and his people are making the surface of the planet livable for future generations. Darrow has never seen the sky.

Yet he spends his life willingly, knowing that his blood and sweat will one day result in a better future for his children.

But Darrow and his kind have been betrayed. Soon he discovers that humanity already reached the surface generations ago. Vast cities and sprawling parks spread across the planet. Darrow and Reds like him are nothing more than slaves to a decadent ruling class.

Inspired by a longing for justice, and driven by the memory of lost love, Darrow joins a resistance group in order to infiltrate the ruling class and destroy society from within. He will stop at nothing to bring down his enemies... even if it means he has to become one of them to do so.
What We Loved:
How do we even start? What can we possibly say to tell you how much we love this book? Nothing can do it justice, but let's start by talking about a few of our favorite things:
World building– While reading Red Rising we found ourselves in the world. We were Reds with Darrow. Then we were Golds. We fought, we lost, we grieved. We were there. The story isn't told with a lot of "telling", instead it's told through emotions and actions. The descriptions are everything. In the live chat, Pierce said that he hopes to be able to do more world building in the rest of the series. If that's the case all we have to say is, look out. We're not sure how we're going to handle more. (And yet, we can't freaking wait.)
Language– We love the language in this book. It's filled with all kinds of goodies. A few of our favorites are: goodman goodsir, gorydamn, and slag. Plus, it gave us our new favorite word – bloodydamn. You know you're going to use it all the time too.
Uniqueness– It's hard to be unique in the YA world. It's even harder to be unique in a Dystopian world. Not only is Red Rising refreshingly new, it's unlike anything we've ever read. Are there elements that ring familiar from things we've read or seen before? Of course. After all, we're all influenced by many of the same things, right? But it is also entirely its own being. This world, these characters, and everything that happens to them are something brand new.
Writing– What is so amazing about Pierce Brown's writing is that he rips your heart open and then slowly pieces you back together right alongside Darrow. It's unlike anything we've read before and we're already calling it that this will be one of our favorite reads of the whole year.
Love– Love in a dystopian is hard to write. There are so many terrible things happening to your characters, and all around them, that fitting in a romance that doesn't feel contrived is no easy task. Not only did that happen here, it happened twice. We won't spoil anything, but we will say that we fell in love with Eo and Darrow. That love was something special and when it ended we thought we wouldn't be able to move on the same way Darrow thought it. But we learned to love again, and so did he. There are many different types of love. You get a lesson in them all in Red Rising.
If you've been around Meg in the past month since she's read RR, you know that she won't shut up about it. To put it simply, she is obsessed. We're thinking an intervention may be in her future, but for now we're letting her have this one. One thing we know for sure is that this is one of the best dystopians we've read recently, maybe ever. You need a copy NOW.

Um...Not So Much:
What didn't we like? That's like asking what's not to love about mixing your popcorn with m&m's. (If you don't already do this all we have to say is, you're welcome.) We don't like to cheat though, so how about we call this the 'things that we didn't love as much as we loved other things' list?
Violence– We don't read many violent things. Up until now The Hunger Games was probably as violent as it had gotten for us, except for that one time Meg read Jurassic Park in middle school and couldn't sleep for weeks. But Red Rising is in a violence class of its own. It's bloody, bordering gory in certain parts. So yes, there is  blood, killing, pain, and even a complete body "overhaul" (That's not a thing, but we're making it a thing anyway.) So why didn't we run away screaming? Because it was just that good!
Waiting– We can't really complain about this, we know how the process works. But still. We don't want to wait. How dare this book be so amazing and then make us wait for more.

The Boys:
Darrow is one of a kind. We love how strong, fierce, brutal, and loving he is.  He's real, he has heart, and he goes through tremendous growth throughout the story. With all of that, one of the things that we loved most about him is how 'boy' he is. Maybe man is a better term. Masculine? Whatever. His thoughts and his actions are portrayed in a way that only a male author could write them. Being inside of his mind is always entertaining. Just look at this:
"You made me give up the hair Father gave me, the eyes Mother left me the Color I was born to, so I will keep the name they granted me, and you can make it work."
Darrow is one of the roughest, toughest, most barbaric characters we've ever had the pleasure of meeting. He's also one of the sweetest, most caring ones too. He loves more fiercely than any hero we've read before and he had us swooning from the beginning. Especially when he said things like this:
"Without me, she would not eat. Without her, I would not live."
Right? Who wouldn't love him.
This section wouldn't be complete without mentioning Sevro. We don't want to give away his storyline, so we won't say much, but you should know that he's one of our favorite characters and we cannot wait to see what happens with him in the next book.
"What do you think I've been doing this whole time, you silky turd? Wanking off in the bushes?"

The Girls:
Eo is our first heroine. She is the heart of Darrow's journey. His love for her, and her sacrifice are what drive him and give him strength to endure everything he goes through. She had so much strength and power in her tiny little body and it still kills us that we didn't get more of her story.
"Act. I want you to use your gifts for your father's dream. You see how people watch you, take their cues from you. I want you to think owning this land, our land, is worth the risk."
If Eo is the heart, Mustang (Virginia) is the backbone. They are complete opposites and yet each of them are fiercely strong and loyal. She keeps both the reader and Darrow guessing, but in the end wins both parties over. She balances him and pushes him to be better. We have so many fears about what will happen next, but we're anxious to see the journey.
"Fancy a roll in the mud, do we? Well, how about I promise to let you up here with me if you give me more clues as to where your castle squats? Towers? Sprawls? I can be a kind master."

Dream Cast:
How do you cast someone like Darrow? Not only is his appearance impossible to find in a regular human being, he also undergoes a HUGE transformation at the beginning of the book making him even harder to find. We're not sure who we see him as, or really, who deserves to be him. Can we just say Pierce Brown is Darrow? At least for now? Your right. We're in charge here. We can do what we want. We're just going to do it.

What We Think Will Happen Next:
We can see this one going so many ways and we don't want to spoil or give anything away because you need to enjoy each and every second for yourself. So instead we'll use this as a chance to beg. Can we please, please, please have book #2 now? Please, Pierce Brown? This is definitely one of our favorite reads of the year and the second one is already one of our most anticipated reads of 2015.

Bottom Line:
In a class all of it's own, Pierce Brown has created something bloody, fierce, dark, and gritty. It's a story of love and loyalty. Red Rising is a one of a kind debut that has already found its way onto the top our favorites list.

Verdict:
Rating Report
Cover
Characters
Plot
Writing
Swoon
Overall:
5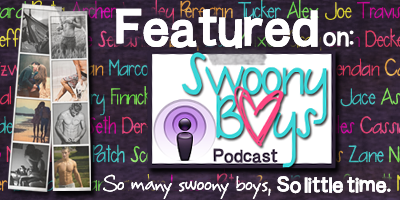 Related Posts