Today, we're featuring the incomparable and very fun Susan Dennard in our latest Author Talk Podcast Episode. We'll be chatting about SightWitch and all kinds of things. Of course, we wouldn't be us without our favorite twinnies, Erin and Jaime, from Fiction Fare. The gang's all here, so grab a drink, sit back, and enjoy. Don't forget to let us know what you think in the comments below.
While you're here, subscribe to our podcast in iTunes, and on Google Play.
Podcast Notes
We start off with a debate on whether or not "y'all" should be used by everyone. Spoiler alert: It should.
Susan Dennard gives us her elevator pitch for the Witchlands series.
We find out where the idea for the series came from and what a typical writing day looks like for Susan.
Susan shares her writing process and what the publication process is like for her.
We chat about what it was like to go back to the beginning with Sightwitch and Susan shares some fun secrets.
Susan tells us her favorite part about writing in the YA Fantasy genre–and the most difficult parts.
We find out if there were any scenes cut in Sightwitch and who she would introduce her characters to if she could introduce them to any other author's characters.
Susan tells us two truths and a lie about herself, and we have to guess which is the lie. We're still losers. 😆
We find out what advice Susan would give to her 17-year-old self.
Susan shares her most-anticipated upcoming (at the time of recording) new releases, a few of her go-to re-reads, and her favorite swoony boys.
We wrap things up with a fun Word Association Game
***Meet Susan Dennard***
Susan Dennard has come a long way from small-town Georgia. With a masters degree in marine biology, she got to travel the world—six out of seven continents, to be exact (she'll get to Asia one of these days!)—before she settled down as a full-time novelist and writing instructor.
She is the author of the New York Times bestselling Truthwitch and Windwitch as well as the Something Strange & Deadly series. When not writing, she can be found slaying darkspawn on her Xbox or earning bruises at the dojo.
Find Susan Here:
Website | Twitter | Facebook| Goodreads
***About Sightwitch***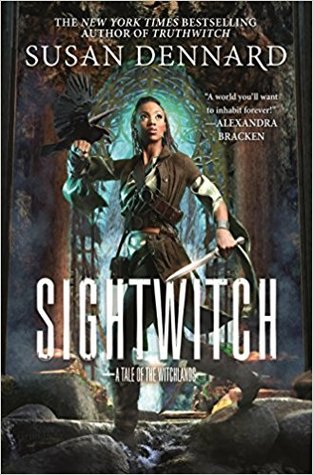 Sightwitch
by
Susan Dennard
Series:
The Witchlands #0.5
Published by
Tor Teen
on February 13th 2018
Genres:
Fantasy
,
Sci-Fi
Pages:
208
Goodreads
Buy the Book
From New York Times bestselling author Susan Dennard, Sightwitch is an illustrated novella set in the Witchlands and told through Ryber's journal entries and sketches.

Before Safi and Iseult battled a Bloodwitch...

Before Merik returned from the dead…

Ryber Fortiza was a Sightwitch Sister at a secluded convent, waiting to be called by her goddess into the depths of the mountain. There she would receive the gift of foretelling. But when that call never comes, Ryber finds herself the only Sister without the Sight.

Years pass and Ryber's misfit pain becomes a dull ache, until one day, Sisters who already possess the Sight are summoned into the mountain, never to return. Soon enough, Ryber is the only Sister left. Now, it is up to her to save her Sisters, though she does not have the Sight—and though she does not know what might await her inside the mountain.

On her journey underground, she encounters a young captain named Kullen Ikray, who has no memory of who he is or how he got there. Together, the two journey ever deeper in search of answers, their road filled with horrors, and what they find at the end of that road will alter the fate of the Witchlands forever.

Set a year before Truthwitch, Sightwitch is a companion novella that also serves as a set up to Bloodwitch, as well as an expansion of the Witchlands world.
Related Posts