So many books come out each week making it hard to decide what to read. We want to make that a little bit easier on you by sharing our favorite release from the week and telling you our top 3 reasons why we think you'll love it too!
This week our selection is Illuminae by Amie Kaufman and Jay Kristoff. Are you ready to hear more about this ridiculously AMAZING book and its authors? Here we go…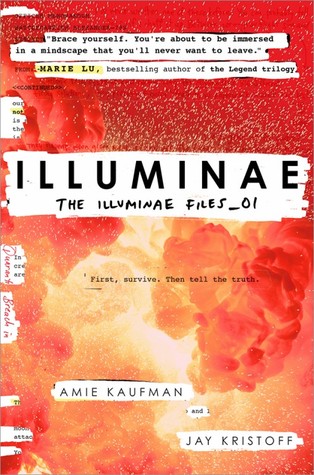 Illuminae by Amie Kaufman, Jay Kristoff
Also by this author: The Other Side of the Sky, Slasher Girls and Monster Boys
Series: The Illuminae Files #1
Published by Knopf Books for Young Readers on October 20, 2015
Genres: Sci-Fi
Pages: 608
Goodreads Buy the Book

This morning, Kady thought breaking up with Ezra was the hardest thing she'd have to do.

This afternoon, her planet was invaded.

The year is 2575, and two rival megacorporations are at war over a planet that's little more than an ice-covered speck at the edge of the universe. Too bad nobody thought to warn the people living on it. With enemy fire raining down on them, Kady and Ezra—who are barely even talking to each other—are forced to fight their way onto an evacuating fleet, with an enemy warship in hot pursuit.

But their problems are just getting started. A deadly plague has broken out and is mutating, with terrifying results; the fleet's AI, which should be protecting them, may actually be their enemy; and nobody in charge will say what's really going on. As Kady hacks into a tangled web of data to find the truth, it's clear only one person can help her bring it all to light: the ex-boyfriend she swore she'd never speak to again.

Told through a fascinating dossier of hacked documents—including emails, schematics, military files, IMs, medical reports, interviews, and more—Illuminae is the first book in a heart-stopping, high-octane trilogy about lives interrupted, the price of truth, and the courage of everyday heroes.
3 Reasons You Should Read
Illuminae
by Amie Kaufman and Jay Kristoff
The first thing about Illuminae that will grab your attention is its appearance. We know, we know. You aren't supposed to judge a book by its cover. But when it looks this cool how can you not? Trust us when we say the inside is just as kick-ass as the outside. This story is told through a series of diary entries, emails, transcripts of interviews, beautiful images, and more. You will find yourself enthralled and unable to put it down.
Looking at the size of this book is a little intimidating. You see those 600 pages and get a little scared. But we are here to ease those fears. Inside those pages you will find lots of action, lots of laughter, plenty of sarcasm, heartbreak, and yes, swoon. Oh, the swoon. This book will have you feeling a full range of emotion and you will love every second of it.
You already know with Amie Kaufman and Jay Kristoff at the helm you are in for an awesome adventure. You are going to obsess over not just the story, but for the characters too. Ezra and Kady don't disappoint in that area. You are definitely going to fall for them. Big time.
***About Amie Kaufman***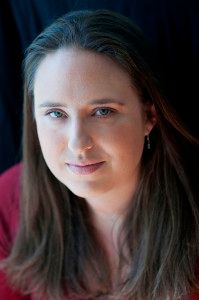 Amie Kaufman is the New York Times bestselling co-author of These Broken Stars and This Shattered World, and Illuminae, the first in a new series starting in 2015. She writes science fiction and fantasy for teens, and her favourite procrastination techniques involve chocolate, baking, sailing, excellent books and TV, plotting and executing overseas travel, and napping.
She lives in Melbourne, Australia with her husband, their rescue dog, and her considerable library. She is represented by Tracey Adams of Adams Literary.
Find Amie Here:
Website | Twitter | Facebook| Goodreads
***About Jay Kristoff***
Jay Kristoff is the award-winning author of THE LOTUS WAR trilogy, a Japanese-inspired steampunk fantasy. Part 3, ENDSINGER, is out now. He's also co-author of the upcoming ILLUMINAE (with Amie Kaufman), a YA Sci-Fi… thing, to be released by Knopf/Random House in 2015, and NEVERNIGHT, the first part of a new fantasy trilogy kicking off in 2016.
Jay is 6'7 and has approximately 13380 days to live. He abides in Melbourne with his secret agent kung-fu assassin wife, and the world's laziest Jack Russell.
He does not believe in happy endings.
Find Jay Here:
Website | Twitter | Facebook| Goodreads
Related Posts