It's time to get started on September's Virtual Book Club title! Are you ready to hear what we're reading this month? We counted your votes and the winner was. . .  The Bones Season by Samantha Shannon! We are so excited to share the awesomeness of this book and of course, swoon over Warden with all of you! Join us on the Facebook and the Goodreads groups all month long for fun discussions. Then  September 25th from 9-10 CST we will be on twitter (@SwoonyBoys) with our besties from Fic Fare talking about the book and giving away fun prizes! Don't miss out on any of it! And don't forget to use the #TBSVBC hastag when you talk about the awesomeness of this month's read on twitter!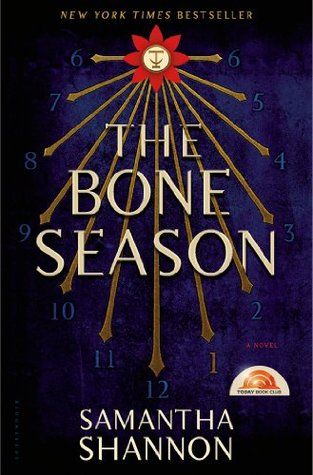 The Bone Season by Samantha Shannon
It is the year 2059. Several major world cities are under the control of a security force called Scion. Paige Mahoney works in the criminal underworld of Scion London, part of a secret cell known as the Seven Seals. The work she does is unusual: scouting for information by breaking into others' minds. Paige is a dreamwalker, a rare kind of clairvoyant, and in this world, the voyants commit treason simply by breathing.
But when Paige is captured and arrested, she encounters a power more sinister even than Scion. The voyant prison is a separate city—Oxford, erased from the map two centuries ago and now controlled by a powerful, otherworldly race. These creatures, the Rephaim, value the voyants highly—as soldiers in their army.
Paige is assigned to a Rephaite keeper, Warden, who will be in charge of her care and training. He is her master. Her natural enemy. But if she wants to regain her freedom, Paige will have to learn something of his mind and his own mysterious motives.
The Bone Season introduces a compelling heroine—a young woman learning to harness her powers in a world where everything has been taken from her. It also introduces an extraordinary young writer, with huge ambition and a teeming imagination. Samantha Shannon has created a bold new reality in this riveting debut.

What Is Virtual Book Club?
Virtual Book Club is a group run by us (Swoony Boys Podcast) and Fiction Fare. For the past year we've been running monthly read-a-longs that we've had a blast promoting. We got lots of feedback from people saying they just couldn't commit to two nights, or couldn't keep up with the reading pace. We brainstormed for solutions and Virtual Book Club was born.
Each month we will be selecting a Virtual Book Club book. You will have at least a month to read the book, or re-read if it's something you've read before. Towards the ends of the month we will be one night where we can all get together on twitter and talk all about the book. We'll share quotes, favorite scenes, and even have some giveaways!
How Will Books Be Selected?
We have a list of books that we're dying to share with all of you! Sometimes we'll pick one of our own, but we'll also be checking in with all of you. You can CLICK HERE to fill out our book recommendation form! (There just might be a prize if your books gets selected!)
How Do You Participate?
Join our Facebook & Goodreads groups
Read (or re-read) the book
Participate in discussion questions throughout the month
Show up to the book club meeting on the last Thursday of the month
Most importantly, HAVE FUN!!
Where Can You Find Us?
CLICK HERE TO JOIN OUR FACEBOOK GROUP
CLICK HERE TO FOLLOW US ON TWITTER

CLICK HERE TO JOIN OUR GOODREADS GROUP
Snag A Graphic
(Grab one and let the world know you're participating!)
Related Posts