It's time for Waiting on Wednesday, where we give you the 411 on the books that we can't wait to read. This week, we're featuring a fun summer read: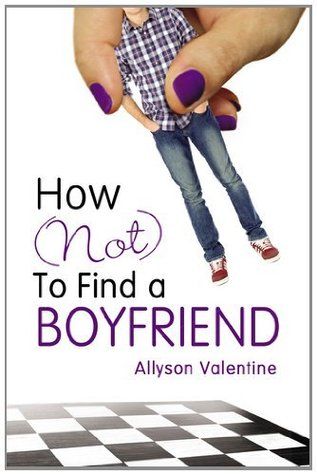 How (Not) to Find a Boyfriend by Allyson Valentine Schrier
Anticipated Arrival Date: June 13, 2013
A funny and smart romantic comedy about getting the guy. . . and finding yourself.
Sophomore Nora Fulbright is the most talented and popular new cheerleader on the Riverbend High cheer squad. Never mind that she used to be queen of the nerds—a chess prodigy who answered every question first, aced every test and repelled friends at every turn—because this year, Nora is determined to fully transition from social pupa to full blown butterfly, even if it means dumbing down her entire schedule. But when funny, sweet and very cute Adam moves to town and steals Nora's heart with his untra-smarts and illegally cute dimple, Nora has a problem. How can she prove to him that she's not a complete airhead? Nora devises a seemingly simple plan to barter her way into Adam's classes that involves her classmates, friends—and her older brother Phil's award-winning AP history paper. But soon, Nora can barely keep track of her trades, and struggles to stay in control of her image.
In the end, the only thing that can save Nora is a chess tournament—that she has to compete in wearing her cheerleading uniform. Can she prove to everyone that she can be both a butterfly and a nerd?
Allyson Valentine has created a story so full of enamoring characters, pitch-perfect humor, and delightfully frustrating romance that it will leave you cheering. Great for fans of Stephanie Perkins's Anna and the French Kiss, Susanne Colosanti and Sarah Dessen
Fans of Anna and the French Kiss? To prove that we are uber-fans, just check out our favorite boys right up there in the header. This book looks super cute and we can't wait to check it out! Have you read it yet? Lettuce know what you think!
Pre-Order How (Not) to Find a Boyfriend Here

♥

Add How (Not) to Find a Boyfriend to Your TBR.
So, like totally tell us what's got you bouncing in anticipation this week. What are you waiting on?
Related Posts