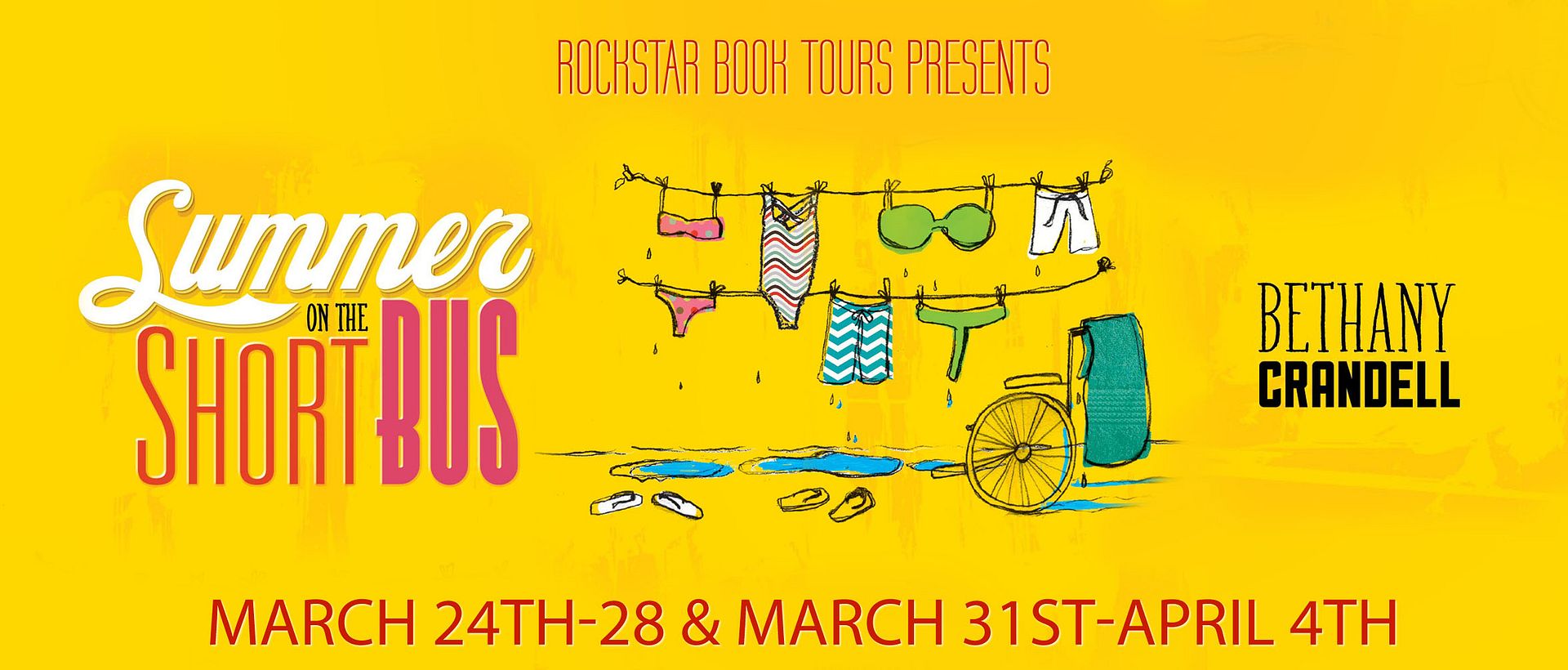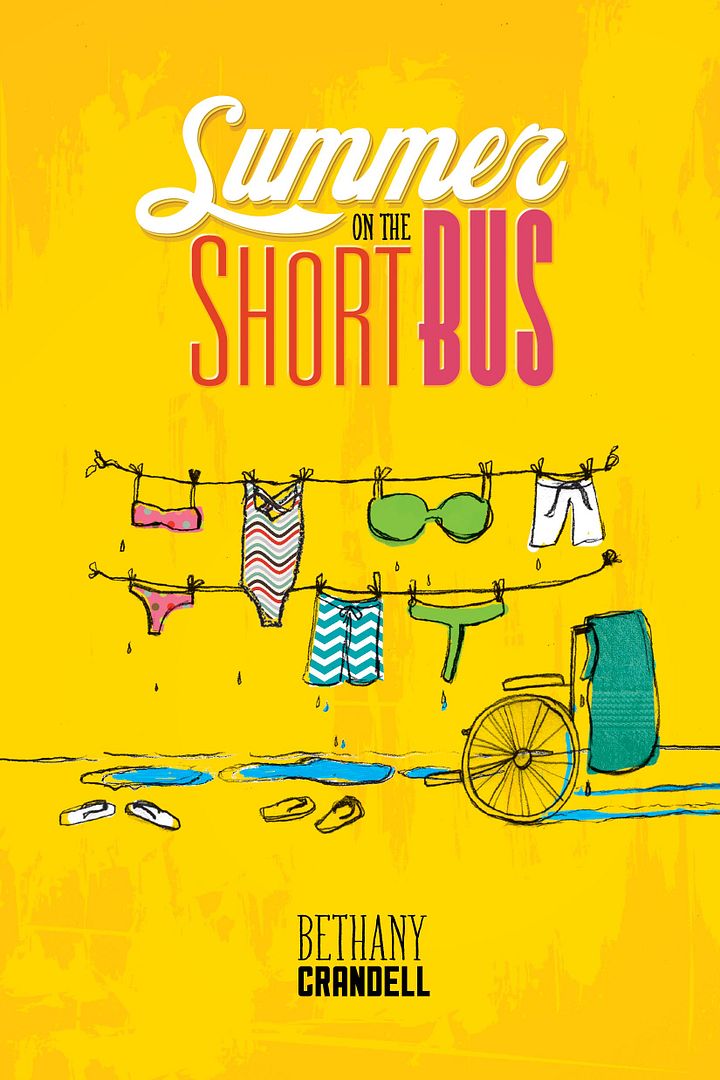 Summer on the Short Bus by Bethany Crandell
Published by Running Press Kids on April 1, 2014
Pages: 256
Cricket Montgomery has been thrown under the short bus. Shipped off to a summer camp by her father, Cricket is forced to play babysitter to a bunch of whiny kids—or so she thinks. When she realizes this camp is actually for teens with special needs, Cricket doubts she has what it takes to endure twenty-four hours, let alone two weeks.
Thanks to her dangerously cute co-counselor, Quinn, there may be a slim chance for survival. However, between the campers' unpredictability and disregard for personal space, Cricket's limits get pushed. She will have to decide if suffering through her own handicapped hell is worth a summer romance—and losing her sanity.
We are thrilled to be on the tour for Summer on the Short Bus by Bethany Crandell hosted by Rockstar Book Tours. We've got a great author interview and giveaway for you all to enjoy!
Here we go…

***INTERVIEW***
Thanks so much for dropping by Swoony Boys Podcast today to let our readers get to know you, Bethany. We're so excited to have you!
Thanks–glad to be here!
Tell us a little about Summer on the Short Bus. Was it a fun book to write? What is your favorite scene?
Painfully fun. I started wearing waterproof mascara while writing this book. (Despite what Lindsay Lohan says, mascara stained cheeks are not sexy)T

The last scene of the book is my favorite. My editor really pushed me to make it an active experience and I think it worked. I'd love to gush about it, but don't want to give anything away. I guess you'll just have to read it and decide for yourself if it works. *subtly points toward the Amazon link that mysteriously appeared in this post*
What is your favorite part of the writing process?
*whispers so her editor can't hear her*

I love editing. It's like someone hands you a fat chocolate cake and then says you get to decorate it. However you want. All the fun, fancy details come through in editing.
If you only had six seconds with a stranger in an elevator, how would you pitch this book?
Depends on who the stranger is. If it's Ryan Gosling, we won't be wasting any time talking about a book. *coughs* Otherwise, I'd say, "It's an irreverent, funny, potentially offensive coming of age story, and if you don't take life too seriously–you'll love it."
What kind of research did you have to do to make the story seem believable?
Nothing beyond the usual Google searches. Had I explored kids' diagnoses, I would have answered this question differently. But my goal was to keep the story light, and focused on Cricket's journey, so there really wasn't any significant research involved.
How would you introduce Cricket to readers at a party?
Geesh. Good question.

Okay, I've never been one for making excuses for myself or anyone else, so I think I'd just say, "Hey guys, this is Cricket, I know her from summer camp," and then let her seal her own fate.
What's the best piece of advice you've ever received from another author?
It doesn't matter if it sucks–just keep writing.
How would you describe yourself in three words?
Tired. Hungry. Avocadophile
Which character makes you swoon the most (yours or someone else's)?
Jonas Tate. He's one of my creations and he is yummy! I can't say too much about him without setting off the spoiler alarms, but I can say that he's sensitive without being soft, drives a P.O.S. Wrangler and swims–a lot. (Michael Phelps is a good reference here)
Do you have any future projects you can tell us about?
I'm currently working on a book called, STALKING WHITNEY HOUSTON. It's another contemporary YA about a girl trying to figure out who she is apart from who her mother wants her to be.
Is there ever anything that you always wish someone would ask you in an interview, but they never do? (We want the answer too!)
Yes. Actually, there are two questions.
Question #1: If your life were made into a movie, who would you want to play you?
Answer: Annasophia Robb for the younger years, and Kyra Sedgwick for the after 30s.

Question #2: How do you stay so thin?
Answer: I've never been able to come up with an answer for this one–I 'm laughing too hard. Still, it would be amazing to be asked.
♥♥♥
***Meet Bethany Crandell***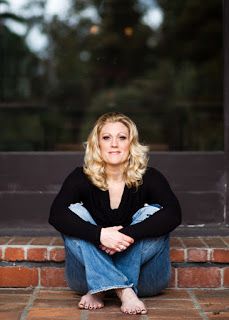 I wish I had some mysterious secret to reveal about myself in hopes that you'd find me interesting…but I don't. When it comes to me, what you see is what you get. And what you get is an irreverent, sarcastic and emotional girl who writes stories about characters with these same traits.
I live in San Diego with my husband, two kiddos, and a chocolate lab who has no regard for personal space. I'm slightly obsessed with John Hughes and the wonderful collection of films he left behind, and I'm confident that Jake Ryan will be showing up on my doorstep any day now…
I firmly believe that prayer solves problems, and that laughter is the best medicine. Along with avocados. Avocados make the world a better place.
I'm represented by Rachael Dugas of Talcott Notch Literary Agency.
Find Bethany Here:
Website | Facebook | Twitter | Goodreads
***GIVEAWAY***
Enter to win TWO giveaways.
2 Summer Camp Survival Packs and Signed copies of the book! US Only.
3 sets of signed swag! US ONLY
a Rafflecopter giveaway
 Be sure to check out the other stops on the tour:
Related Posts