It's DAY TWO of our Thanksgiving Author Hop! Each day we are featuring one of our favorite authors and their books so you can get to know them a little bit better. Today is all about Sara B. Larson. You guys have to already know how much we love Sara and the Defy Series, right? Not only is it swoony (hellllooooo Damian) it's also incredibly well written and kept us on our toes from book one to book three.
Today she's sharing one of her favorite Thanksgiving Recipes with you! We are also sharing a little about her upcoming book, Dark Breaks the Dawn at the bottom of the post. WE CANNOT WAIT FOR THIS BOOK! Don't forget to enter our giveaway. A copy of DEFY will definitely be included! Are you ready to get to know her & her book a little better? Let's get started…

Apple Cider Thyme Gravy
by Sara B. Larson
Hi Swoony Boys readers! I'm excited to be a part of this blog hop, because Thanksgiving is one of my favorite holidays – in large part because of the delicious food that we usually only get to eat once a year! In my family, we have some really amazing recipes, and we tend to lean towards the gourmet side of cooking. One of my favorites is our Apple Cider Thyme Gravy. The gravy is SO important, even though it might seem like a minor dish. But like some of the more minor parts of plotting and writing a book, those details are what can take a story from good to AMAZING, and so it is with the gravy, in my opinion. It takes a bit of work and time, but it's SO worth it.
8 Tbs butter
2/3 cup flour
3 cups apple cider
1 cup dry white wine
1 apple peeled, cored and diced
1 1/2 cups homemade or low-salt canned chicken stock (more if needed)
2 tsp salt
1 tsp fresh ground black pepper
1 Tbs chopped fresh thyme
Whisk butter and flour over very low heat until a pale brown color. (This can be made as far as a week ahead and refrigerated.) Bring to room temp before using. (It is used to thicken your gravy.) While turkey is cooking, in a large pot, combine the apple cider, the wine, apple and 1 1/2 cups of chicken stock. Boil over high heat until the liquid is reduced by half (about 2 1/2 cups) – approximately 30 minutes. Remove from heat and set aside. Skim the fat off the reserved pan juices from the turkey, and add the juices to the reduced cider stock. Bring the liquid to a simmer and slowly whisk in about 1/3 of the roux until it's absorbed and the gravy thickens. And more roux if you like a thicker gravy or more stock or apple cider if you want it thinner. Strain the gravy (the apple will have disintegrated). Season with 2 tsp salt and 1 tsp of pepper, add the thyme, and keep the gravy warm. Voila! Enjoy!
Trust me, in writing and in cooking – it's worth the extra work!
***Meet Sara B. Larson***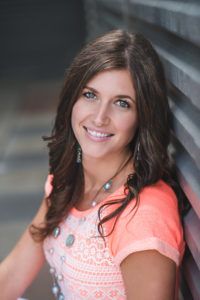 SARA B. LARSON is the author of the acclaimed young adult fantasy Defy trilogy: Defy, Ignite, and Endure. She can't remember a time when she didn't write books—although she now uses a computer instead of a Little Mermaid notebook. Sara lives in Utah with her husband and their children. She writes in brief snippets throughout the day (while mourning the loss of nap time) and the quiet hours when most people are sleeping. Her husband claims she should have a degree in "the art of multitasking." When she's not mothering or writing, you can often find her at the gym repenting of her sugar addiction.
Find Sara Here:
Website | Twitter | Instagram | Goodreads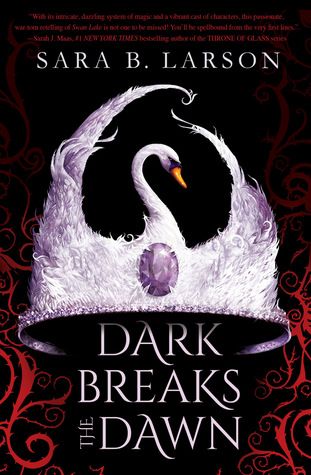 Dark Breaks the Dawn by Sara B Larson
Also by this author: Defy, Warriors of Wing and Flame
Published by Scholastic, Scholastic Press on May 30th, 2017
Genres: Fantasy
Pages: 320
Goodreads Buy the Book

On her eighteenth birthday, Princess Evelayn of Eadrolan, the Light Kingdom, can finally access the full range of her magical powers. The light looks brighter, the air is sharper, and the energy she can draw when fighting feels almost limitless.

But while her mother, the queen, remains busy at the war front, in the Dark Kingdom of Dorjhalon, the corrupt king is plotting. King Bain wants control of both kingdoms, and his plan will fling Evelayn onto the throne much sooner than she expected.

In order to defeat Bain and his sons, Evelayn will quickly have to come into her ability to shapeshift, and rely on the alluring Lord Tanvir. But not everyone is what they seem, and the balance between the Light and Dark comes at a steep price.
***GIVEAWAY***
Win Our Thanksgiving Author Hop Prize Pack
a Rafflecopter giveaway
Good luck and happy swooning!


Make sure you come back tomorrow for DAY FIVE!
Check Out Day 1: SJ Kincaid Here
Check Out Day 2: Mari Mancusi Here
Check Out Day 3: Katie Cotugno Here
Head over to Fiction Fare to check out their featured author
& enter to win their stack of books!
Save
Save
Related Posts