Welcome to Swoony Boys Podcast! This is our stop on The Cemetery Boys Tour. We are so excited to be a part of this one and are looking forward to sharing our thoughts on the book and its amazing author, Heather Brewer. While you're here, don't forget to enter the giveaway at the bottom of the post! You don't want to miss it! Here we go:
*****
The Cemetery Boys
by
Heather Brewer
Published by
HarperCollins
on March 30th, 2015
Genres:
Thriller
Pages:
288
Goodreads
Buy the Book
When Stephen is forced to move back to the nowhere town where his father grew up, he's already sure he's not going to like it. Spencer, Michigan, is like a town straight out of a Hitchcock movie, with old-fashioned people who see things only in black-and-white. But things start looking up when Stephen meets the mysterious twins Cara and Devon. They're total punks–hardly the kind of people Stephen's dad wants him hanging out with–but they're a breath of fresh air in this backward town. The only problem is, Cara and Devon don't always get along, and as Stephen forms a friendship with the charismatic Devon and something more with the troubled Cara, he starts to feel like he's getting caught in the middle of a conflict he doesn't fully understand. And as Devon's group of friends, who hang out in a cemetery they call The Playground, get up to increasingly reckless activities to pass the summer days, Stephen worries he may be in over his head.

Stephen's fears prove well-founded when he learns of Spencer's dark past. It seems the poor factory town has a history of "bad times," and many of the town's oldest residents attribute the bad times to creatures right out of an urban legend. The legend goes that the only way the town will prosper again is if someone makes a sacrifice to these nightmarish creatures. And while Stephen isn't one to believe in old stories, it seems Devon and his gang might put a lot of faith in them. Maybe even enough to kill for them.

Now, Stephen has to decide what he believes, where his allegiances lie, and who will really be his friend in the end.
***REVIEW***
What We Loved:
If there is one thing that we can say Heather Brew does like nobody else, it's the creep factor. There were so many things that we loved about The Cemetery Boys, but here are a few of our favorites:
Male POV– Well written male pov's are hard to find in YA. We are starting to see more of them and that is something that makes us endlessly happy. We loved being inside of Stephen's head. His thoughts, reactions and voice felt very real which made the story even more enjoyable.
Setting– The synopsis had it right when it says that the world will feel like a Alfred Hitchcock movie. Everything about this town had us sitting on the edge of our seats and 'the Playground' had us creeped out from beginning to end. We loved it!

Characters– We already told you that we loved Stephen, but there's also  whole cast of characters that we go to know too. Our top three were Harold  (Stephen's dad), Cara (Stephen's girlfriend), and Devon (leader of "the Cemetery Boys.") Even though there are unbelievably crazy things happening to these characters, they still come out feeling authentic and real.
Writing Style– We loved how many twists and turns there were. We kept trying to guess where the story was going next and it was impossible to really guess.  We may be Thriller newbies, but this one really made us want to explore the genre more.

Um...Not So Much:
So you now you know what we loved, but here's what we wish had been just a little different:
Length– We were left wishing there was way more of this one. We wanted more resolution between some of the characters and just… more. Or maybe we're just greedy.
Romance– You know we have to mention it. It's not the focus of the story here, and even though it pains us to admit it, we're okay with that. We loved Stephen and Cara as characters, but we didn't always buy their relationship. There was a scene or two that made our swoon radars buzz, but we are insatiable.

Bottom Line:
Eery, ominous, and suspenseful, The Cemetery Boys is the perfect mix of mystery and horror. If you want a book that will leaving you guessing until the end get your hands on a copy of Heather Brewer's book immediately!

Verdict:
Rating Report
Cover
Characters
Plot
Writing
Swoon
Overall:
***About Heather Brewer***
Heather Brewer grew up on a diet of Twilight Zone and books by Stephen King. She chased them down with every drop of horror she could find—in books, movie theaters, on television. The most delicious parts of her banquet, however, she found lurking in the shadowed corners of her dark imagination. When she's not writing books, she's skittering down your wall and lurking underneath your bed. Heather doesn't believe in happy endings . . . unless they involve blood. She lives in Missouri with her husband and two children.
Find Heather Here:
Website | Facebook | Twitter | Goodreads
***GIVEAWAY***
Must be 13+ To Enter | Ships only in US.
1 Winner will get a copy of THE CEMETERY BOYS.
a Rafflecopter giveaway
Good luck and make sure you check out the other stops on
The Cemetery Boys Blog Tour
!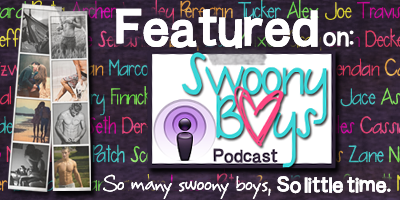 Related Posts