You know we love Natalie D. Richards here at Swoony Boys Podcast, and we were so excited when we found out she had a new book coming out this week. Horror books are totally not our thing–we're scaredy cats! But we wanted to flail with you about this title. So we thought we'd chat a bit with Natalie, and she let us know what her favorite scene to write was from One Was Lost. But first, here's the 411 on One Was Lost by Natalie D. Richards:
***About the Book***
One Was Lost
by
Natalie D. Richards
Published by
Sourcebooks Fire
on October 4th, 2016
Genres:
Contemporary
,
Horror
,
Mystery
,
Thriller
Pages:
320
Goodreads
Buy the Book
Damaged. Deceptive. Dangerous. Darling. Are they labels or a warning? The answer could cost Sera everything.

Murder, justice, and revenge were so not a part of the plan when Sera set out on her senior camping trip. After all, hiking through the woods is supposed to be safe and uneventful.

Then one morning the group wakes up groggy, confused, and with words scrawled on their wrists: Damaged. Deceptive. Dangerous. Darling. Their supplies? Destroyed. Half their group? Gone. Their chaperone? Unconscious. Worst of all, they find four dolls acting out a murder—dolls dressed just like them.

Suddenly it's clear; they're being hunted. And with the only positive word on her wrist, Sera falls under suspicion…
***The ONE WAS LOST Scene Natalie D. Richards Best Love Writing***
I scoot sideways to see what they're looking at, but there isn't anything. Just trees and branches and—is that something over the river? Something hanging in one of the trees?

It is. Something's dangling there. Hard to see in the sunlight.

"Don't, Sera," Jude warns me. "Don't look."

But I look. Though every instinct in me tells me not to, I can't tear my eyes from whatever is dangling there. It's swaying at the end of a string, swinging gently, fifteen feet above the muddy water. Dark at one end and a strange purpling gray. Like a lonely, plum-colored wind chime, long and thin and—

My thoughts flatten out to a static hiss when I make out the shape, when I spot the little flash of color at the top.

No.

My stomach shrinks into a fist and squeezes. I want to look away, but I don't. I want it to be something else—anything else—but it isn't.

It's….
Oh, you didn't think I'd give you THAT much, did you? 😉
It was pretty hard to pick a favorite scene as I had so many in this book, but this is one I loved because it's after that first gut-punch of an opening. The scary wham-bam has already happened and in many books this is the part of the story where the characters can take a second to catch their breath before the trouble really starts.
No such luck in One Was Lost. These poor characters are in for the camping trip of their lives from the first page I get hold of them. So, I really enjoyed this chance to keep them on their toes, to introduce another terrifying element. After the first scare is still wide open, it was a total rush to amp things up so quickly.
So help yourself to a bit of caffeine, because with a bit of luck, I'm hoping One Was Lost will keep you up way too late turning pages.
Happy reading! 😉
***About Natalie D. Richards***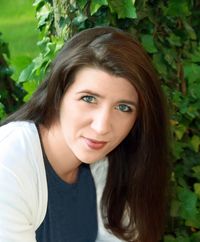 After years as a professional paper-pusher, NATALIE D. RICHARDS decided to trade in reality for a life writing YA fiction. She lives in Ohio (Go Bucks!) with her husband, three children, and a ridiculously furry dog named Yeti. This is her third novel.
Find Natalie Here:
Website | Goodreads | Facebook | Twitter
What do you think, Pretties? Didn't you just imagine Natalie with an evil grin after reading that? Are you super excited to read this book?
Related Posts