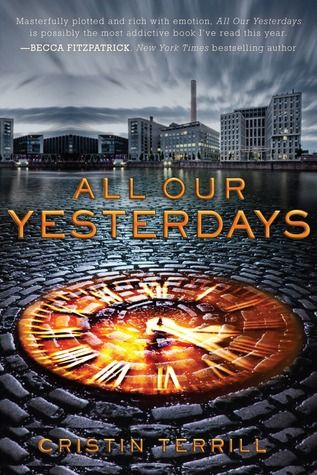 We can't wait for the release of All Our Yesterdays by Cristin Terrill. We're thrilled to be participating in the Book Tour on September 19. In the meantime, author Cristin Terrill has an exciting contest going on, and she wants you to to be a part of the launch by creating fan trailers!
Here's how you enter:
Step One:
E-mail
Sami@JKSCommunications.com
no later than
July 20, 2013
. Be sure to include:
Your Name
Your Address
Your Contact Info
Be sure to enter "All Our Yesterdays Book Trailer Contest" in the subject line.
Please note: Entrants must be located in the United States. ::sadface::
Step Two: Wait for the mail. You will receive one advance reader's copy of All Our Yesterdays.
Step Three: Read All Our Yesterdays and brainstorm for ideas for your video.
Step Four:
Create a
30-60 second
book trailer for
All Our Yesterdays
and submit it to
Sami@JKSCommunications.com
no later than
August 25, 2013
.
Step Five:
Wait to collect your awesome prizes. Cristin will pick her top choices, which will be featured on
The New Book Network
for fans to vote on their favorite.
One Grand Prize Winner will be announced on September 3, 2013 and will receive an annotated copy of All Our Yesterdays with special insights and secrets from Cristin, a sneak-peek at book 2, and some additional goodies and treats straight from Washington, D.C., where the story takes place!
So what are you waiting for?!? Get busy!
Questions? You can check out the tour site for more information.
Related Posts