Welcome to Swoony Boys Podcast! Today is our stop on the tour for Spindle hosted by Irish Banana Tours! Today we are sharing our thoughts on this book and author, E.K. Johnston. While you're here, don't forget to enter the awesome giveaway at the bottom of the post! You don't want to miss it! But first, let's start with the 411:
***About the Book***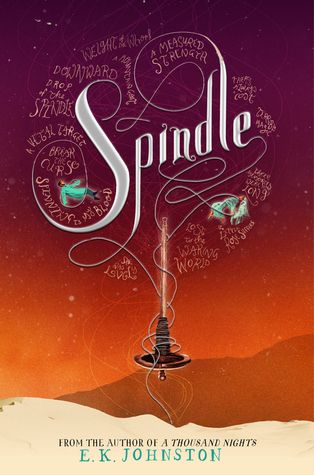 Spindle by E.K. Johnston
Series: A Thousand Nights #2
Published by Disney-Hyperion on December 6th, 2016
Genres: Fantasy, Retellings
Pages: 368
Goodreads Buy the Book

The world is made safe by a woman...but it is a very big world.

It has been generations since the Storyteller Queen drove the demon out of her husband and saved her country from fire and blood. Her family has prospered beyond the borders of their village, and two new kingdoms have sprouted on either side of the mountains where the demons are kept prisoner by bright iron, and by the creatures the Storyteller Queen made to keep them contained.

But the prison is crumbling. Through years of careful manipulation, a demon has regained her power. She has made one kingdom strong and brought the other to its knees, waiting for the perfect moment to strike. When a princess is born, the demon is ready with the final blow: a curse that will cost the princess her very soul, or force her to destroy her own people to save her life.

The threads of magic are tightly spun, binding princess and exiled spinners into a desperate plot to break the curse before the demon can become a queen of men. But the web of power is dangerously tangled--and they may not see the true pattern until it is unspooled.
***Our Review***
The 411:
"Last year, E.K. Johnston retold Arabian Nights as A Thousand Nights. In her next book, Spindle, she takes Sleeping Beauty as source material, unspooling a tale of a princess and some exiled spinners who must band together to defeat a demon before the demon becomes queen." –Entertainment Weekly

What We Loved:
There was so much that we loved. But these are a few of our favorite things:
Characters– We are suckers for a male point-of-view and Yashaa doesn't disappoint. Tariq and Arwa also had us wrapped around their little fingers. There were so many characters in this tale that we are positive you will find someone to love, someone to hate and someone to cheer for.

Setting– One of the things that E.K. does best is take us on a gorgeous literary journey. She sets up amazing worlds that have us ready to book a ticket straight there, if only they were real.

Qa

mih and Karuf

are both described in such unique detail that while we were reading we felt like we were there too. We are pretty sure you're going to want to visit too.
Retelling/Writing– We LOVE a good retelling. Lucky for us this one is another win in that category. E.K. takes a little part of a classic story and twists and turns it into something that is all her own. It's magical.

Um...Not So Much:
Of course there has to be something that we could do without too. This time it was that there wasn't more to read. There was so much going on and so much build. Then the resolution happened so quickly that it left us desperate for more. Hear that, E.K. *hinthint*

What We Think Will Happen Next:
We're not sure what she has planned next, but we've got our fingers crossed for more, more, more.

Bottom Line:
A must read  for all retelling fans. E.K. Johnston takes a little part of a classic story and twists and turns it into something that is all her own. It's magical.

Verdict:
Rating Report
Cover
Characters
Plot
Writing
Swoon
Overall:
***Meet E.K. Johnston***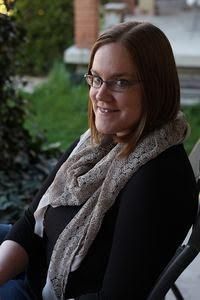 E.K. Johnston had several jobs and one vocation before she became a published writer. If she's learned anything, it's that things turn out weird sometimes, and there's not a lot you can do about it. Well, that and how to muscle through awkward fanfic because it's about a pairing she likes.
Her books range from contemporary fantasy (The Story of Owen, Prairie Fire), to fairy-tale reimaginings (A Thousand Nights, Spindle), and from small town Ontario (Exit, Pursued By A Bear), to a galaxy far, far away (Star Wars: Ahsoka). She has no plans to rein anything in.
Find E.K. Here:
Website | Twitter | Instagram | Goodreads
***GIVEAWAY***
Win a copy of Spindle| Open US Only.
a Rafflecopter giveaway
Good luck and happy swooning!
Make sure you check out the rest of the tour stops below:
Save
Save
Related Posts