It's DAY ONE of our Thanksgiving Author Hop! Each day we'll be featuring one of our favorite authors and their books so you can get to know them a little bit better. Today is all about S.J. Kincaid. We have loved her since the second we met her at BEA almost 6 years ago. And then we read Insignia, met Tom and fell even more in love. She has a brand new book out, The Diabolic, and it's another must read! Are you ready to get to know her & her book a little better? Let's get started…
THANKSGIVINGS WITH THE SIBLINGS
by SJ Kincaid

I've had some great Thanksgivings, but two jump to my mind immediately, since I spent one with my brother, and one with my sister.
BROTHER:.
We have an age difference of twelve years, and he went to boarding school at fourteen, so we had rather more limited interaction than a lot of siblings. He was going to law school and I was on the east coast, so I stayed at his house for a visit one Thanksgiving. Three notable things happened:
1) I scratched up his chair. He had a really nice chair, a very lovely wooden black one. I was in high school, and already writing a lot. Back then, I would listen to music, pace, and swing my keys in circles on a chain while I was plotting what to write next.With such loud music blaring in my ears, I didn't pay much attention to the fact that the keys were hitting his nice chair. Then: behold. It had tiny key scratches all over it. Not a great thing to have done.
2) I saw Starship Troopers for the first time. I love, love Starship Troopers, back then for the love triangle, later on for the hilarious parody aspect of it. Starship Troopers was the movie I had in mind when I set out to write INSIGNIA.
3) My brother and I came across Army of Darkness on television. We both watched it for the first time. And laughed a lot.
4) My brother cooked a Thanksgiving dinner so awesome, he obviously inherited all the culinary skills. My sister came down from New York and joined us for a sibling dinner. Very fun.
SISTER:
I visited her in New York City while she was in college.
1) I got into a bar though I was technically underage. I felt very cool and sophisticated.
2) We walked back later one night. A man walking the opposite direction abruptly swerved around and started following us. My sister noticed; I didn't. She grabbed my arm and steered me across the street and I obliviously and loudly asked, "Mer, why are you speeding up? Why are we crossing the street?" Yeah, I was a bit clueless.
3) Meredith offered to take me to visit the World Trade Center. I woke up feeling sleepy that day, and told her I didn't want to go after all. "It's always going to be there," I said.
That last one, I think about a lot. I took absolutely for granted that the world contained certain fixtures, but it does not– not people, not places, nothing that is truly an unchanging constant.
There are so many things in life we just forget the value of while we have them, and sometimes I try to remind myself to cherish these moments like a Thanksgiving in California with my entire family there, because I know it won't last forever. I know I will want to sear these memories into my mind and remember every detail one day, because life inevitably changes in both sad and wonderful ways.
So this Thanksgiving: I'm just going to give thanks for what I have now, because all we have is this moment.
***Meet SJ Kincaid***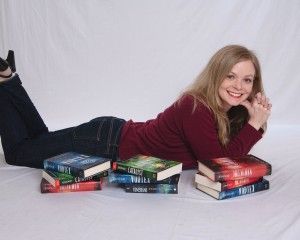 S.J. Kincaid was born in Alabama, grew up in California, and attended high school in New Hampshire, but it was while living beside a haunted graveyard in Scotland that she realized that she wanted to be a writer. Her debut, Insignia, came out in July of 2012. The second book in the series, Vortex was released in July of 2013. The final book in the trilogy, Catalyst, came out October 28, 2014. Her standalone novel The Diabolic will be released in fall 2016.
Find SJ Here:
Website | Twitter | Instagram | Goodreads
The Diabolic by SJ Kincaid
Published by Simon & Schuster, Simon & Schuster Books for Young Readers on November 1st, 2016
Genres: Fantasy, Sci-Fi
Pages: 416
Goodreads Buy the Book

A Diabolic is ruthless. A Diabolic is powerful. A Diabolic has a single task: Kill in order to protect the person you've been created for.

Nemesis is a Diabolic, a humanoid teenager created to protect a galactic senator's daughter, Sidonia. The two have grown up side by side, but are in no way sisters. Nemesis is expected to give her life for Sidonia, and she would do so gladly. She would also take as many lives as necessary to keep Sidonia safe.

When the power-mad Emperor learns Sidonia's father is participating in a rebellion, he summons Sidonia to the Galactic court. She is to serve as a hostage. Now, there is only one way for Nemesis to protect Sidonia. She must become her. Nemesis travels to the court disguised as Sidonia—a killing machine masquerading in a world of corrupt politicians and two-faced senators' children. It's a nest of vipers with threats on every side, but Nemesis must keep her true abilities a secret or risk everything.

As the Empire begins to fracture and rebellion looms closer, Nemesis learns there is something more to her than just deadly force. She finds a humanity truer than what she encounters from most humans. Amidst all the danger, action, and intrigue, her humanity just might be the thing that saves her life—and the empire.
***GIVEAWAY***
Win Our Thanksgiving Author Hop Prize Pack
a Rafflecopter giveaway
Good luck and happy swooning!


Make sure you come back tomorrow for DAY TWO!
Head over to Fiction Fare to check out their featured author
& enter to win their stack of books!
Save
Save
Save
Save
Save
Related Posts