It's time for another installment of Waiting on Wednesday, where we give you the 411 on the books that we can't wait to read.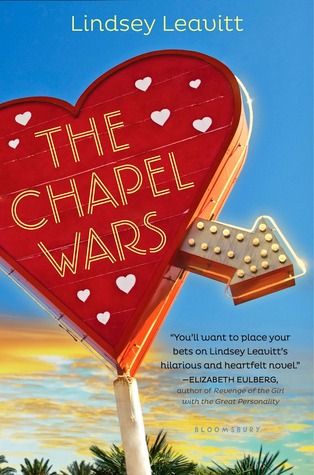 The Chapel Wars by Lindsey Leavitt
Anticipated Arrival Date: 5/6/2014
Acclaimed author Lindsey Leavitt brings her trademark heart, humor, and romance to her hometown—Vegas
Sixteen-year-old Holly wants to remember her Grandpa forever, but she'd rather forget what he left her in his will: his wedding chapel on the Las Vegas strip. Whatever happened to gold watches, savings bonds, or some normal inheritance?
And then there's Grandpa's letter. Not only is she running the business with her recently divorced parents, but she needs to make some serious money–fast. Grandpa also insists Holly reach out to Dax, the grandson of her family's mortal enemy and owner of the cheesy chapel next door. No matter how cute Dax is, Holly needs to stay focused: on her group of guy friends, her disjointed family, work, school and… Dax. No wait, not Dax.
Holly's chapel represents everything she's ever loved in her past. Dax might be everything she could ever love in the future. But as for right now, there's a wedding chapel to save.
Pre-Order The Chapel Wars Here

♥

Add The Chapel Wars to Your TBR.
So, like totally tell us what's got you bouncing in anticipation this week. What are you waiting on?
Related Posts