Get ready for the Waiting on Wednesday, where we give you the 411 on the books that we can't wait to read.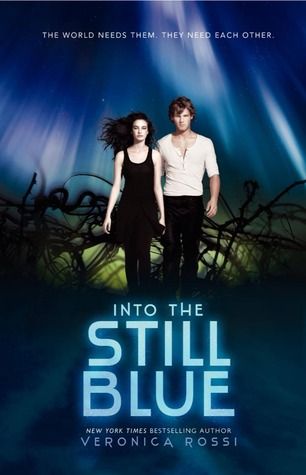 Into the Still Blue by Veronica Rossi
Anticipated Arrival Date: January 28, 2014
Their love and their leadership have been tested. Now it's time for
Perry
and Aria to unite the Dwellers and the Outsiders in one last desperate attempt to bring balance to their world.
The race to the Still Blue has reached a stalemate. Aria and Perry are determined to find this last safe-haven from the Aether storms before Sable and Hess do-and they are just as determined to stay together.
Meanwhile, time is running out to rescue Cinder, who was abducted by Hess and Sable for his unique abilities. And when Roar returns to camp, he is so furious with Perry that he won't even look at him, and Perry begins to feel like they have already lost.
Out of options, Perry and Aria assemble a team to mount an impossible rescue mission-because Cinder isn't just the key to unlocking the Still Blue and their only hope for survival, he's also their friend. And in a dying world, the bonds between people are what matter most.
In this final book in her stunning Under the Never Sky trilogy, Veronica Rossi raises the stakes to their absolute limit and brings her epic love story to an unforgettable close.
You guise know how much we love Perry (and Roar), and we're pretty sure that you already know that we can't wait for this book since we love everything about the Under the Never Sky Series. We have so many theories!!
Pre-Order Into the Still Blue Here

♥

Add Into the Still Blue to Your TBR.
So, like totally tell us what's got you bouncing in anticipation this week. What are you waiting on?
Related Posts