So many books come out each week that it makes it hard to decide what to read. We want to make that a little bit easier on you by sharing our favorite releases from the week and telling you our top 3 reasons why we think you'll love them too!
This week our selection is What Light by the amazing, Jay Asher. Are you ready to hear more about this book and its author? Here we go…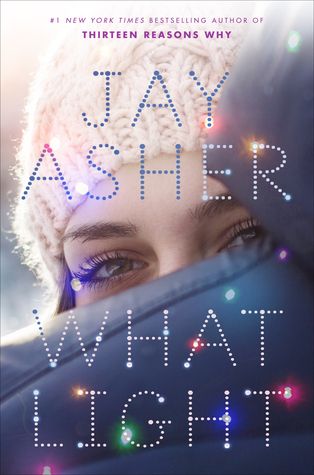 What Light by Jay Asher
Published by Penguin Group, Razorbill on October 11th, 2016
Genres: Contemporary, Contemporary Romance
Pages: 256
Goodreads Buy the Book

From Jay Asher, #1 New York Times bestselling author of Thirteen Reasons Why, comes a romance that will break your heart, but soon have you believing again. . . .

Sierra's family runs a Christmas tree farm in Oregon—it's a bucolic setting for a girl to grow up in, except that every year, they pack up and move to California to set up their Christmas tree lot for the season. So Sierra lives two lives: her life in Oregon and her life at Christmas. And leaving one always means missing the other.

Until this particular Christmas, when Sierra meets Caleb, and one life eclipses the other.

By reputation, Caleb is not your perfect guy: years ago, he made an enormous mistake and has been paying for it ever since. But Sierra sees beyond Caleb's past and becomes determined to help him find forgiveness and, maybe, redemption. As disapproval, misconceptions, and suspicions swirl around them, Caleb and Sierra discover the one thing that transcends all else: true love.

What Light is a love story that's moving and life-affirming and completely unforgettable.
3 Reasons You Should Read…
What Light by Jay Asher
Jay Asher is a word wizard. It's not secret that we are huge fans of his, and when we got our hands on early copies of this one at BEA we were thrilled. The best part is that what we found within it's pages didn't disappoint. At all.
You, guys! These characters! WE ARE SO IN LOVE! Sierra and Caleb are everything we wanted and so much more. You are going to swoon over them big time.
This is a story of love, hope and everything in between. It is a beautifully crafted contemporary romance that you need to get your hands on immediately. A perfect holiday read.
***Meet Jay Asher***
Jay Asher was born in Arcadia, California on September 30, 1975. He grew up in a family that encouraged all of his interests, from playing the guitar to his writing. He attended Cuesta College right after graduating from high school. It was here where he wrote his first two children's books for a class called Children's Literature Appreciation. At this point in his life, he had decided he wanted to become an elementary school teacher. He then transferred to California Polytechnic State University in San Luis Obispo where he left his senior year in order to pursue his career as a serious writer. Throughout his life he worked in various establishments, including as a salesman in a shoe store and in libraries and bookstores. Many of his work experiences had an impact on some aspect of his writing.
Find Jay Here:
Website | Twitter | Instagram | Goodreads
Save
Save
Related Posts