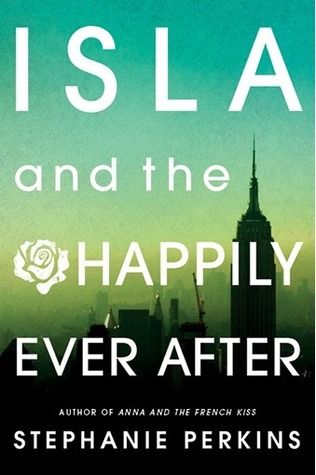 Isla and the Happily Ever After
by
Stephanie Perkins
Also by this author:
Anna and the French Kiss
,
Lola and the Boy Next Door
,
My True Love Gave to Me: Twelve Holiday Stories
Series:
Anna and the French Kiss #3
Also in this series:
Anna and the French Kiss
,
Lola and the Boy Next Door
Published by
Dutton Juvenile
on August 14, 2014
Genres:
Contemporary
Pages:
339
Goodreads
Buy the Book
From the glittering streets of Manhattan to the moonlit rooftops of Paris, falling in love is easy for hopeless dreamer Isla and introspective artist Josh. But as they begin their senior year in France, Isla and Josh are quickly forced to confront the heartbreaking reality that happily-ever-afters aren't always forever.

Their romantic journey is skillfully intertwined with those of beloved couples Anna and Étienne and Lola and Cricket, whose paths are destined to collide in a sweeping finale certain to please fans old and new.
We're not gonna lie. We were a little worried about this book. We weren't sure if it could ever compare to the build-up in our heads.  It's been soooo long since we were introduced to one of our favorite boys, Étienne , andthe rest of his crew. We thought too much time had passed–how could Stephanie Perkins recapture the swoon and the magic that Anna and Étienne experienced in Paris?
Well, listen up, friends.
Stephanie Perkins nailed it.
Amazing doesn't come close to describing Isla and the Happily Ever After.
******
The 411:
Isla Martin has been in love with soulful artist Josh Wasserstein since she laid eyes on him as a freshman.  She can't believe it when he finally seems to notice her back–just before their senior year begins.  Sparks immediately fly between them, and it's sweet and totally swoony.  It isn't long before they're falling in love and planning out their forevers.  But what happens when they're not sure if they'll see each other the next day–let alone forever?  You'll get swept away in the romance and adventure as Isla and Josh travel all over the world and discover that sometimes you don't have to have a destination to know where you're headed.

What We Loved:
We can't list all of the things that we loved about this book. If we did we would just have to copy and paste the entire thing here, and we're pretty sure that would get us into some trouble. But there are a few things that we have to mention. Are you ready? Here we go:
The Romance– Swoon. Swoon. Kissing. Swoon. More Kissing. Swoon.
The Authenticity– What more can be said? Not only is this a love story told right, it's a love story that feels real. The characters jump off the page and make us wish that we could have them in our everyday lives. Thanks to Stephanie Perkins at least we can have them on our shelves and in our hands whenever we want.
The Setting– Paris, NYC, AND Spain? What could be better than that?
The Writing– Oh, Ms Perkins. You complete us. This one was perfection.
The Characters– Throughout this entire series we have fallen in love over and over again with each and every character, Isla and her crew are no exception. We love them all.
If you haven't read Anna and the French Kiss or Lola and the Boy Next Door, don't panic! You can totally read this as a standalone, and despite the history of Josh and his friends we learned about in Anna & Lola, you won't feel lost at all.  In fact, this book has something very unique–a sort of Josh POV, given in the form of a graphic novel.  It's brilliant and enlightening, and again, one of our favorite parts. But, we should add that if you fall in this category we have to say that you need to grab a copy of Anna and Lola immediately.
Stephanie Perkins reminds us what it's like to fall in love and why we let ourselves become vulnerable to love in the first place. She reminds us what it's like to feel young and to experience those first sparks of a crush-turned-something-more-turned–everything. She reminds us that nothing is ever wrapped up into a neat little bow but that true love can prevail, if we let it. She reminds us to smile and swoon and shout from the rooftops.
Thank you for that, Stephanie Perkins. We're truly sorry we doubted you for even a second. You made our dreams come true and so much more. Well done.

Um...Not So Much:
We always give you a flip side–something that we didn't like. Because there's almost always something that we could have done without. But this time, honestly, we can't think of anything. Everything felt right. Even the things that caused these characters angst made complete and total sense to us. The parts that we didn't love had a purpose, took the story somewhere, and were necessary.
If we have to pick a complaint we could only say that we wish there was more of this story. We devoured it in just a few hours, and we wish it had gone on and on forever. And ever. It's heartbreaking to know that after years of loving these characters and waiting for more of their stories, that we are finally at the end. No matter how great that end is.

The Boys:
Joshua Wasserstein. Swoony doesn't even begin to cut it. Stephanie Perkins said somewhere that Josh is her favorite, and who can blame her? He's pretty much absolutely perfect. He's an artist. He's tall, lanky and tatted. He's funny, patient, and an amazing kisser.  He's got dimples, smells like oranges, and most importantly he's upfront about the way he feels (most of the time). Just look at this:
"You know that I like you. Right?"
One of the things that we like most about him is that he calls Isla out when she's not being honest with herself. Okay, okay, we like that he's pretty and swoony, too.
"Just give me your hand."

"W-what?"

"Your hand," he repeats.  "Give it to me."

I extend my shaking right hand.  And–in a moment that is a hundred dreams come true–Joshua Wasserstein laces his fingers through mine.  A staggering shock of energy shoots straight into my veins.  Straight into my heart.

"There," he says.  "I've been waiting a long time to do that."
We also loved that he did this:
Josh lifts away a lock of my wet hair.  "This reminds me of last June."

I raise my head and find him absorbed in memories.  He wraps the lock around an ink-stained index finger.  He uses it to gently pull me closer into a deep, open-mouthed kiss.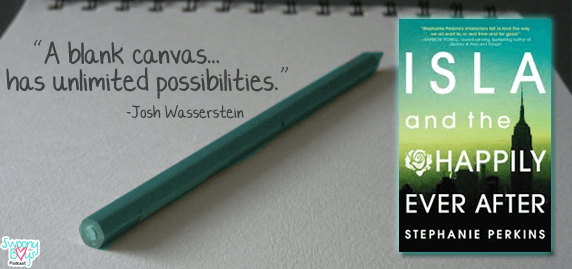 Right? RIGHT? There's just something about him that can't be denied. Maybe it's the fact that he's artistic, sincere, self-analyzing, fiery, affectionate, sexy, and wears his heart on his sleeve. What's not to love about that? Nothing.
******
Étienne St. Clair Even though we loved that Isla was primarily focused on Isla and Josh, we also have to mention how much we loved the parts that were focused on Étienne and Anna.  We couldn't stop grinning every time Étienne was mentioned. His relationship with Josh was so heartfelt and bromance-y. It was perfection. Then there's the part of the book that we actually get to see Étienne in. We can't say much, you'll know when you get there, and the only description you really need is  ::swooncity::
******
Kurt Donald Cobain Bacon. He's Isla's best friend and not only do we love his relationship with her, we also love his interactions with Josh! He's got a mild form of autism, which adds to our affection for him. He's honest, blunt, and quirky in the best way. Plus he says things like this:
"I like Isla better when you're dating. I didn't think that I would be true– I thought I liked her more without you– but that wasn't the case at all."
Josh laughs, "I'm glad to hear it."
"She's been miserable company," Kurt says.

The Girls:
Isla Martin-  Isla surprised us with her sweet attitude and her authenticity.  She's so real.  Her dreams literally came true when Josh returns her affections, and there is no doubt that Perkins captured that feeling.
The day worsens.  In physics, Professeur Wakefield pairs us alphabetically to our lab partner for the year.  I get Emily Middlestone, who groans when it's announced, because she is popular, and I am not.  Sophie Vernet is paired with Josh.

I hate Sophie Vernet.

Actually, I've never given Sophie Vernet much thought, and she seems nice enough, but that's the problem.
We also loved that no matter how ecstatically happy she was to get her heart's most fervent desire, that didn't mean that Isla had EVERYTHING IN LIFE figured out.  She was brilliant but doubted herself.  She was loyal and stood up for what she believed in, yet she possessed a vulnerability that I think almost everyone can identify with.  She has the same insecurities any of us would feel, and we loved her even more for that.  She was quirky and fun, and we loved her. A lot.
(Side note: We loved Gen and Hattie, Isla's sisters, too. But we think that Isla deserves all the attention here.)

Dream Cast:
Brown hair and beautiful hazel eyes.Tall. Lean, strong body. Long nose.Tattoo. Pale skin. HOW DO YOU CAST THAT? We looked for weeks to find the perfect Josh, but we just kept coming back to one guy. That's what sold us. Well that and the fact that we found a pictures where he's wearing his 'date coat'. Here he is:

What We Think Will Happen Next:
This section isn't always easy. This time it is. Why? Because there is absolutely no doubt in our minds that they all get their Happily Ever After.

Bottom Line:
Isla and the Happily Ever After is a stunning conclusion to one of our favorite book series ever. It's full of realistic, swoonworthy characters that you'll fall in love with and a storyline that will make you feel ALL THE THINGS. Pick up a copy, or ten, and read it over and over again.


Verdict:
Rating Report
Cover
Characters
Plot
Writing
Swoon
Overall:
5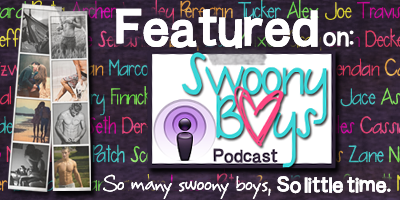 Related Posts