So many books come out each week that it makes it hard to decide what to read. We want to make that a little bit easier on you by sharing our favorite releases from the week and telling you our top 3 reasons why we think you'll love them too!
This week our selection is Check, Please!: #Hockey by Ngozi Ukazu. Are you ready to hear more about this book and its author? Here we go…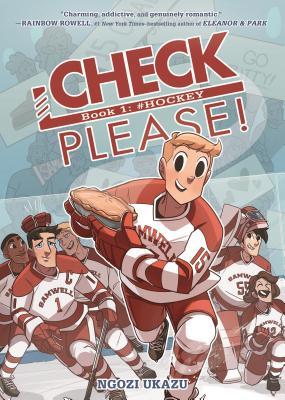 Check, Please!: #Hockey
by
Ngozi Ukazu
Series:
, , ,
Published by
First Second Books
on September 18th 2018
Genres:
Contemporary
,
Graphic Novel
,
LGBT
Pages:
288
Goodreads
Buy the Book
Helloooo, Internet Land. Bitty here!

Y'all... I might not be ready for this. I may be a former junior figure skating champion, vlogger extraordinaire, and very talented amateur pâtissier, but being a freshman on the Samwell University hockey team is a whole new challenge. It's nothing like co-ed club hockey back in Georgia! First of all? There's checking. And then, there is Jack—our very attractive but moody captain.

A collection of the first half of the megapopular webcomic series of the same name, Check, Please!: #Hockey is the first book of a hilarious and stirring two-volume coming-of-age story about hockey, bros, and trying to find yourself during the best four years of your life.
3 Reasons You Should Read…
Check, Please!: #Hockey by Ngozi Ukazu
Whether you're a graphic novel newbie or expert, you're going to fall in love with Check, Please!: #Hockey and Eric Bittle!
We can't even explain all that there is to love about this one. But here's a list of some of our favorite parts: hockey butt talk, hilarious social media posts, banter perfection, and plenty of hockey for you sports lovers! See, what's not to love?
Diverse, adorable, hilarious, and full of characters you can't help but love. Grab a copy of this one immediately! You won't be sorry you did!
Related Posts