We're helping celebrate the paperback release of Finding Audrey by Sophie Kinsella today. In case you haven't heard about this awesome book, we wanted to let you know just a few of its accolades:

A Publishers Weekly Summer 2015 Best YA Book
One of USA Today's "25 Hottest Books of Summer"
One of Los Angeles Times's "30 Summer Books That Kids Will Gobble Up"
One of Seventeen's "New Books We "
A Kirkus Reviews 2015 Best Teen Book
***About the Book***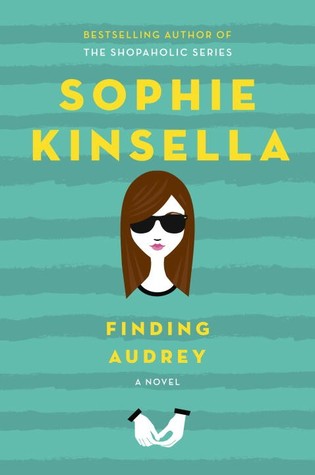 Finding Audrey
by
Sophie Kinsella
Published by
Delacorte Books for Young Readers
on June 9, 2015
Genres:
Contemporary
,
Romance
Pages:
286
Goodreads
Buy the Book
An anxiety disorder disrupts fourteen-year-old Audrey's daily life. She has been making slow but steady progress with Dr. Sarah, but when Audrey meets Linus, her brother's gaming teammate, she is energized. She connects with him. Audrey can talk through her fears with Linus in a way she's never been able to do with anyone before. As their friendship deepens and her recovery gains momentum, a sweet romantic connection develops, one that helps not just Audrey but also her entire family.
***About Sophie Kinsella***
Madeleine Wickham (born 12 December 1969) is a bestselling British author under her pseudonym, Sophie Kinsella. Educated at New College, Oxford, she worked as a financial journalist before turning to fiction. She is best known for writing a popular series of chick-lit novels. The Shopaholic novels series focuses on the misadventures of Becky Bloomwood, a financial journalist who cannot manage her own finances. The books follows her life from when her credit card debt first become overwhelming ("The Secret Dreamworld of a Shopaholic") to the latest book on being married and having a child ("Shopaholic & Baby"). Throughout the entire series, her obsession with shopping and the complications that imparts on her life are central themes.
Find Sophie Here: Website | Facebook | Twitter | Goodreads
***Our Thoughts***
We HEART Sophie Kinsella, so we were pretty excited when we found out that she was writing YA.
The 411:
Fourteen year old Audrey has severe anxiety disorder. She doesn't go anywhere and constantly wears sunglasses, even in the house. She becomes friends with her brother's friend, Linus, and their budding friendship blossoms into more, and it's all so sweet.

What We Loved:
Linus! He was adorable. We loved everything about their relationship.
What can we say about these parents? It was such a relief to see parents who actually were involved! That's one of our biggest pet peeves about YA–where are the parents? Finding Audrey has a mom and a dad who are focused on their children–all of them–and that's downright refrshing.
We loved the storyline for this book. It wasn't a picture-perfect family or a PSA about mental illness. It was a perfect snapshot into the life of a girl finding herself and dealing with what that means.

Um...Not So Much:
It took us a little bit to connect with these characters and get into the story. We also didn't like that we didn't know the backstory. It made sense that Audrey didn't want to think about it at the beginning, but ever? :/

Bottom Line:
Cute and quirky while still dealing with sensitive, realistic topics, Finding Audrey by Sophie Kinsella is a swoony, sweet read.

Verdict:
Rating Report
Cover
Characters
Plot
Writing
Swoon
Overall:
3.5
***GIVEAWAY***
Win a paperback copy of Finding Audrey by Sophie Kinsella!
a Rafflecopter giveaway
Good luck, pretties!
Related Posts