We're back with another fun Author Talk Podcast Episode and this time, we're featuring one of our favorites, Charlotte Huang! We're thrilled that she stopped by to chat with us about her latest book, Going Geek! You might remember it was one of our most anticipated grabs at BEA. It wouldn't be an Author Talk episode without our favorite twinnies, Erin and Jaime from Fiction Fare. Despite the technical difficulties–we do we sound like we're in a tunnel?!?–we had so much fun, so we won't waste another second of your time–go ahead and jump right on in, and don't forget to let us know what you think in the comments below.
While you're here, subscribe to our podcast in iTunes, and we're now on Google Play so you can subscribe on your android device! *jazzhands*
Podcast Notes
Charlotte Huang starts us off with her elevator pitch for Going Geek, where her idea for the book came from, and what a typical writing day looks like for her.
Next, we ask about how she develops her writing and characters and how long it took for Going Geek to hit shelves from when she first started drafting.
Charlotte shares some insight into Declan and Skylar's characters and what it takes to write a swoony boy.
We talk about some of Charlotte's experiences attending a boarding school and what her favorite scenes in Going Geek were.
We find out the characters from Charlotte's books that she'd most like to introduce.
We dish music and Charlotte gives some sage wisdom to her 17-year-old self (and teens everywhere).
We talk TBR piles, books that need more love, and the swooniest boys of all.
We play a fun word association game.
We wrap things up with Charlotte flipping the tables on us and asking us questions. 🙂
***Meet Charlotte Huang***
Charlotte Huang is a graduate of Smith College and received an MBA from Columbia Business School, which is clearly something every aspiring writer should do. When not glued to her computer, she cheers her two sons on at sporting events and sometimes manages to stay up late enough to check out bands with her music agent husband. Charlotte lives in Los Angeles and is the author of For the Record (Delacorte, 2015)
Find Charlotte Here:
Website | Twitter | Facebook| Goodreads
***About Going Geek***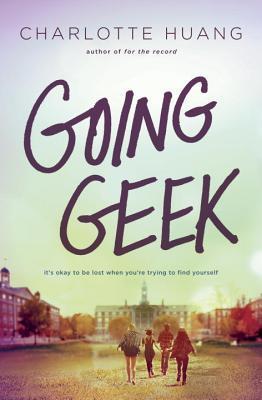 Going Geek
by
Charlotte Huang
Published by
Delacorte Books for Young Readers
on September 13, 2016
Genres:
Contemporary
Pages:
304
Goodreads
Buy the Book
A girl forced out of her comfort zone finds that being true to herself is the best way to live her life, in this second novel from the author of For the Record.

It wasn't supposed to be this way. Skylar Hoffman's senior year at her preppy East Coast boarding school should have been perfect:
amazing boyfriend
the coolest friends
the most desirable dorm
But it's far from it. To her dismay, Skylar's not going to rule senior year because she's stuck in Abbot House, a tiny dorm known for, well, nothing. Living with a group of strangers everyone thinks is lame is bad enough. Worse is that Skylar wasn't exactly truthful about how she spent summer break in Los Angeles—and her little white lie is causing her once rock-solid romance to crumble fast. And when it turns out that Skylar's best friend is the one responsible for having her booted from Lincoln? It's an all-out war.

Stepping out of her comfort zone never felt so scary—or necessary. But everything is different now. Including, maybe, Skylar herself . . .
Let us know what you think! Ask Us a Question or Make Suggestions via our Handy Dandy Suggestion Form and tell us who's got you swooning here.
Related Posts