So many books come out each week that it makes it hard to decide what to read. We want to make that a little bit easier on you by sharing our favorite releases from the week and telling you our top 3 reasons why we think you'll love them too!
This week our selection is THE TWELVE DAYS OF DASH & LILY by the amazing, Rachel Cohn & David Levithan. Are you ready to hear more about this book and its authors? Here we go…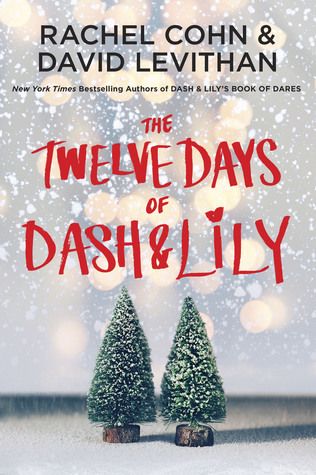 The Twelve Days of Dash & Lily by David Levithan, Rachel Cohn
Also by this author: Invisibility, Nick & Norah's Infinite Playlist, Two Boys Kissing, Mind the Gap Dash & Lily, My True Love Gave to Me: Twelve Holiday Stories
Series: Dash & Lily #2
Also in this series: Mind the Gap Dash & Lily
Published by Knopf Books for Young Readers, Random House on October 18th, 2016
Genres: Contemporary, Contemporary Romance
Pages: 272
Goodreads Buy the Book

New York Times bestselling authors Rachel Cohn and David Levithan are back with a life-affirming Christmas romance starring Dash and Lily.

Dash and Lily have had a tough year since readers first watched the couple fall in love. Lily's beloved grandfather suffered a heart attack, and his difficult road to recovery has taken a major toll on her typically sunny disposition.

With only twelve days left until Christmas—Lily's favorite time of the year—Dash, Lily's brother Langston, and their closest friends take Manhattan by storm to help Lily recapture the holiday magic of New York City in December.

Told in alternating chapters, The Twelve Days of Dash & Lily reunites two beloved characters and is bound to be a Christmas favorite, season after season.
3 Reasons You Should Read…
The Twelve Days of Dash & Lily
by Rachel Cohn & David Levithan
Let's be honest. We would reading ANYTHING that these two wrote. That includes their diaries. Wait. Can we make that happen? There's bound to be some amazing stuff in those bad boys. We got sidetracked…. but you get the point. They write it. We read it.
We have wanted more Dash & Lily since the second we turned the last page of the first book. It is one of our favorites and had a lot to live up to. Luckily for us, and all of you, this one does not disappoint.
We love a good Holiday read, and there's not nearly enough of them. This story isn't all fluff and cuteness (although there is plenty of that too!) but it is a perfect book to read while snuggling under a blanket and sipping some hot chocolate.
***Meet Rachel Cohn***
Rachel grew up in the D.C. area and graduated from Barnard College with a B.A. in Political Science. She has written many YA novels, including three that she cowrote with her friend and colleague David Levithan. She lives and writes (when she's not reading other people's books, organizing her music library or looking for the best cappuccino) in New York City.
Find Rachel Here:
Website | Twitter | Instagram | Goodreads
***Meet David Levithan***
David Levithan (born 1972) is an American children's book editor and award-winning author. He published his first YA book, Boy Meets Boy, in 2003. Levithan is also the founding editor of PUSH, a Young Adult imprint of Scholastic Press.
Find David Here:
Website | Twitter | Facebook | Goodreads
Save
Related Posts