So many books come out each week that it makes it hard to decide what to read. We want to make that a little bit easier on you by sharing our favorite releases from the week and telling you our top 3 reasons why we think you'll love them too!
This week one of our selections is Dance of Thieves by Mary E. Pearson. Are you ready to hear more about this book and its author? Here we go…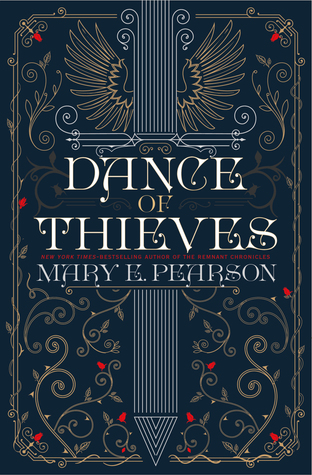 Dance of Thieves by Mary E. Pearson
Series: Dance of Thieves #1
Published by Henry Holt and Co. on August 7th 2018
Genres: Fantasy
Pages: 384
Goodreads Buy the Book

A new novel in the New York Times–bestselling Remnant Chronicles universe, in which a reformed thief and the young leader of an outlaw dynasty lock wits in a battle that may cost them their lives—and their hearts.

When the patriarch of the Ballenger empire dies, his son, Jase, becomes its new leader. Even nearby kingdoms bow to the strength of this outlaw family, who have always governed by their own rules. But a new era looms on the horizon, set in motion by a young queen, which makes her the target of the dynasty's resentment and anger.

At the same time, Kazi, a legendary former street thief, is sent by the queen to investigate transgressions against the new settlements. When Kazi arrives in the forbidding land of the Ballengers, she learns that there is more to Jase than she thought. As unexpected events spiral out of their control, bringing them intimately together, they continue to play a cat and mouse game of false moves and motives in order to fulfill their own secret missions.
3 Reasons You Should Read…
Dance of Thieves by Mary E. Pearson
Ready to revisit some old friends? Dance of Thieves gives us a new cast, but we also get some fun glimpses at old favorites. If you're a Remnant Chronicles fan, or even if you've never read that series, you're not going to want to wait a second to get your hands on this one.
Are you looking for swoon? Mary E. Pearson gives it by the truck load. Banter, a little cat and mouse-esque chase, and plenty of kissing to make you desperate for more. SWOON. SWOON. SWOON.
If you're looking for a light fantasy that you won't be able to put down, you don't have to look any further. Grab a copy now to get your fill of schemes, strong characters, wavering loyalties and of course- all that swoon!
Related Posts