We're back with another fun Author Talk Podcast Episode! We're so excited that we got to chat with Jessica Brody about her latest book, A Week of Mondays! It wouldn't be an Author Talk episode without our favorite twinnies, Erin and Jaime from Fiction Fare. Like all of our episodes, this one was so much fun, so we won't waste another second of your time–go ahead and jump right on in, and don't forget to let us know what you think in the comments below.
While you're here, subscribe to our podcast in iTunes, and we're now on Google Play so you can subscribe on your android device! *jazzhands*
Podcast Notes
We jump right in with Jessica Brody's elevator pitch for A Week of Mondays and how she initially got the original idea for the book.
We were totally inspired by Jessica's writing strategy. She shares some insight into how she structures her day, the way she develops her work, and gives a little glimpse into how important Evernote is for her.
She gives us some detail on her brand new book, Save the Cat! Writes a Novel!.
We talk about Jessica's book development process, how long it takes from first draft to your bookshelves, and how Jessica celebrates her book birthdays.
Causing a disturbance at Target the other night after finding BOYS OF SUMMER on the shelf! pic.twitter.com/vDhdyUUrbw

— Jessica Brody (@JessicaBrody) April 7, 2016
Next we shift to swoony boys, specifically Owen. Jessica talks to us about her approach with writing Owen was different from other boys she's written.
Then we discuss Ellie, a bit about the Unremembered Series, and how Jessica secretly lives out her villainous fantasies.
Jessica answers our all-important question: will we get more Owen and Ellie?, discusses her ideas for A Month of Tuesdays, and lets us know her favorite scenes from A Week of Mondays.
Jessica lets us know the characters from her books that she would like to introduce to each other, then she plays a little game of Two Truths and a Lie with us.
Jessica lets us know how much she Mondays.
We shift to other people's books, and Jessica tells us what's on her massive TBR, her latest reads, and the book she wants everyone to read. You're welcome.
We talk about four book boyfriends that Jessica thinks are swoony, then we wrap things up by playing a fun word association game.
***Meet Jessica Brody***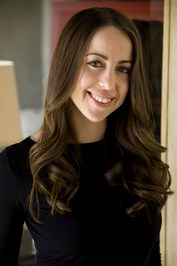 Jessica Brody is the author of several popular books for teens, including the Unremembered trilogy, 52 Reasons to Hate My Father, and The Karma Club, as well as two adult novels. She splits her time between California and Colorado.
Find Jessica Here: Website | Facebook | Twitter | Goodreads
***About A Week of Mondays***
A Week of Mondays
by
Jessica Brody
Published by
Farrar Straus Giroux
on August 2, 2016
Genres:
Contemporary
,
Romance
,
Sci-Fi
Pages:
464
Goodreads
Buy the Book
When I made the wish, I just wanted a do-over. Another chance to make things right. I never, in a million years, thought it might actually come true...

Sixteen-year-old Ellison Sparks is having a serious case of the Mondays. She gets a ticket for running a red light, she manages to take the world's worst school picture, she bombs softball try-outs and her class election speech (note to self: never trust a cheerleader when she swears there are no nuts in her bake-sale banana bread), and to top it all off, Tristan, her gorgeous rocker boyfriend suddenly dumps her. For no good reason!

As far as Mondays go, it doesn't get much worse than this. And Ellie is positive that if she could just do it all over again, she would get it right. So when she wakes up the next morning to find she's reliving the exact same day, she knows what she has to do: stop her boyfriend from breaking up with her. But it seems no matter how many do-overs she gets or how hard Ellie tries to repair her relationship, Tristan always seems bent set on ending it. Will Ellie ever figure out how to fix this broken day? Or will she be stuck in this nightmare of a Monday forever?

From the author 52 Reasons to Hate My Father and The Unremembered trilogy comes a hilarious and heartwarming story about second (and third and fourth and fifth) chances. Because sometimes it takes a whole week of Mondays to figure out what you really want.
***Giveaway***
Win a copy of A Week of Mondays by Jessica Brody!
a Rafflecopter giveaway
Let us know what you think! Ask Us a Question or Make Suggestions via our Handy Dandy Suggestion Form and tell us who's got you swooning here.
Related Posts