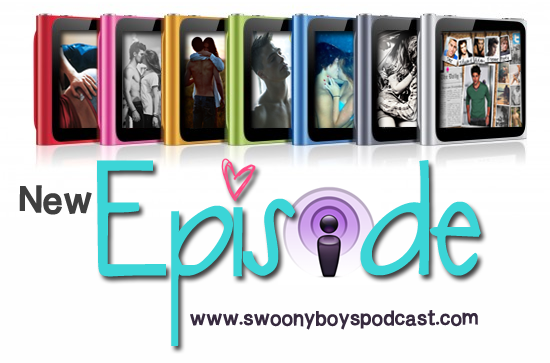 We're waiting for our shiny new podcast to be approved by iTunes. Our podcast was finally approved by iTunes! You can subscribe here. Alternatively, you can listen here or subscribe manually by logging into iTunes, then click on File, then Subscribe to Podcast. Enter http://feeds.feedburner.com/SwoonyBoysPodcast in the URL box and you should be good to go! Check out the Notes and Other Fun Stuff below:
Podcast Notes
Welcome to the 1st ever episode of Swoony Boys Podcast!.
We introduce you to our lovely site and give you the disclaimer that the books and movies in the Twilight Saga will be spoiled, so you've been warned :).
Find out why we picked Edward Cullen to be our first. *grin*.
We give you some general info on Edward and tell you why we think he's swoony.
On the Swoony Boys Podcast Swoon-o-Meter™, we give Edward Cullen.:.

10

We discuss the proper word for panties.
We share some of our favorite swoony lines.
Even Edward has some faults. We tell you about our turn-offs. And why Meg lost her lady-boner.
We talk about some of our favorite movie quotes, like this one:




and this one:




We want to hear from you! Leave us a comment and let us know what you think.
Check out Edward's Swoony Boy File. We'll be exploring the swooniness (or lack thereof) of many of the other Twilight Saga guys, too.
Ask Us a Question or Make Suggestions via our Handy Dandy Suggestion Form and tell us who's got you swooning here.
Thanks for listening! ♥♥♥
Related Posts