Hey, guys! Last week we were asked to live blog the Seattle, WA stop of the Dark Days Tour. The event featured Debra Driza, Claudia Grey, Lauren Oliver, Dan Wells, Kiersten White, and was hosted by publicist extraordinaire, Alison Lisnow. Lucky for us, Meg lives near Seattle and was able to jump at the opportunity.
Here's her recap of how it all went down:
When I first arrived the wonderful ladies of the University Book Store showed me to my reserved seat, and let me tell you, they know how to do front row! Here's the view from my seat:
After I got myself all set up, I snapped a few pictures of the growing crowd before being notified that the authors had arrived and that I could come to a conference room to meet them and conduct a quick five minute interview! I had to swallow my fangirling and try to appear as normal as possible. (Hopefully I succeeded!) I handed out some of our Essential Swoon Kits to all of them and then got down to business in the form of a two question interview. Here are the responses to those questions:
1. What author and/or book would your readers be surprised to learn that you love?
Debra Driza- Brideshead Revisited by Evelyn Waugh

Claudia Grey- Likes to read about plagues and pandemics. Currently reading Spillover by David Quammen

Dan Wells- The Madman's Daughter by Megan Shepherd

Kiersten White- The Once and Future King by T.H. White

Lauren Oliver- Agatha Christie, she said she's slightly obsessed and has even visited her grave-sight.
2. You all have swoony boys in your books. Did you set out to write them that way or did it just happen?
Debra Driza- Said sort of. She pulls in elements from movies as inspiration for those parts!

Claudia Grey- Definitely hoped she was writing swoony boys and that readers would respond that way, but also enjoys being surprised by who readers actually swoon for.

Dan Wells- He said he definitely swoons over his boys. (laughs from everyone) He said he'd gotten some good advice, that he thinks came from Kiersten, saying to write love interests with a purpose, have them fill a vacancy (laughter, freedom, etc.) and then everything else just falls in place.

Kiersten White- Said there's no check-list of hot. It wouldn't work even if there was, it would come off as trying too hard. She said she tries to write characters that are ideal, but flawed.

Lauren Oliver- She pulls in elements from real-life swoon, real relationships she's had.
After the interview I quickly made my way back to my seat and got ready for the everything to begin. To hear the entire event, check out this special edition episode of the Swoony Boys Podcast:

Afterwards I hung around for the signing and picked up copies for both of us and some for us to use as giveaways right here on the site! I also got to take some pictures with the
fab Dark Days crew
.
Although some of you weren't able to attend one of the tour stops, we want to spread the love and make sure everyone gets in on the excitement. Fill out the form below to enter to win a signed copy of Lauren Oliver's Requiem and one of our Essential Swoon Kits, which we usually only give to authors when we attend book events!
Check out some more pictures of the event below and thanks for swooning with us!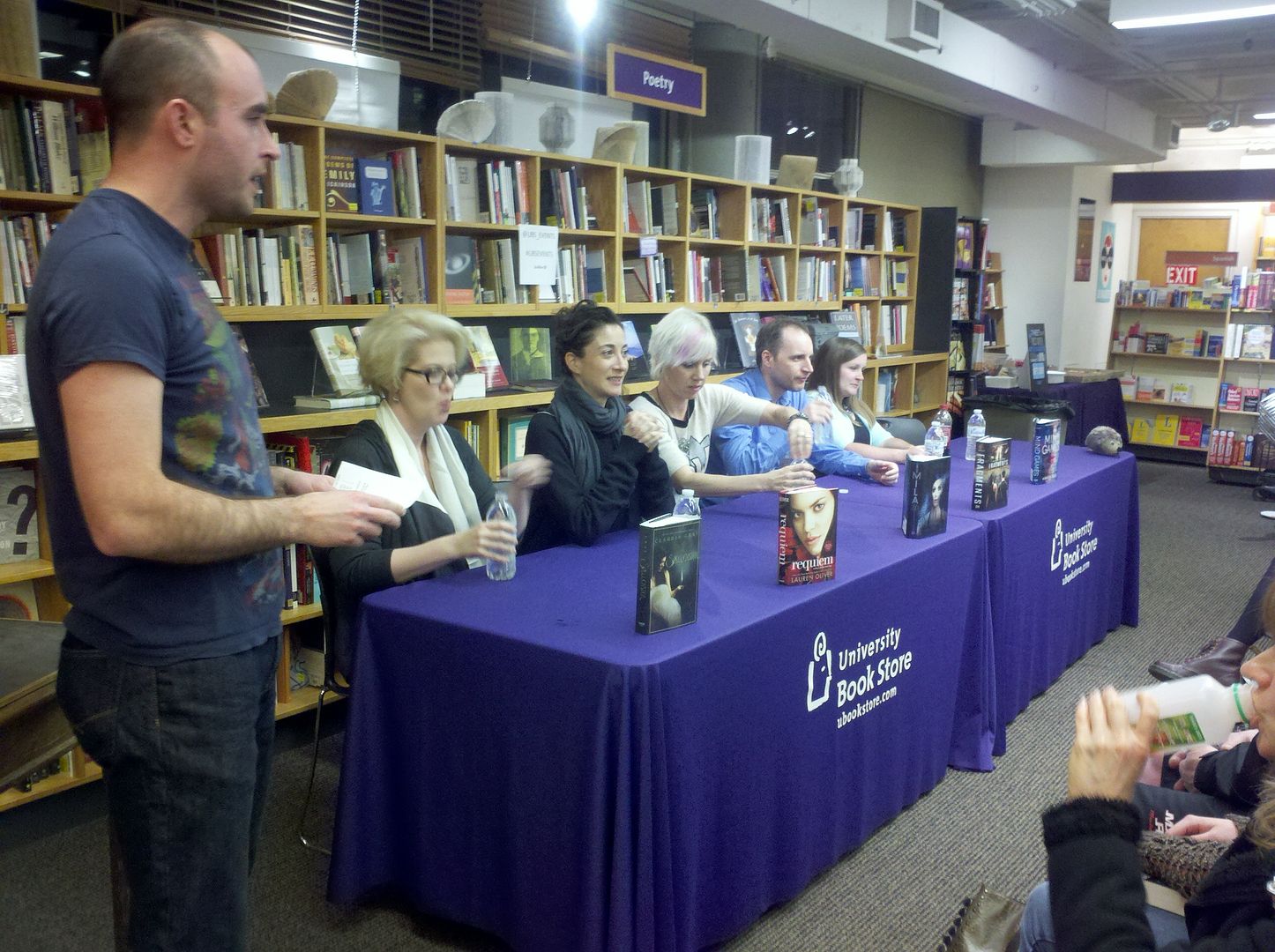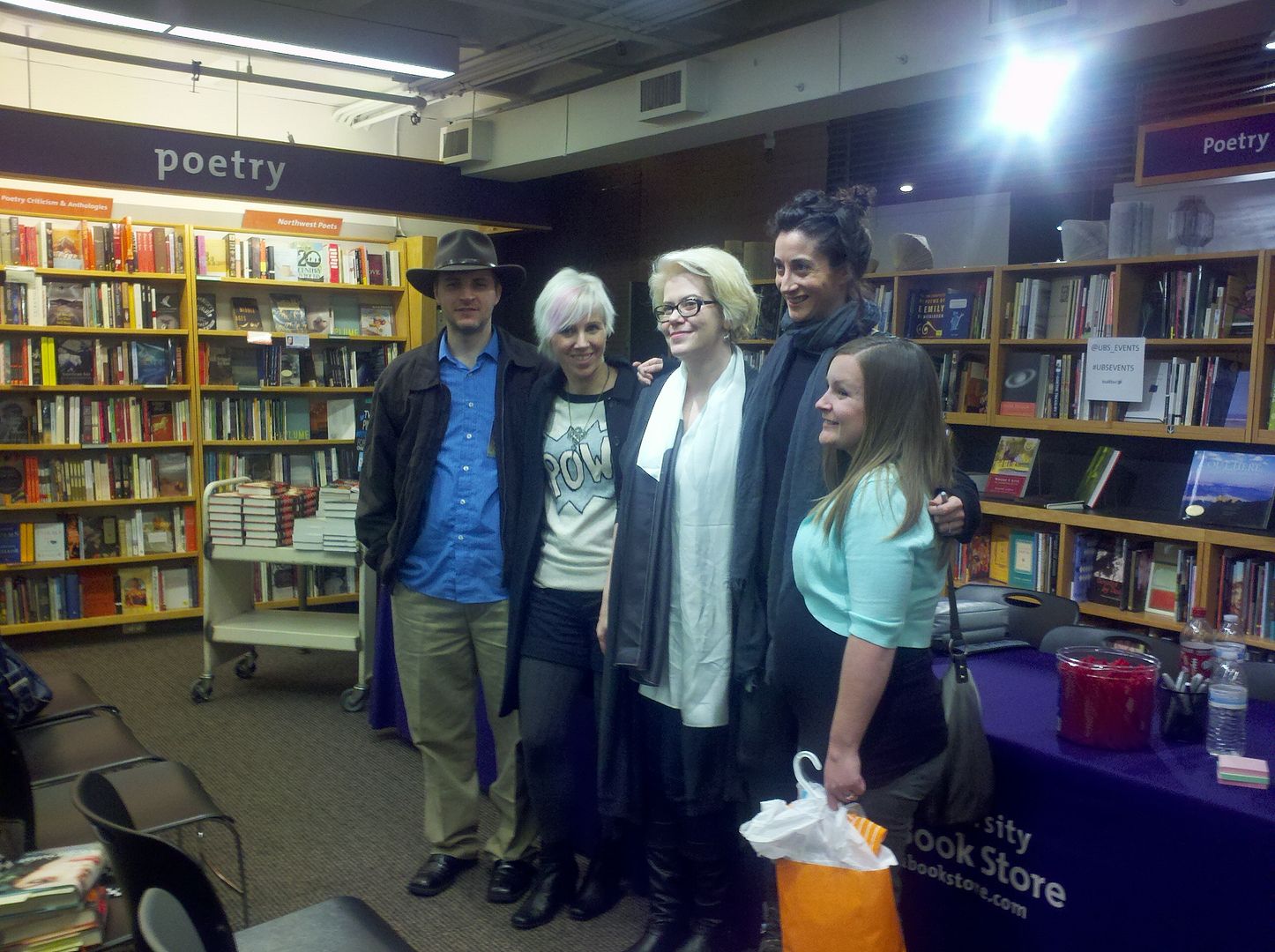 Related Posts