It's time for another installment of Waiting on Wednesday, where we give you the 411 on the books that we can't wait to read.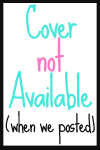 Future Shock by Elizabeth Briggs
Anticipated Arrival Date: 4/1/2016
Elena Martinez has hidden her eidetic memory all her life–or so she thinks. When powerful tech giant Aether Corporation selects her for a top-secret project, she can't say no. All she has to do is participate in a trip to the future to bring back data, and she'll be set for life.
Elena joins a team of four other teens with special skills, including Adam, a science prodigy with his own reason for being there. But when the time travelers arrive in the future, something goes wrong and they break the only rule they were given: do not look into their own fates.
Now they have twenty-four hours to get back to the present and find a way to stop a seemingly inevitable future from unfolding. With time running out and deadly secrets uncovered, Elena must use her eidetic memory, street smarts, and a growing trust in Adam to save her new friends and herself.
Pre-Order Future Shock Here

Add Future Shock to Your TBR.
So, like totally tell us what's got you bouncing in anticipation this week. What are you waiting on?
Related Posts