So many books come out each week that it makes it hard to decide what to read. We want to make that a little bit easier on you by sharing our favorite releases from the week and telling you our top 3 reasons why we think you'll love them too!
This week our selection is Even If the Sky Falls by Mia Garcia. Are you ready to hear more about this book and its author? Here we go…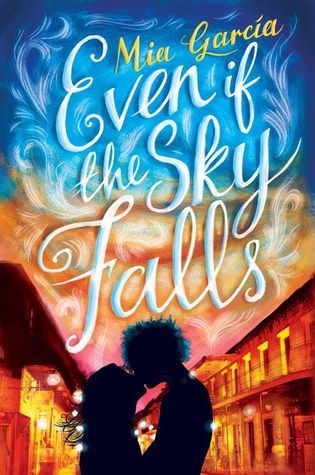 Even If the Sky Falls
by
Mia Garcia
Published by
Katherine Tegen Books
on May 10, 2016
Genres:
Contemporary
Pages:
304
Goodreads
Buy the Book
All she needs is one night to be anyone she wants.

Julie is desperate for a change. So she heads to New Orleans with her youth group to rebuild houses and pretend her life isn't a total mess. But between her super-clingy team leader and her way-too-chipper companions, Julie feels more trapped than ever.

In a moment of daring, she ditches her work clothes for DIY fairy wings and heads straight into the heart of Mid-Summer Mardi Gras, where she locks eyes with Miles, an utterly irresistible guy with a complicated story of his own. And for once, Julie isn't looking back. She jumps at the chance to see the real New Orleans, and in one surreal night, they dance under the stars, share their most shameful secrets, and fall in love.

But their adventure takes an unexpected turn when an oncoming hurricane changes course. As the storm gains power and Julie is pulled back into chaos she finds pretending everything is fine is no longer an option.
3 Reasons You Should Read…
Even If the Sky Falls by Mia Garcia
Romance, a hurricane, PTSD, & more. This one is more than just your typical YA romance.
Julie and Miles are the kind of characters that you root for. The kind that you can't wait for them to finally kiss and the kind that you want more of when you flip the last page.
We love finding new debut authors to swoon over and Mia Garcia is definitely worthy of the swooning.
***About Mia Garcia***
M. García was born and raised in San Juan, Puerto Rico. She moved to New York where she studied creative writing at The New School, worked in publishing, and now lives under a pile of to-be-read books. Her debut novel, Even If the Sky Falls, from Katherine Tegen books (an imprint of Harper Collins) comes out May 10, 2016.
Find Mia Garcia Here:
Website | Twitter | Goodreads
Related Posts