We're so excited that we got to sit down with author Gretchen McNeil to talk about her latest title, Get Even. We'll get right to the interview with Gretchen McNeil, but first here's the 411 on the book: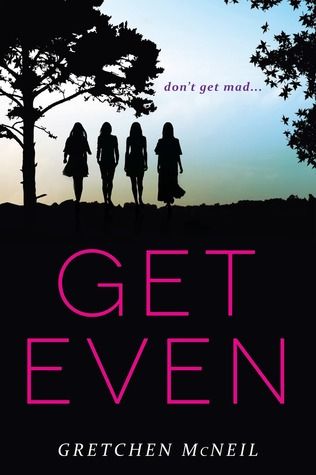 Get Even
by
Gretchen McNeil
Series:
Don't Get Mad #1
Published by
Balzer & Bray
on September 16, 2014
Genres:
Suspense
Pages:
400
Goodreads
Buy the Book
The Breakfast Club meets Pretty Little Liars in Gretchen McNeil's witty and suspenseful novel about four disparate girls who join forces to take revenge on high school bullies and create dangerous enemies for themselves in the process.

Bree, Olivia, Kitty, and Margot have nothing in common—at least that's what they'd like the students and administrators of their elite private school to think. The girls have different goals, different friends, and different lives, but they share one very big secret: They're all members of Don't Get Mad, a secret society that anonymously takes revenge on the school's bullies, mean girls, and tyrannical teachers.

When their latest target ends up dead with a blood-soaked "DGM" card in his hands, the girls realize that they're not as anonymous as they thought—and that someone now wants revenge on them. Soon the clues are piling up, the police are closing in . . . and everyone has something to lose.
And now, here's the chat we had with Gretchen:


***INTERVIEW***
Thanks so much for dropping by Swoony Boys Podcast today to let our readers get to know you! We're so excited to have you! Tell us a little about Get Even. Was it fun to write? What is your favorite scene?
Get Even is the first book in the Don't Get Mad series. It's kind of an homage to two of my favorite things—the films of John Hughes and murder mysteries. It's the story of four girls –Bree, Kitty, Margot, and Olivia—from four totally different social circles who have formed a secret revenge society called DGM to get back at bullies, mean girls, and teachers who have victimized their classmates. Which all goes well until one of their targets turns up dead, DGM is implicated in the murder, and the girls don't know if one of them is a killer or if somebody else knows their secret.

This book was SO MUCH FUN TO WRITE. Especially my favorite scene which takes place near the beginning of the book where DGM gets hold of the douchey Coach Creed's reality show audition video and screens it in front of the entire school.
Sounds awesome. We ♥ all things John Hughes, too. If you only had six seconds with a stranger in an elevator, how would you pitch this book?
"The Breakfast Club with a body count."
O.O What is your favorite part of the writing process?
Editing, by far. I love being presented with a set of challenges by my editor and then coming up with a plan of attack.
We don't think anyone else has ever said that! How would you introduce Kitty, Olivia, Margot and Bree to readers at a party?
Oh hey, I'd like you to meet a few friends of mine. This is Kitty Wei. She's the student body vice president, and her school volleyball team are the reigning state champions. Yeah, she is tall. We can't really share clothes.

And you might already know Bree's dad? Senator Henry Deringer? I know. Bree might be moving into the Governor's mansion next year.

Yes, Olivia. I won't forget about you.
*grin* They're fun already. What's the best piece of advice you've ever received from another author?
"Four Books." Meaning, when you have four books published you're finally at the point where you're establishing a brand, building a readership, cementing a career. Get Even just happens to be my fourth book…
Yay! How is Get Even different from your other books? Is there anything that will surprise your loyal readers?
There is still some creepiness and scare factor, but not nearly as much as in Possess, 3:59, or Ten. But there are still dead bodies, so take heart! Also, there is a lot more humor in this book, plus it has a sequel. My first ever series!
That's certainly good news for scaredy cats, like us. Is there ever anything that you always wish someone would ask you in an interview, but they never do?
"Will you sing for us?"

OMG I AM TOTALLY KIDDING!!! I get asked that all the time (I'm a former opera singer) and I rarely oblige. I'm mean like that.

I'd love for someone to ask my about my unholy love for sports so I can wax poetic about ERA's, the NFL draft, and why soccer only catches on in the U.S. during the World Cup.
We don't get that, either! Which character makes you swoon the most (yours or someone else's)?
Gilbert Blythe from Anne of Green Gables. I've basically been in love with him since I was ten.
OMG we love Gilbert, too! It seems like we talk about him all the time here! #FirstBookBoyfriend Thanks again for stopping by today, Gretchen. It was so much fun getting to know you a little more, and we can't wait for our readers to check out Get Even 🙂
***About Gretchen McNeil***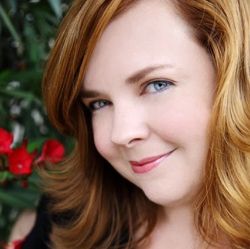 Author of YA horror novels POSSESS, TEN, and 3:59, as well as the new mystery/suspense series Don't Get Mad, beginning in 2014 with GET EVEN and continuing in 2015 with GET DIRTY, all with Balzer + Bray for HarperCollins. Gretchen also contributed an essay to the Dear Teen Me anthology from Zest Books.
Gretchen is a former coloratura soprano, the voice of Mary on G4's Code Monkeys and she sings with the LA-based circus troupe Cirque Berzerk. Gretchen blogs with The Enchanted Inkpot and was a founding member of the vlog group the YARebels. She is repped by Ginger Clark of Curtis Brown, Ltd.
Find Gretchen Here: Website | Facebook | Twitter | Goodreads
***GIVEAWAY***
Must be 13+ To Enter | Ships in US only.
a Rafflecopter giveaway
Good luck and be sure to check out the other stops on the Get Even tour!
Related Posts