You know how much we love supporting debut authors, so we were thrilled when we were invited to participate in the Debut Authors Bash again this year. We were jumping around with glee when we found out that we'd be chatting with Heather Demetrios. We ♥ Heather so much! Here's what she had to say when we got to chat with her:
***INTERVIEW***
We can't tell you how excited we are that we get to feature you, Heather! Thanks for stopping by today to celebrate the YA Debut Authors Bash with us!
It's the least I can do after you've indulged all my book boyfriend crushes. Your site is pretty addictive. 🙂
Aww thanks! You know your boys are definitely the objects of our affection! We'll get right to it. You've got two books that hit shelves this year, one a realistic contemporary and one an exotic fantasy! We can't help but think that writing two books with subjects that are so very different had to be complicated. How was your approach to writing Something Real different from writing Exquisite Captive?
When it comes to essentials, the approach was the same: I had to have compelling characters with real problems that they had to go about solving. And I had to find ways for people to kiss each other. 🙂 Of course, there is a big difference between writing a standalone contemporary and the first in a fantasy trilogy. I wrote the first draft of Something Real in six weeks and didn't have to do a ton of planning – I had the scenario and my characters and I ran with it. Exquisite was a beast because, even though I wrote it rather quickly, I had to have the whole world built and the trilogy outlined before we sold it. Exquisite started out as much more plot-focused, but as I got into it, the characters took over.
Wow. Six weeks?!? We're impressed. Let's talk contemporary. You know we loved Something Real! Tell us a little about it–what made you pick this scenario to write about? What was your favorite scene to put on paper?
The truth is, reality TV freaks me out. There are just so many levels of wrong with it, especially shows that feature children. I was especially disturbed by Jon and Kate Plus Eight. I saw those kids on the cover of a People magazine and started thinking about what it would be like to be in that family and to maybe not want to live your life in front of the camera. I like to write about things that either make me really angry or are just crazy fascinating to me. In this case, it was both. My very favorite scene for this book is pretty much any romantic scene involving Chloe and Patrick. When I'm having a bad day, I just grab the book and read all the parts where they kiss and I feel instantly better. I'm a pretty hopeless romantic.
That's what we do, too. When we met you and your Hubby at BEA it was very clear how adorable the two of you are. Was some of the swoon (which was so perfect!) in Something Real from real life experiences?
Aw! We'll take "adorable" any day of the week! He was a total trooper, letting me drag him all over the BEA scene. I read this question to Zach, my husband, and this is what he said (for the record, he tried really hard to keep a straight face while saying this): "Any and all swoon between any and all aforementioned married parties shall remain within the exclusive purview of said married parties."

He isn't a lawyer, but he totally rocked that, didn't he? 🙂 I have to say that even though Patrick Sheldon is entirely fictional, pretty much everything he does in the book are things Zach probably would have done if we'd been in high school together and my family had forced me to be on a reality TV show. One of the things I love best about my husband and about boys of the Patrick persuasion is that he is ready to fight The Man on my behalf and then take me out for a treat afterwards.
So sweet! He's even more adorable now. 🙂 Now on to your newest title, Exquisite Captive. We're so excited about this one. What sparked the idea for the Dark Caravan Cycle series? How did you come up with Nalia and Raif's names?
I was in a writing class and the idea came from a writing prompt my teacher gave us! The prompt was to write a scene about a character who has a huge problem. The first thing that popped into my head was a jinni stuck in a bottle—how random is that? But I went with it and here we are! Nalia's name just came to me out of the blue and I loved it and knew right away that it was her name. Same with Raif, except that I had heard that name before. It's actually an Irish name, but it sounds like it belongs in the jinni world. All of my character's names are ones I made up, though a few are actual Arab names, like Nalia's master, Malek, who's Saudi. The jinn aren't Arab—they are their own magical race. But, I wanted the feel of the cultures jinn lore is most prevalent in, so the language I made up and the names all have the flavor of the Arabian Nights.
So interesting! What kind of research did you have to do to make the story seem believable?
I read the Arabian Nights, of course, but most of my research came from a fantastic book called Legends of the Fire Spirits. It's written by this guy who researched jinn lore from all over the world. It's absolutely fabulous and it's where I get a lot of my inspiration and information. The truth is, though, that a lot of what you read in the series comes from my own imagination. I honor the background the jinn myth comes from, but I tell my own story. For all the foreign locations in the book, those are all places I've been. I really can't imagine writing about somewhere I haven't traveled to.
We want to go with you! If you could introduce one of your characters (from either book!) to another character from any other book, who would it be and why?
I would pay good money to see Benny from Something Real talk to Malek from Exquisite Captive. Benny is Chloe's gay brother who is the nicest guy you'll ever meet, but he doesn't take shit from anyone. Malek is Nalia's master, a huge power player and criminal mastermind who has the entire world wrapped around his finger. If anyone could give Malek a run for his money, it'd be Benny. I picture them sitting down and smoking way too many cigarettes (they're both smokers) and arguing late into the night.
We'd love that, too! Which character makes you swoon the most (It can be one of yours or someone else's)?
Pretty much every boy Stephanie Perkins writes. Don't make me choose between Étienne, Cricket, or Josh because I can't. That would just be cruel. I also have a deep, deep love for Sean Kendrick from The Scorpio Races. Of course I swoon over the boys I make up, too—writing is the ultimate swoon wish fulfillment. The boy I love the most that I wrote is for my next book, which comes out in Feb. 2015: Josh Mitchell. He's a Marine and hot and vulnerable and…and…and…
Gah! We cannot wait for I'll Meet You There! Can we go ahead and claim Josh Mitchell as ours? Okay. Of course, we ♥ Etienne, Cricket, and Josh, too. We want to know about you, too! How would you describe yourself in three words?
Agh! This is really hard to do without commentary. You know what? I'm adding commentary. Okay:

Resilient: Getting to the point where you make art for a living is hard. I feel like there were a lot of obstacles I had to overcome to be where I'm at right now and I'm glad I'm so darn stubborn. I didn't want to give up.
Dreamer: I don't think I actually spend very much time in the real world. I never really have.
Romantic: I like kisses in the rain and beautiful things and I will live and die by pretty much any romantic ideal you can think of.
You're so awesome. What is the one thing readers would be surprised to learn about you?
I have a suspicion readers would be surprised by a good many things about me–or maybe I just want to believe I'm a Woman Of Mystery. 😉 Perhaps they'd be surprised to learn that, despite the fact that I've traveled to over two-dozen countries and moved to New York City because of all the wonderful things you can do here, I don't like leaving my apartment. Like, ever. It's kind of a problem.
🙂 What advice can you give to aspiring writers?
I could go on and on about this, but here is the abridged version of the heaps of things I could say:

Don't give up. Write something you can't bear not writing. Write every day. Read. Watch less TV.
Great advice! Do you have any future projects you can tell us about?
Why, yes, I do! In February 2015, my next YA contemporary comes out. It's called I'll Meet You There and is the book of my heart. I am so, so, so excited for people to read it. It's a love story about a girl who's desperate to get out of her crappy life situation and a Marine who just lost his leg in Afghanistan and has to come home to this tiny town they both live in. They work at a quirky roadside motel together and all kinds of things happen that bring them together. And then, of course, I'm working on the other books in the Dark Caravan Cycle and a host of other maybe-books (I call them "maybe books" because they're stories I'm still trying to figure out).
We are so excited for all of the things! Is there ever anything that you always wish someone would ask you, but they never do? (We want the answer too!)
Yes! Something Real has been out for nearly seven months and no one has ever asked me why I decided to make Patrick, the boy in the book, such a good guy. In fact, some people worried he was too good. (For the record: I married a version of Patrick Sheldon, so he's a totally realistic character). So here's why Patrick is the way he is: when I was in high school, I had a terrible boyfriend. He treated me like crap and I totally let him. I didn't know there were Patricks out there. I didn't know what I was missing. So my hope is that some girl out there who's in a bad relationship will read Something Real and decide she deserves a Patrick and dump the guy who treats her so bad. I hope it makes her raise the bar. And I hope she finds her Patrick.
That is the sweetest thing ever. Really. Thanks again for coming by. We can't wait for our readers to get to know you better and get their ::grabbyhands:: on Something Real and Exquisite Captive!
Thanks so much for having me!
***About Heather Demetrios***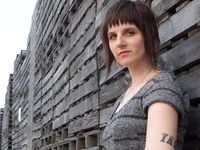 When she's not traipsing around the world or spending time in imaginary places, Heather Demetrios lives with her husband in New York City. Originally from Los Angeles, she now calls the East Coast home. Heather is a recipient of the PEN New England Susan P. Bloom Discovery Award for her debut novel, Something Real, which Publisher's Weekly calls "[An] addictive yet thoughtful debut" about reality TV stardom. She is the author of the upcoming EXQUISITE CAPTIVE, a smoldering fantasy about jinn in Los Angeles and what Kirkus called in its starred review "an intoxicating, richly realized realm of magic, politics, spirituality and history" (#1 in the DARK CARAVAN CYCLE). She is also the author of the upcoming I'll Meet You There (Winter 2015). I'll Meet You There is a love story about a young combat veteran and a girl trapped in their small town, both struggling to escape the war at home. Heather is the founder of Live Your What, an organization dedicated to fostering passion in people of all ages and creating writing opportunities for youth of limited economic means. She is proud to have an MFA in Writing for Children and Young Adults from Vermont College of Fine Arts. You can always find her on Twitter (@HDemetrios), ogling the military dogs she wants to adopt (but can't because her NYC apartment is way too small).
Find Heather Here: Website | Facebook | Twitter | Goodreads
***GIVEAWAY***
Win Your Choice of Heather Demetrios's Books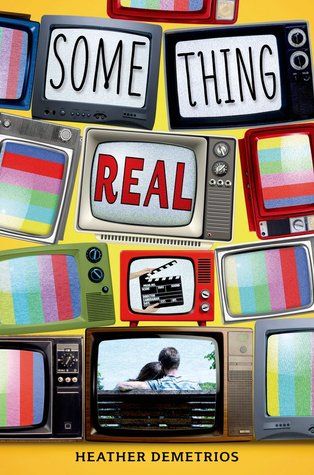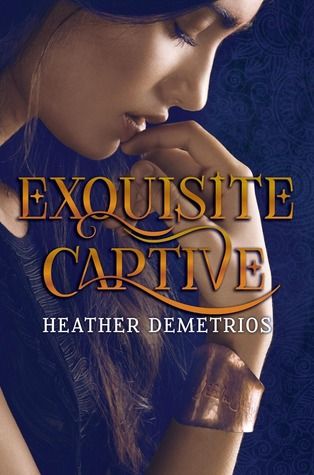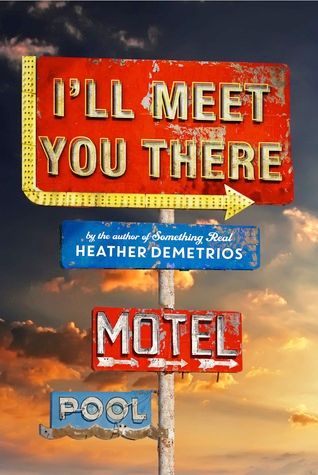 a Rafflecopter giveaway
Have you read Something Real or Exquisite Captive yet? Let us know what you thought or how excited you are to check them out!
Related Posts