You already know how much we participating in the YA Debut Authors Bash. When we were signing up this year, Nichole (the lovely lady who puts together the amazing YA Debut Authors Bash and a million other fun things over at YAReads) asked us if there was any author we were dying to feature. Right away, we begged to work with Jennifer Niven. Her debut, All the Bright Places, is one of our favorite books and Theodore Finch is one of the swooniest boys we've ever read. All the Bright Places was one of our most anticipated debuts, and since we love Jennifer (and Finch) so much, we can barely contain our excitement for our feature today. Because…*drumroll please*…Jennifer Niven made a list of her Top 10 Swoony Boys! She totally speaks our language, right? So, without further ado, let's explore author extraordinaire Jennifer Niven's swoony list!
Jennifer Niven's Top 10 Swoony Boys– aka Her Favorite Fictional Boyfriends
In addition to their devastating smiles, their hearts of gold, and the fact that you can always count on them, the best thing about fictional boyfriends is that there are no messy break-ups and no bad feelings. They will live in your heart forever, even if other swoony boys come along to take their place. I've had many fictional boyfriends over the years. Here are a few of my very favorites.
Jared Padalecki/ Sam Winchester (Supernatural)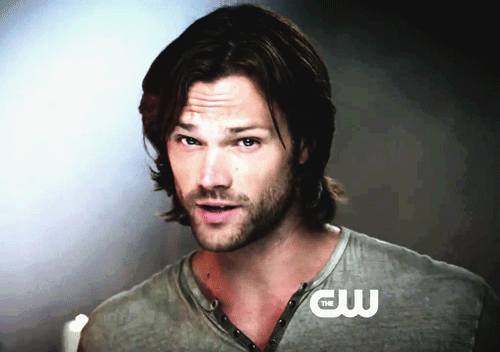 Anyone who knows me knows I've loved Jared Padalecki since he first appeared on The Gilmore Girls as Dean Forester. I followed him devotedly to Supernatural where, as the younger of the two Winchester brothers, he may be a little too serious and sensitive at times, but he means well, he has a big heart (not to mention big, broad shoulders), and he loves his older brother. It doesn't hurt that he has the most make-me-melt smile I've ever seen or that Padalecki does so much to bring awareness to mental health issues and fight the stigma associated with depression, especially in teens.
Chris Hemsworth/Thor (The Avengers)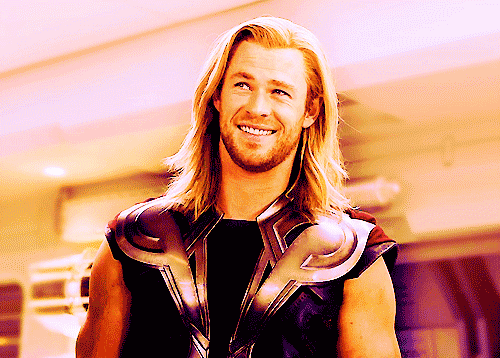 Actually, it's more about Chris Hemsworth than Thor, but really what's not to love? He's fearless. He's stubborn. He loves his mom. He's a reckless bad boy who's had to learn the hard way to be noble. He's funny. Those abs! And he's a god. Played by Chris Hemsworth!
Joshua Jackson/Peter Bishop (Fringe)
Whether he's Peter Bishop or Pacey Whitter, Joshua Jackson can outcharm and outsmart everyone around him. He's always the smartest guy in the room. The funny guy with swagger. The sarcastic guy with all the quick one-liners. The unpredictable guy who will always surprise you. The guy who will be there if you need him. And he's adorable!
Norman Reedus (Daryl Dixon)/Steven Yeun (Glenn Rhee) (The Walking Dead)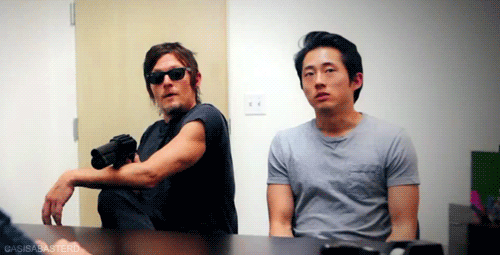 When you watch Norman Reedus as the ruggedly grungy Daryl Dixon, dropping Walkers without a blink, it's hard to believe he was once a Prada model. Daryl is the quintessential bad boy with a heart of gold. Rough around the edges, but fiercely loyal to the people he cares about, and there's this boyish sweetness underneath all that mud and leather. Not to mention he can rock a bike and bow like no one else (sorry, Arrow). We've watched Glenn Rhee grow from a geeky kid trying to prove himself to a fearless fighter, steadfast friend, and loving husband. Glenn is dreamy and devoted (the way he loves Maggie!) and oh-my-stars gorgeous, not to mention clever and resourceful and brave… and on and on for days.
Taylor Kitsch/Tim Riggins (Friday Night Lights)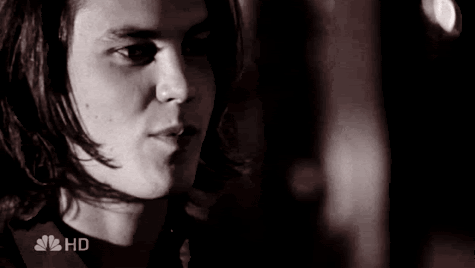 One of the dreamiest, swooniest, tragically-lost-and-wounded, yet means-so-well bad boys in the history of time. Also one of the hottest. Hello—the hair! And those eyes!
Michael B. Jordan (in anything)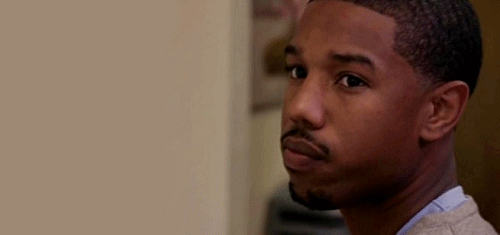 I first noticed him on Friday Night Lights, and then as recovering alcoholic Alex on Parenthood. I've made a point to watch him in every project since because of one word: charisma. Michael B. Jordan is riveting. He brings all of his characters alive, no matter how good or bad the project, and I cannot take my eyes off him. Like his character in (the pretty terrible) Fantastic Four reboot, he burns up any screen he's on.
Harry Styles
He may not be exactly fictional, but the Harry we all know and love is the persona of HARRY STYLES, ROCK STAR. The hair, the dimples, that smile, that voice, that everything that makes him… Harry.
Rahul Kohli/Dr. Ravi Chakrabarti (iZombie)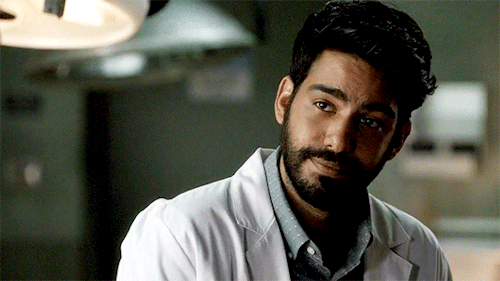 I'm sorry, but Ravi in a suit? Courting Peyton? IN A SUIT? WITH THAT ACCENT? AND HE'S SMART? AND FUNNY?! AND KEEPS LIV'S SECRET? IN A SUIT?!!
Jensen Ackles/Dean Winchester (Supernatural)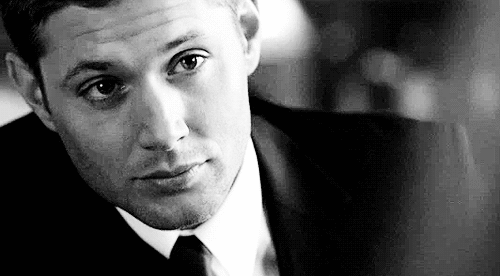 Who doesn't love Dean? Wise-cracking, charming, swaggering, heroic Dean. The best older brother ever, with maybe the best line delivery and facial reactions (not to mention face) on television.
Grant Gustin/Barry Allen (The Flash)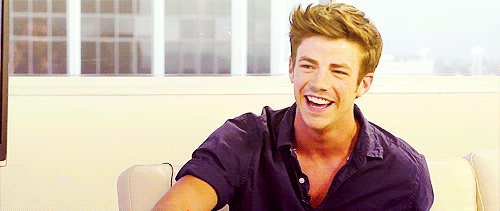 Like Sam Winchester, Barry Allen is the nice guy. And usually—as you can probably tell from this list—nice guys aren't always the ones I swoon for. But Gustin is completely winning as both the Flash and his alter ego, Barry Allen. He's got this boy-next-door-with-a-hint-of-mischief-and-a-whole-lot-of-depth quality that I find mesmerizing and lovably endearing. And his smile almost rivals Sam Winchester's in wattage.
***About Jennifer Niven***
By the time she was ten, Jennifer had already written numerous songs, a poem for Parker Stevenson ("If there were a Miss America for men, You would surely win"), two autobiographies (All About Me and My Life in Indiana: I Will Never Be Happy Again), a Christmas story, several picture books (which she illustrated herself) featuring the Doodle Bugs from Outer Space, a play about Laura Ingalls Wilder's sister entitled Blindness Strikes Mary, a series of prison mysteries, a collection of short stories featuring herself as the main character (an internationally famous rock star detective), and a partially finished novel about Vietnam. She was also an excellent speller from a very early age.
In 2000, she started writing full-time, and she hasn't stopped… Jennifer has written eight books (two of those are forthcoming), and when she's not working on the ninth, she's contributing to my her web magazine, Germ (www.germmagazine.com), thinking up new books, and dabbling in TV. She is always writing.
Find Jennifer Here: Website | Facebook | Twitter | Goodreads
***About All the Bright Places***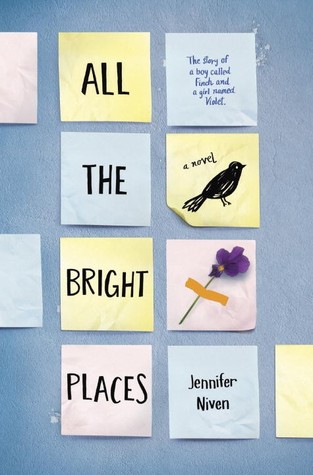 All the Bright Places
by
Jennifer Niven
Published by
Knopf Books for Young Readers
on January 6, 2015
Genres:
Contemporary
Pages:
388
Goodreads
Buy the Book
The Fault in Our Stars meets Eleanor and Park in this exhilarating and heart-wrenching love story about a girl who learns to live from a boy who intends to die.

Theodore Finch is fascinated by death, and he constantly thinks of ways he might kill himself. But each time, something good, no matter how small, stops him.

Violet Markey lives for the future, counting the days until graduation, when she can escape her Indiana town and her aching grief in the wake of her sister's recent death.

When Finch and Violet meet on the ledge of the bell tower at school, it's unclear who saves whom. And when they pair up on a project to discover the "natural wonders" of their state, both Finch and Violet make more important discoveries: It's only with Violet that Finch can be himself—a weird, funny, live-out-loud guy who's not such a freak after all. And it's only with Finch that Violet can forget to count away the days and start living them. But as Violet's world grows, Finch's begins to shrink.

This is an intense, gripping novel perfect for fans of Jay Asher, Rainbow Rowell, John Green, Gayle Forman, and Jenny Downham from a talented new voice in YA, Jennifer Niven.
*le sigh* If you didn't already, we bet you love Jennifer Niven as much as we do now! Let us know who your favorite swoony boys are!
Related Posts