Welcome to Swoony Boys Podcast! This is our stop on the Exquisite Captive Tour hosted by Me, My Shelf and I. We are beyond excited to be on this tour.  We are Heather Demetrios obsessed and we've been excited about this book from the get go! We've got a great interview with Heather today and don't forget to enter the amazing giveaway at the bottom of the post! You don't want to miss it!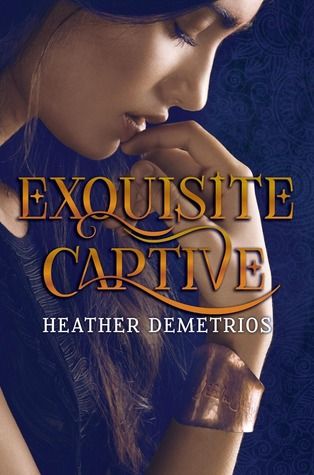 Exquisite Captive
by
Heather Demetrios
Also by this author:
Blood Passage
Series:
Dark Caravan Cycle #1
Also in this series:
Blood Passage
Published by
Balzer & Bray
on October 7, 2014
Genres:
Fantasy
Pages:
480
Goodreads
Buy the Book
Forced to obey her master.
Compelled to help her enemy.
Determined to free herself.

Nalia is a jinni of tremendous ancient power, the only survivor of a coup that killed nearly everyone she loved. Stuffed into a bottle and sold by a slave trader, she's now in hiding on the dark caravan, the lucrative jinni slave trade between Arjinna and Earth, where jinn are forced to grant wishes and obey their human masters' every command. She'd give almost anything to be free of the golden shackles that bind her to Malek, her handsome, cruel master, and his lavish Hollywood lifestyle.

Enter Raif, the enigmatic leader of Arjinna's revolution and Nalia's sworn enemy. He promises to free Nalia from her master so that she can return to her ravaged homeland and free her imprisoned brother—all for an unbearably high price. Nalia's not sure she can trust him, but Raif's her only hope of escape. With her enemies on the hunt, Earth has become more perilous than ever for Nalia. There's just one catch: for Raif's unbinding magic to work, Nalia must gain possession of her bottle…and convince the dangerously persuasive Malek that she truly loves him. Battling a dark past and harboring a terrible secret, Nalia soon realizes her freedom may come at a price too terrible to pay: but how far is she willing to go for it?

Inspired by Arabian Nights, EXQUISITE CAPTIVE brings to life a deliciously seductive world where a wish can be a curse and shadows are sometimes safer than the light.
A Day In The Life
A Day In The Life of Heather Demetrios
I write full time, so I'm pretty lucky in that what I do each day is totally up to me. I cannot even begin to say how grateful I am for that. Back when I had a day job as an ESL teacher, it was pretty exhausting coming home to write after teaching all day. Of course, when you have a lot of time, it can sometimes be easy to get distracted by social media, so I often create rules for myself to keep my work on track.

Generally speaking, I try to write between four and eight hours a day. I have to write at least 2,000 words each day, unless I'm revising. I'd say, on average, I write about six hours a day but it just depends on what's happening on the page and whatever else is going on. Sometimes I'll work on just one book, but other days I might work on more than one project. The rest of my time is taken up by the "business" of writing. There are tons of things coming from all directions throughout the day—an email or blog post that needs to be written, something to do with marketing, checking out the next book cover…it can be any number of things. Some of the businessy stuff can take up a pretty big chunk of time, others take just a few minutes to answer a question or two. I work until my husband comes home (he's a high school teacher) and then there's dinner and some TV (we just got caught up with House of Cards). Then I'll usually read and do life stuff—run errands, whatever. I wish I could say I made time to clean, but I don't. My apartment is pretty disgusting.

My day starts at around nine in the morning and I go to bed between one and two am. I try to start writing right away, coffee in hand. Otherwise, I use all my best energy of the day on answering emails and getting lost in the social media whirlpool. There's a lot of talk about how important it is to write first thing in the morning because you still have access to your subconscious and your connection to that pure artistic place that hasn't been tarnished yet by the worries of the day. I find when I just get to it that I am far more productive. I usually break for lunch around one or so and while I'm eating, I'll check my Twitter and all that stuff. Then I get back to work for another three or four hours, making another cup of coffee around three or so. If I've reached my 2K words and feel like I'm okay to stop for a while, I might spend the later afternoon on the more businessy stuff.

I usually write at home in my office because I've tried to create a space that inspires me. But, I live in a tiny NYC apartment, so sometimes I'll leave after I eat lunch and write for the rest of the day at one of the coffeehouses near me. The walls tend to close in after a while. I live in Brooklyn and it's basically full of writers, so the coffeehouses are pretty great. For a while, I was working at the same coffeehouse as Libba Bray, which was sort of surreal.

Right now, I'm trying to find a way to integrate some physical activity into my life because it's just really bad for your body to be sitting at a desk all day. I also think it's harder to get a nice flow when you're not out in the world, experiencing stuff. I always set aside time on the weekends to get out into the city and go to a museum and out to eat—whatever my husband and I are up for. And, of course, I make time for reading at the end of the day. I can't write without it!
***About Heather Demetrios***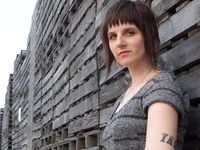 When she's not traipsing around the world or spending time in imaginary places, Heather Demetrios lives with her husband in New York City. Originally from Los Angeles, she now calls the East Coast home. Heather is a recipient of the PEN New England Susan P. Bloom Discovery Award for her debut novel, Something Real, which Publisher's Weekly calls "[An] addictive yet thoughtful debut" about reality TV stardom. She is the author of the upcoming EXQUISITE CAPTIVE, a smoldering fantasy about jinn in Los Angeles and what Kirkus called in its starred review "an intoxicating, richly realized realm of magic, politics, spirituality and history" (#1 in the DARK CARAVAN CYCLE). She is also the author of the upcoming I'll Meet You There (Winter 2015). I'll Meet You There is a love story about a young combat veteran and a girl trapped in their small town, both struggling to escape the war at home. Heather is the founder of Live Your What, an organization dedicated to fostering passion in people of all ages and creating writing opportunities for youth of limited economic means. She is proud to have an MFA in Writing for Children and Young Adults from Vermont College of Fine Arts. You can always find her on Twitter (@HDemetrios), ogling the military dogs she wants to adopt (but can't because her NYC apartment is way too small).
Find Heather Here:
Website | Facebook | Twitter | Goodreads
***GIVEAWAY***
Must be 13+ To Enter | Ships to US only.
23 Winners will get a signed finished copy of Exquisite Captive by Heather Demetrios
a Rafflecopter giveaway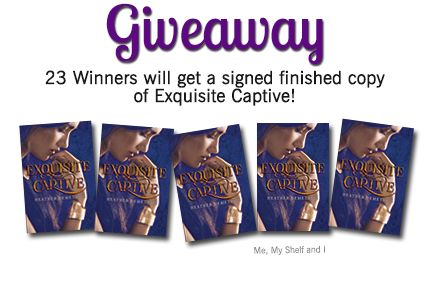 Good luck and be sure to check out the other stops from the Exquisite Captive tour!
Related Posts