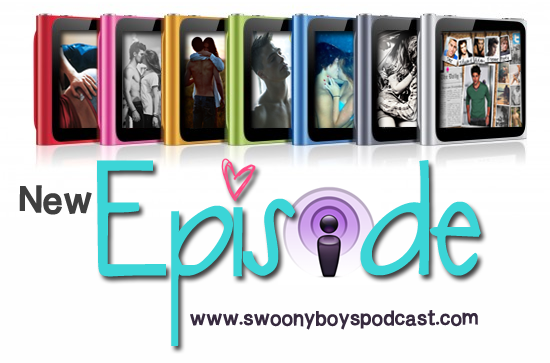 It's time for another awesome episode with our favorite twinnies, Jaime and Erin, from Fiction Fare. This time we're all about Good Guys We Want to Make Naughty. This is another fun episode in response to Book Bangin', which is hosted by Belle of the Literati. Have a listen and leave us comment to let us know who's the good guy you'd like to get naughty with.
While you're here, donut forget to subscribe to our podcast in iTunes.
Podcast Notes
Erin tells us her pick for the good guy she'd like to make naughty: Zeke from The Blood of Eden Series by Julie Kagawa.
Kassiah gives us her choice: the lovely Joe Fontaine from The Sky is Everywhere by Jandy Nelson. *bat*bat*bat*
Jaime reveals her two good guys: Jase from My Life Next Door by Huntley Fitzpatrick and Matt Finch from Open Road Summer by Emery Lord.
Meg reveals her guys: Logan from The Summer I Became a Nerd by Leah Rae Miller and Patrick from Something Real by Heather Demetrios.
Then we talk about our Hotties of the Month, beginning with Nathan Everetts (Nate) from Boys Like You by Juliana Stone (Erin's pick this month).
Kassiah gives us her hotties of the month: Harvey from Side Effects May Vary by Julie Murphy and Drew Jordan from Perfect 10 by Erin McCarthy.
Jaime tells us her picks this month: Connor Kelleher from Her Best Laid Plans by Cara McKenna and Ethan Vance from Boomerang by Noelle August (aka Veronica Rossi and Lorin Oberweger.
Meg chooses Arin from The Winner's Curse by Marie Rutkoski. Check out Bridge of Snow (Arin's Story), which we mentioned in the Episode.
You know we can't get by without our extensive list of Honorable Mentions:
Chaol from theThrone of Glass Series by Sarah Maas
Eli from Not a Drop to Drink by Mindy McGinnis
Finn from The Cahill Witch Chronicles by Jessica Spotswood
Callum from Reboot by Amy Tintera
Xander from The Distance Between Us by Kasie West
Hector from the Fire and Thorns Series by Rae Carson
Adam from the Shatter Me Series by Tahereh Mafi
Elias from the One Universe Series by LeighAnn Kopans
Aiden from the Covenant Series by Jennifer L. Armentrout
Trevor from the Pivot Point Series by Kasie West
Peeta from The Hunger Games Series by Suzanne Collins
Finn from The Impossible Knife of Memory by Laurie Halse Anderson
Park from Eleanor & Park by Rainbow Rowell
Levi from Fangirl by Rainbow Rowell
Stephen from Invisibility by Andrea Cremer and David Levithan
Aidan from The Boyfriend App by Katie Sise
Dave from A Little Wanting Song by Cath Crowley
Bodee from Faking Normal by Courtney Stevens
Logan from the Defiance Series by CJ Redwine
Colby from The Disenchantments by Nina LaCour
Cricket from Lola and the Boy Next Door by Stephanie Perkins
Tucker Avery from the Unearthly by Cynthia Hand
Dylan McCutter from the Rule of Thirds by Chantel Guertin
Jesse Oliver from the Also Known As Series by Robin Benway
Augustus Waters from The Fault in Our Stars by John Green
Graham Larkin from This is What Happy Looks Like by Jennifer E. Smith
Cameron Hamilton from Wait for You by Jennifer L. Armentrout
Joe Foster and Sam Kennedy from Love on the Lifts by Rachel Hawthorne
Oliver from Little Blue Lies by Chris Lynch
Gabriel from the Cold Kiss Series (but really Glass Heart) by Amy Garvey
Let us know what you think! Ask Us a Question or Make Suggestions via our Handy Dandy Suggestion Form and tell us who's got you swooning here.
Related Posts