Welcome to Swoony Boys Podcast! This is our stop on History of Glitter and Blood Tour. We are excited for you to get to know author, Hannah Moskowitz better. Plus, we have fun giveaway at the bottom of the post. Are you ready? Here we go…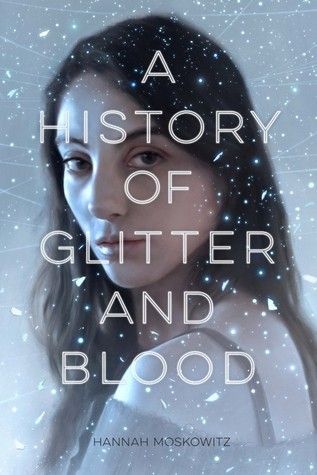 History of Glitter and Blood Published by Chronicle Books on August 18th, 2015
Genres: Fantasy, Paranormal
Pages: 280
Goodreads Buy the Book

Sixteen-year-old Beckan and her friends are the only fairies brave enough to stay in Ferrum when war breaks out. Now there is tension between the immortal fairies, the subterranean gnomes, and the mysterious tightropers who arrived to liberate the fairies.

But when Beckan's clan is forced to venture into the gnome underworld to survive, they find themselves tentatively forming unlikely friendships and making sacrifices they couldn't have imagined. As danger mounts, Beckan finds herself caught between her loyalty to her friends, her desire for peace, and a love she never expected.

This stunning, lyrical fantasy is a powerful exploration of what makes a family, what justifies a war, and what it means to truly love.
***INTERVIEW***
Hi, Hannah! Thanks for taking the time to talk with us today. We're excited for our readers to get to know you a little better. Let's get started!
Tell us a little about A History of Glitter and Blood! Was it an interesting book to work on? Did you have a favorite scene to write?
Glitter and Blood is kind of a book-within-a-book thing. One of the characters is trying to write a history book about the war they just lived through, but it keeps accidentally turning into a love story about his best friend.

There's a kissing scene that was very fun to write.
If you only had thirty seconds with a stranger in an elevator, how would you pitch this book?
I usually just say it's like The Handmaid's Tale if it were covered in glitter.
How would you introduce Becklan to someone at a party?
Beckan would introduce herself. And me. And people she'd never met. With elaborate backstories that she'd made up.
One of the questions we love to ask authors we interview is, if you could introduce one of your characters from this book to a character from any other book (yours or someone else's), who would it be and why?
I would love to introduce Beckan and Teeth (title character from my 2013 YA novel). Beckan might be one of the few people he would actually like, and she wouldn't care that he's a serious freak.
What is something readers would be surprised to learn about you?
I don't write every day. Or most days.
Do you have any interesting writing quirks or rituals? What does your writing space look like?
My writing space is my bed and right now it is covered in cats, empty bowls, and my roommate. I can only write at night, which works well since I'm nocturnal.
Let's switch gears for a second and talk about other people's books. Is there a book or book series that you think is under-appreciated or hasn't gotten enough credit for how good it is?
I love Sins Of The Fathers by Chris Lynch and I think like three people ever have read it. But some of his other books are a lot more read, so that makes me happy…but Sins of the Fathers is the best.
What's the best piece of advice you've ever received from another author?
Oone time Kody Keplinger told me I looked good in a dress so I bought it. I later got compliments.
Is there ever anything that you always wish someone would ask you in an interview, but they never do? (We want the answer too!)
Nobody's ever asked me how I'm going to die. (Blimp. It kills over one Americans.)
We can't let you leave without asking you about swoon! We want to know which swoony boys you have on your list of favorites.
Sam Winchester or bust.
***Cover Fun***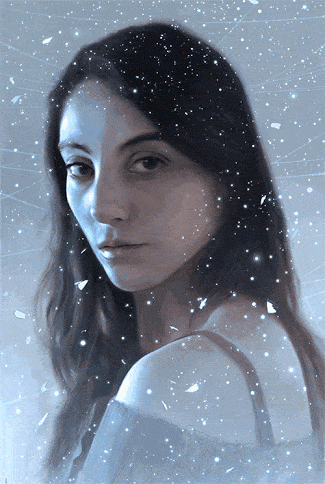 ***About Hannah Moskowitz***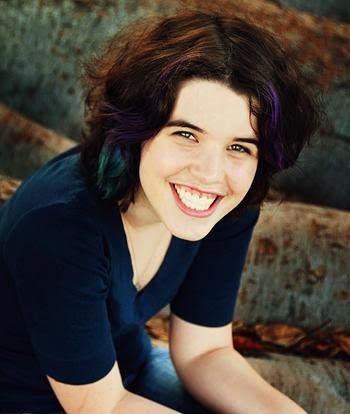 is a tank top-collecting, tv-obsessing, Rocky Horror-performing woman of mystery. She's a '90s kid, a mezzo-soprano, and a professional Sims-breeder. If she's not writing she's probably eating. Her cats are better than your cats. She'd choose a good haircut over a good wardrobe any day. And no matter where she's living, she's a clear-eyed, full-hearted Maryland girl with Old Bay for blood.
Find Hannah Here:
Website | Twitter | Goodreads
***GIVEAWAY***
Win a copy of History of Glitter and Blood
a Rafflecopter giveaway
Good luck and happy swooning!
Related Posts