Brenda Drake is one of our favorite authors. If you haven't checked out her Library Jumpers series, you absolutely should. So when we saw she's got a brand new series, we were all over it 😍. We created a fun look inspired by the first book in the series, Analiese Rising, which was released on January 8th.
Before we get to that, we know you want all the deets on Analiese Rising by Brenda Drake :
***About Analiese Rising***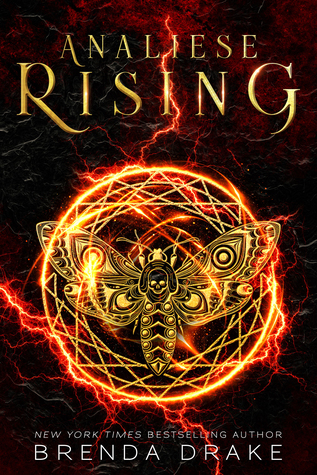 Analiese Rising
by
Brenda Drake
Series:
Analiese Rising #1
Published by
Entangled Teen
on January 8. 2019
Genres:
Fantasy
,
Mythology
Pages:
350
Goodreads
Buy the Book
Half-Blood meets Antigoddess in a thrilling, romantic new series from New York Times bestselling author Brenda Drake.

When a stranger gives Analiese Jordan a list of names before he dies, the last thing she expects to see is her own on it. Not. Cool. Her search for answers leads to the man's grandson, Marek, who has dangerous secrets of his own. Both are determined to unlock the mystery of the list.

But the truth is deadly. Analiese is a descendant of the God of Death, known as a Riser, with the power to raise the dead and control them. Finding out she has hidden powers? Cool. Finding out she turns corpses into killers? No, thank you.

Now the trail plants her and Marek in the middle of a war between gods who apparently want to raise an army of the Risen, and Analiese must figure out how to save the world—from herself.
Analiese Rising-Inspired Look
As soon as we saw this cover, we immediately thought of the Naked Heat Palette from Urban Decay. And we love these Ted Muehling 18K Rose Gold and Black Diamond Moth Wing Earrings, but they're a little pricey 😉, so we also found these very cool Moth Wing Earrings on Etsy, which are made from actual moth wings 😲.
What do you think, Pretties? Have you checked out Analiese Rising yet? If not, add it to your lists!
Related Posts