We are so excited to let you know about Ryan Graudin's debut novel, All That Glows today!
All That Glows
by
Ryan Graudin
Published by
HarperTeen
on February 11, 2014
Genres:
Fantasy
Pages:
480
Goodreads
Buy the Book
Emrys—a fiery, red-headed Fae—always embraced her life in the Highlands, far from the city's draining technology, until she's sent to London to rejoin the Faery Guard. But this isn't any normal assignment—she's sent to guard Prince Richard: Britain's notorious, partying bad boy and soon-to-be King. The prince's careless ways and royal blood make him the irresistible for the dark spirits that feed on mortals. Sweet, disheveled, and alive with adventure—Richard is one charge who will put Emrys's magic and heart to the test.

When an ancient force begins preying on the monarchy, Emrys must hunt through the London's magical underworld, facing down Banshees, Black Dogs and Green Women to find the one who threatens Richard's life. In this chaos of dark magic, palace murders and paparazzi, Emrys finds herself facing an impossible choice. For despite all her powers, Emrys has discovered a force that burns brighter than magic: love.
***About Ryan Graudin***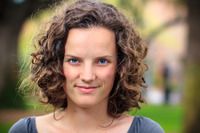 My name is Ryan and I've been writing ever since I grabbed one of my dad's old tax ledgers and created this masterpiece.
My writing has since improved, though my obsession with wolves has remained relatively the same (I even own a wolf-hybrid pup.) My childhood was a happy, sunny thing. I grew up on a steady diet of fairytales, salt-marshes, music and brothers who would re-enact Redwall battles with me in the back yard. I went to an artsy sort of high-school that allowed cello recitals in the hallways and impromptu poetry slams in the cafeteria. It was there I decided that writing was what I wanted to do more than anything.
I'm officially a grownup now (I suppose one must admit that once they turn 26). My diet still includes fairytales, salt-marshes and art, but there are a few new loves thrown in. A big one is travel. Pieces of my heart are scattered like breadcrumbs all over the globe–I've bartered them off for writing inspiration, so I suppose it's a fair trade.
When I'm not cramming my earthly belongings into a backpack and waiting in airport security lines, I'm doing one of the following: Writing YA novels, Photographing weddings with my husband, Making our little white cottage more homey, Playing with my wolf pup, Trying out Korean récipes, Haunting local coffee shops with my friends.
Find Ryan Here: Website | Facebook | Twitter | Goodreads
***GIVEAWAY***
Win (1) of (2) signed copies of All That Glows + one large tin of All That Glow custom blend Tea
a Rafflecopter giveaway
Good luck and be sure to check out the other stops on the tour!
Related Posts