We were so excited when we were invited to participate in the blog tour for Until We Meet Again by Renee Collins. This book sounds so awesome–we just can't wait to read it! We've got a great excerpt to share with you as well as a giveaway. But first, you know the drill…here's the 411 on Until We Meet Again!
***About the Book***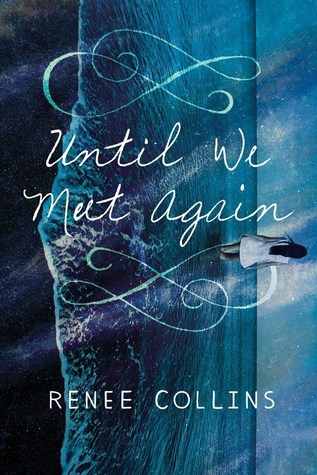 Until We Meet Again
by
Renee Collins
Published by
Sourcebooks Fire
on November 3, 2015
Genres:
Sci-Fi
Pages:
336
Goodreads
Buy the Book
They exist in two different centuries, but their love defies time

Cassandra craves drama and adventure, so the last thing she wants is to spend her summer marooned with her mother and stepfather in a snooty Massachusetts shore town. But when a dreamy stranger shows up on their private beach claiming it's his own—and that the year is 1925—she is swept into a mystery a hundred years in the making.

As she searches for answers in the present, Cassandra discovers a truth that puts their growing love—and Lawrence's life—into jeopardy. Desperate to save him, Cassandra must find a way to change history…or risk losing Lawrence forever.
***EXCERPT***
Prologue
The beach is empty. In the fading glow of twilight, the waves roll up to the rocks in sweeping curls of white foam. The sand glistens like wet steel. The grass bends low in the briny night wind. Always changing, yet always the same. I imagine the beach has looked like this since the beginning of time.
Stepping onto the soft terrain, I feel transported to some ancient evening, eons ago. Long before my uncle claimed this land as his own. Long before man even dared to taint these shores.
I wish the fleeting vision was true.
My gaze falls to the full moon's reflection on the water. It's broken into shards on the black sea, tossed about with each wave. A small, white shape catches my eye. It's in the glare of the reflection, so I nearly miss it.
I step into the wave break. A seabird, dead and limp, is rolling back and forth in the foam. Her wings are spread open, her white-and-brown-speckled breast exposed.
I lift the small creature into my palm. What killed her? I wonder. There's no sign of injury. Did she drown in the sea? Pinching her brittle, fragile leg gently between my fingers, I notice a small metal band snapped around her ankle. The sight of it startles me. Examining it closer, I catch the faint impression of numbers and letters etched into the band, but something in me resists reading them. I can't say why.
What does it matter, anyhow? The poor creature is dead. And she reminds me that there is no going back. Time howls on, like the wind. And it is not only weaker creatures like this bird that succumb to it. Even the strongest man will fall before its crushing forward push.
I set the bird out into the water. As the tide pulls her away, I accept this truth. Soon the summer will be over. Too soon.
***About Renee Collins***
Renee Collins grew up on a beach in Hawaii. Sadly, she never met anyone from the past on those shores, but she did go on to get a degree in History, which is almost the same. She currently lives in Colorado with her family..
Find Renee Here: Website | Facebook | Twitter | Goodreads
***GIVEAWAY***
Win a copy of Until We Meet Again
a Rafflecopter giveaway
Related Posts