We couldn't wait to have a chat with Logan Bradley, the awesome boy from The Dark World, the first book in the new Dark World Series by Cara Lynn Shultz. We love Cara Lynn's boys and knew Logan would be swoony! He definitely didn't disappoint! We'll see what he had to say when we sat down with him, but first, here's the 411 on the book: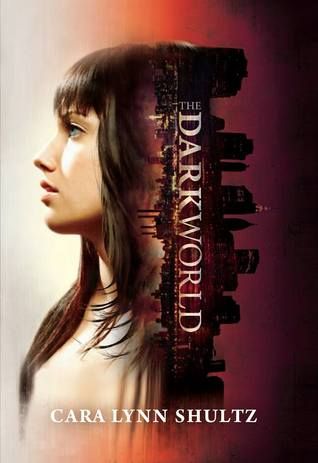 The Dark World by Cara Lynn Shultz
Series: Dark World #1
Published by Harlequin Teen on May 27, 2014
Genres: Fantasy, Paranormal
Pages: 384
Goodreads Buy the Book

Paige Kelly is used to weird--in fact, she probably corners the market on weird, considering that her best friend, Dottie, has been dead since the 1950s. But when a fire demon attacks Paige in detention, she has to admit that things have gotten out of her league.

Luckily, the cute new boy in school, Logan Bradley, is a practiced demon slayer-and he isn't fazed by Paige's propensity to chat with the dead. Suddenly, Paige is smack in the middle of a centuries-old battle between warlocks and demons, learning to fight with a magic sword so that she can defend herself. And if she makes one wrong move, she'll be pulled into the Dark World, an alternate version of our world that's overrun by demons-and she might never make it home.
***INTERVIEW***
Thanks for stopping by today! Let's start with a hard question, Logan. You're so brave. What are your biggest fears?
I'm not really afraid of spiders or anything like that. Losing someone important to me—that's what terrifies me. Also, Paige's dad.
LOL What did you think the first time you saw Paige?
The very first time I saw her? I thought… you know. I thought she was really pretty. But as I started paying more attention to her, I noticed other things. She's funny. She walks down the hall with her head held high. That really struck me, to be honest. They call her Bellevue Kelly, even though she's perfectly sane, and it would have been so easy for her to adopt that persona. She could have ignored Dottie once she realized what was going on. Instead, Paige chose the harder path. So I thought she was strong.
Awwww. How intimidated were you when you had to meet her parents?
I haven't met a lot of parents, but from everything I've learned in books and movies, dads do not like guys who like their daughters. Mrs. Kelly is really nice. But Mr. Kelly lived up to all my expectations.
Let's talk trust. You run with a very small group. What does it take for you to trust someone? And once someone has earned your trust, what does that mean to you?
Trusting someone is like giving them a knife and then turning your back. In my case, sometimes literally. Trusting the wrong person can be fatal. I don't trust a lot of people because trust is power, and I don't like giving anyone that power over me. But once I trust someone, I'll do anything to keep them safe.
***The Swoony Five***
Boxers or Briefs? (We know it's cliche', but that doesn't mean we don't want to know!)
Ha. Um…boxer-briefs or boxers.
Do you think you're a good kisser? What's the best kiss you've ever had?
I hope so. I try to do not too much, not too little. Pay attention to her, what she seems to like and go with that. But sometimes you just get lost in the kiss, and afterwards you don't remember the mechanics of it. You just remember that beating in your heart and that rush of feeling in your chest. My best kiss was on the rooftop at Paige's house. Obviously…with Paige. That would be messed up if I took some other girl up there.
What's your favorite book?
Classics? I love Hamlet. I find him easy to relate to. For…reasons. In terms of modern stuff, I love The Walking Dead graphic novels. The over-arching theme of right and wrong, and how those terms can be fluid given your circumstances, is appealing to me. Also for reasons.
If Paige wanted to make you breakfast in bed, what would you want on the menu?
Homemade pizza. Well, it's breakfast, so pizza bagels, I guess. And something chocolate for her.
So sweet! Okay, last question. Since we're all about the swoon here at Swoony Boys Podcast, we have to ask. What do you think makes you swoony?
Would that be stuff I'm proud of? I'm a good fighter—really good. And once I make a decision, I stick to it.
Thanks so much for stopping by today, Logan ♥ ♥ ♥
***About Cara Lynn Shultz***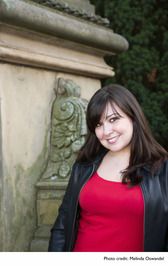 Cara Lynn Shultz is the author of Spellbound and Spellcaster. She's a proud graduate of Fordham University and her work has appeared in Teen People, PEOPLE.com, Alternative Press, The Guardian UK, and countless posts on Facebook and Twitter. She lives in her native New York City with her husband, cat, and eight million other people.
Find Cara Lynn Here: Website | Facebook | Twitter | Goodreads
***GIVEAWAY***
Each stop on the tour will be offering up a copy of The Dark World, and one winner will receive a fantastic grand prize package from HarlequinTEEN!
Please enter via the Rafflecopter form. Giveaway is open to US/Canada.
a Rafflecopter giveaway
Good luck and be sure to check out the other stops on The Dark World tour!
Related Posts