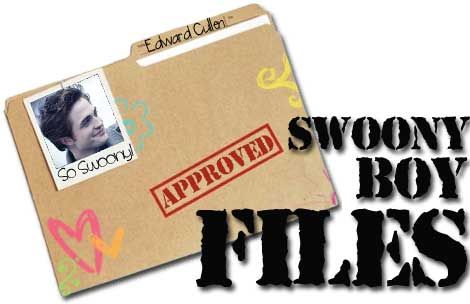 The Books:
Featured in: Twilight, New Moon, Eclipse, Breaking Dawn, The Short Second Life of Bree Tanner, and The Twilight Saga: The Official Illustrated Guide
Made His Debut: 10-05-2005
Author: Stephenie Meyer
Series: The Twilight Saga
Genre: Paranormal
Publisher: Little, Brown
The Boy:
Age: 17 when he was changed. Technically 107.
Physical Description: Bronze Hair, Gold or Black Eyes, depending on his level of hunger. (Green when he was human, red when he was a people-eating vamp). "Edward is thin and lanky but muscular. He has untidy bronze hair and boyish looks." (From The Twilight Saga: The Official Illustrated Guide)
Edward is 6'2″, and has a thin and lanky but muscular body. Bella often describes Edward's appearance to be similar to Adonis, the mythical Greek god. His facial features are described as perfect and angular. He has high cheekbones, a strong jawline, a straight nose, and full lips. His hair is an unusual bronze shade and always untidy. His eyes, were green as a human, and are now described as topaz or liquid gold. If he goes too long without feeding his appearance changes- his eyes darken, becoming onyx black, and purple bruise-like shadows appear beneath his eyes.
Personality Traits: Stephenie Meyer explains that Edward started out as a pessimistic character. He always thought of himself as an abomination of nature, not deserving happiness nor believing that his relationship with Bella would last, until he gave her a daughter and brought Bella more happiness than he could have ever imagined. To him, Bella's happiness was everything; furthermore, he was the one who gave her that. At the end of Breaking Dawn, he has become a much more positive person and fearlessly faces the Volturi.
Edward likes to drive fast and has a hobby of collecting cars. He easily dazzles human females and has a tendency to overreact, especially when it comes to Bella. He is described in many ways throughout the series- brooding, stubborn, kind, compassionate, charming, polite, romantic, old-fashioned/traditional, and determined.
Swoony Subjects: Vampire, Musician, Loves Cars
Relationship Status: Married
The Swoon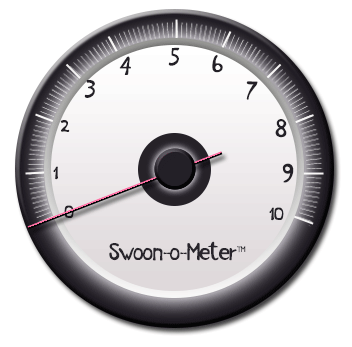 Score on the Swoon-o-Meter: 10
Read about our Swoon Factor Ratings on the Swoon-o-Meter™.
Swoony Things He Says:
"I may not be a human, but I am a man."
–Twilight, ch. 14
"Hadn't you noticed? I"m breaking all the rules now."
– Twilight, ch. 10
"Marry me first."
– New Moon, ch. 24
"Well I'm nearly a hundred and ten. It's time I settled down."
– New Moon, ch. 24
"I love you. I want you. Right now."
– Eclipse, ch. 27
"Now it's your turn to not break me."
– Breaking Dawn, ch. 20
Why We Like Him: Besides being the swoony boy who brought us together in the first place, he was also the first fictional character that we had fallen for since we were younger. Edward is easy to love, even with his flaws.
Why We Don't: What's not to like? Seriously. We love this boy. Sure there are things that each of us could do without, his change of character in BD (Kass) his stalkerness (Meg), and his white sleeveless shirt, but overall Edward is pretty much perfect. (Kass & Meg)
Don't miss our podcast episode all about Edward.
Related Posts