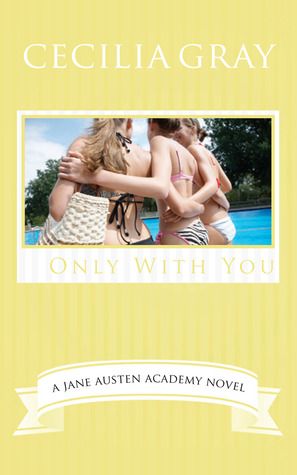 Only With You

by Cecilia Gray
Series: The Jane Austen Academy Series #5
on May 4, 2014
Genres: Contemporary
Pages: 202
Goodreads

Buy the Book

Dive into the fabulous, fun lives of six Academy girls as their friendships are tested, torn and ultimately triumph…

Emma has it all - looks, money, and luck. It's not like she keeps it all to herself - she's totally committed to helping those less fortunate. AKA, everyone. She invites her heartbroken friend to help with a weekend charity event with an eye to matchmake, but when that friend turns her eye toward the guy Emma wants for herself, how will she choose between friendship and her own feelings?

* * *

The last thing that the girls at the elite Jane Austen Academy need is hot guys to flirt with. But over the summer the school has been sold, and like it or not, the guys are coming. And it's about to turn the Academy—and the lives of its students—totally upside down…
***About Cecilia Gray***
Cecilia Gray lives in the San Francisco Bay Area where she reads, writes and breaks for food. She also pens her biographies in the third person. Like this. As if to trick you into thinking someone else wrote it because she is important. Alas, this is not the case.
She's rather enamored of being contacted by readers and hopes you'll oblige.
Find Cecilia Here: Website | Facebook | Twitter | Goodreads
***GIVEAWAY***
50$ Amazon or B&N or iTunes gift card and a book giveaway of the author's choice to the winner based on her perusal of their Goodreads shelf (because just like her heroine, Emma, she think she know what's best for everyone. 😉
a Rafflecopter giveaway
Good luck and don't miss the other stops on the tour!
Related Posts