Crazy, Stupid, Fauxmance
by
Shellee Roberts
Series:
Creative HeArts #3
Also in this series:
Ten Things Sloane Hates About Tru
,
How Willa Got Her Groove Back
,
The Secret Life of a Dream Girl
Published by
Entangled: Crush
on April 18, 2016
Genres:
Contemporary
,
Romance
Pages:
166
Goodreads
Buy the Book
Disclaimer: This Entangled Teen Crush book contains a kickass heroine, a boy so hot he'll make you shiver, and a falling-in-love story fit for the big screen. You'll want to settle in and have the popcorn ready.

After Mariely Hinojosa and Cabot Wheeler both break up with their significant others at the same party, Mariely sees a way to get even with both of their exes. Everyone knows that the best way to get over a breakup is a hookup—a fake hookup, that is. Three weeks, all fun, no strings, and definitely no heartbreak at the end.

But somewhere between the sweet hand-holding and melt-your-mind kisses, their fake relationship starts to feel less like an act and more like the real thing...but Mariely's a free-spirited girl from the other side of the tracks, and Cabot's the hot trust-fund guy from the Hills.

They'd never work for real...
Since we've been so up and down with these Entangled Crush titles, we weren't sure we wanted to read this. But of course we had to find out what happened with Willa and Finn, so we picked this one up. This series has an interesting premise–different authors contribute a book that we thought would be standalone (but it seems like most of these are the beginning of their own series, maybe?). The characters intertwine, but each book focuses on a different couple. This one focuses on Mariely and Cabot.
The 411:
When Mariely and Cabot break up with their SOs at a party Cabot is throwing, Cabot has a plan–pretend to date each other to get his ex off his back and her ex off her mind. It's a tale as old as time, and Crazy, Stupid, Fauxmance tells it in a fun, refreshing way.

What We Loved:
We really liked Mariely's personality and this story. Cabot was just the right amount of swoony, and though these two seem to be total opposites, they come together in a way that had us rooting for them. We're so glad we got to see more of Finn here–you know we love him, and we were really happy for his friendship with Cabot. Of course it was predictable (though we have to read the next book in the Mariely and Cabot series to find out what happens with them), but this is a fun, fast read for Young Adult fans.

Verdict: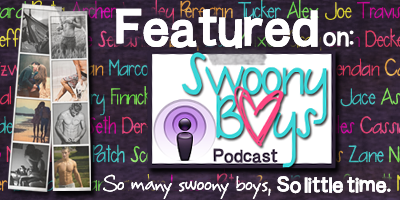 Related Posts