Welcome to Swoony Boys Podcast! When our friends over at Random House Kids asked us if we wanted to participate in a blog tour for When You're Feeling Sick we responded with a big YES! We love  We're excited to share our thoughts on this adorable book and its author, Coy Bowles, with you today. We've even got a review from Meg's kiddos, Luca & Matteo! Ready to go? Let's get started…
*****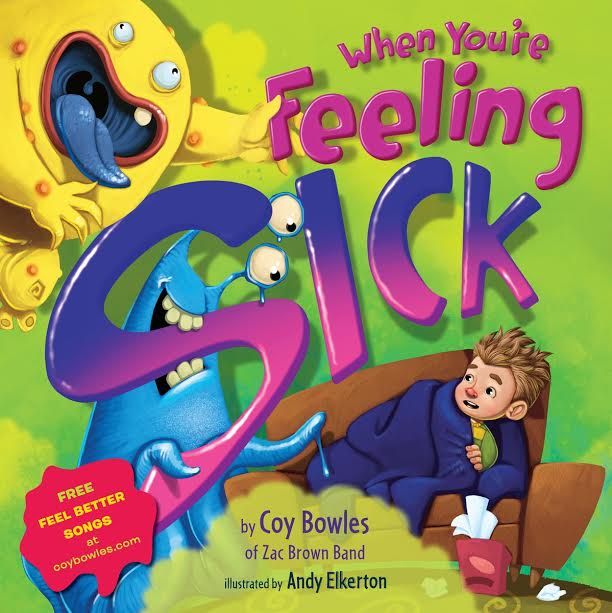 When You're Feeling Sick by Coy Bowles
Published by Doubleday Books for Young Readers, Random House on January 10th, 2017
Genres: Children's Fiction
Pages: 32
Goodreads Buy the Book

This laugh-out-loud picture book from Coy Bowles, guitarist for the Grammy Award winning Zac Brown Band, will have sick kids feeling better in no time!

Sneezing? Coughing? Taking a sick day? Don t worry, you ll be feeling better soon thanks to this hilarious picture book from Coy Bowles, guitarist of the Grammy Award winning Zac Brown Band. Full of encouraging and super-silly rhyming advice on how to face sick days with courage and a positive attitude, When You're Feeling Sick is just what the doctor ordered! Comes with a sheet of stickers to bring a smile to every sick kid's face."
***Mini Swoons Review***
Review by Matteo, Age 5


This was funny, a little gross, and AWESOME! I love the noodle soup page, and the balloon toes, and the dragon, and that the song says poopy! That was so funny! Can you just read it to me again? (How could I say no to that?)
***Mini Swoons Review***
Review by Luca, Age 8


This was very silly. I don't usually like a lot of rhyming, but this was actually really good. I loved that gross burger he talked about. I kind of want to eat it. And can we get Gryffindor (our dog) to turn green and leap like a frog? (The answer he received was sadly a no!) Also, it's kind of cool that there are so many different kinds of kids in this book. Most books just have one kind, but this is kinda like my school. The best part is the sick monster face. I'm doing it again. (And he did!)
***About Coy Bowles***
COY BOWLES plays guitar and organ and writes songs for the multiplatinum Zac Brown Band. They have won three Grammys and since 2009, have earned 55 award nominations from the Grammys, Academy of Country Music, American Music Awards, Country Music Association, and Country Music Television. Born in Thomaston, Georgia, Coy was raised on love, support, and the idea that he could do anything he put his heart and soul into. After earning a degree from Georgia State University's Jazz Studies program, Coy formed the band Coy Bowles and the Fellowship. In 2006, they opened for the Zac Brown Band, and soon after Zac asked Coy to join his band full time. Coy's first book, the self-published Amy Giggles: Laugh Out Loud, teaches kids to accept themselves as they are.
Find Coy Here:
Website | Twitter | Instagram | Goodreads
***GIVEAWAY***
Win A Copy Of WHEN YOU'RE FEELING SICK
Must be 13+ To Enter | Open Internationally.
a Rafflecopter giveaway
Good luck & thanks for 'mini-swooning' with us!
Save
Save
Save
Save
Save
Related Posts