It's DAY NINE of our Thanksgiving Author Hop! Each day we are featuring one of our favorite authors and their books so you can get to know them a little bit better. Today is all about Katie McGarry. We have been her fangirls since Pushing the Limits came out in 2012. Every book since then has made us fall just a little more in love. She writes swoon like no other and always keeps us updated on all our favorite characters, which makes us very, very happy.
Today she's sharing a Thankful Top 10 List with you! We are also sharing a little about her book, Long Way Home at the bottom of the post. While you're here don't forget to enter our giveaway. A copy of one of her books will definitely be included! Are you ready to get to know her & her book a little better? Let's get started…

Top Ten Things I'm Thankful For That Help With My Writing
by Katie McGarry
10. My cat or dog sleeping on me while I'm writing which will keep me from getting up.
9. A hot bath to relax
8. Long walks/runs to clear my mind
7. My front porch swing
6. Music–all genres
5. Hot Chocolate with cool whip
4. Sunlight through windows
3. Stephen King and S.E. Hinton–I hope to write books that rock others' worlds like their books rocked me
2. My critique group
1. My husband and 3 beautiful kiddos!
***Meet Katie McGarry***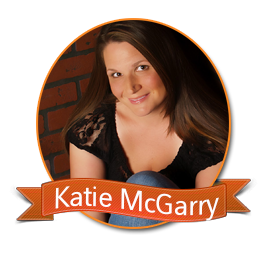 KATIE MCGARRY was a teenager during the age of grunge and boy bands and remembers those years as the best and worst of her life. She is a lover of music, happy endings, and reality television, and is a secret University of Kentucky basketball fan.
Katie would love to hear from her readers. Contact her via her website, katielmcgarry.com, follow her on Twitter @KatieMcGarry, or become a fan on Facebook and Goodreads.
Find Katie Here:
Website | Twitter | Instagram | Goodreads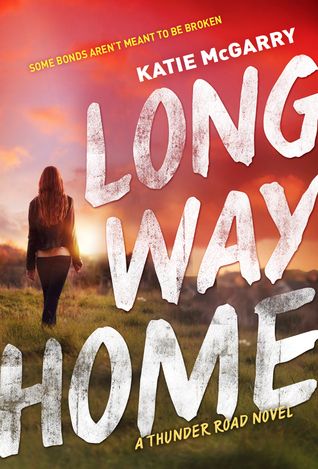 Long Way Home by Katie McGarry
Also by this author: Crash Into You, Long Way Home
Series: Thunder Road #3
Also in this series: Long Way Home
Published by Harlequin, Harlequin Teen on January 31st, 2017
Genres: Contemporary, Contemporary Romance
Pages: 448
Goodreads Buy the Book

Seventeen-year-old Violet has always been expected to sit back and let the boys do all the saving.

It's the code her father, a member of the Reign of Terror motorcycle club, raised her to live by. Yet when her dad is killed carrying out Terror business, Violet knows it's up to her to do the saving. To protect herself, and her vulnerable younger brother, she needs to cut all ties with the club—including Chevy, the boy she's known and loved her whole life.

But when a rival club comes after Violet, exposing old secrets and making new threats, she's forced to question what she thought she knew about her father, the Reign of Terror, and what she thinks she wants. Which means re-evaluating everything: love, family, friends . . . and forgiveness.

Caught in the crosshairs between loyalty and freedom, Violet must decide whether old friends can be trusted—and if she's strong enough to be the one person to save them all.
***GIVEAWAY***
Win Our Thanksgiving Author Hop Prize Pack
a Rafflecopter giveaway
Good luck and happy swooning!


Make sure you come back tomorrow for DAY TEN!
Check Out Day 1: SJ Kincaid Here
Check Out Day 2: Mari Mancusi Here
Check Out Day 3: Katie Cotugno Here
Check Out Day 4: Sara B Larson Here
Check Out Day 7: Trish Doller Here
Check Out Day 8: Katie Sise Here
Head over to Fiction Fare to check out their featured author
& enter to win their stack of books!
Related Posts