All week long, we're going to post some of our favorite books, movies, and shows that remind us of Halloween. We're giving away a beautiful copy of Harry Potter and the Sorcerer's Stone: The Illustrated Edition (open anywhere Book Depository ships), and we've also got some other fun giveaways planned throughout the week! So be sure to check back here every day to see what we've got going on, and don't miss out on our instagram. We may be posting some fun Halloween stuff there, too!
We can't not think of witches (and wizards) when we think of Halloween, so we're kicking off our week with something that's not exactly Halloweeny. We the entire series and figured you do, too!
Harry Potter has made a bunch of our Top Ten Lists and we've talked about the series in several Podcast episodes. You don't need us to tell you about the epic awesomeness. We'll just point out a few of our favorite moments from the books and movies that occurred on Halloween.
Harry and Ron cemented their friendship with Hermione forever when they saved her from the Troll in the bathroom in their first year. *swish and flick*
Just looking at the feast makes us smile.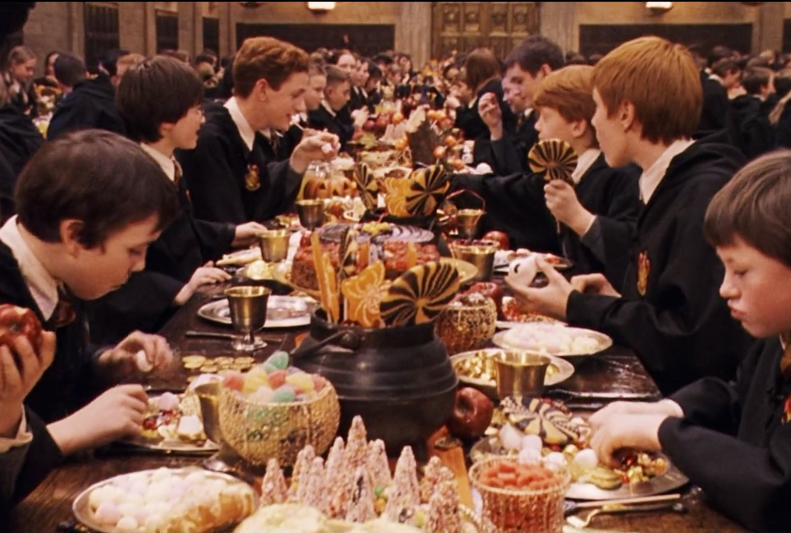 We love a good party as much as the next girl, and we would have loved to attend Nearly Headless Nick's 500th Deathday Party.
Nearly Headless Nick now drifted toward them through the crowd.

"Enjoying yourselves?"

"Oh, yes," they lied.

"Not a bad turnout," said Nearly Headless Nick proudly. "The Wailing Widow came all the way up from Kent… .It's nearly time for my speech, I'd better go and warn the orchestra… ."

The orchestra, however, stopped playing at that very moment. They, and everyone else in the dungeon, fell silent, looking around in excitement, as a hunting horn sounded.

"Oh, here we go," said Nearly Headless Nick bitterly.

Through the dungeon burst a dozen ghost horses, each ridden by a headless horseman. The assembly clapped wildly; Harry started to clap, too, but stopped quickly at the sight of Nick's face.

The horses galloped into the middle of the dance floor and halted, rearing and plunging. At the front of the pack was a large ghost who held his bearded head under his arm, from which position he was blowing the horn. The ghost leapt down, lifted his head high in the air so he could see over the crowd (everyone laughed), and strode over to Nearly Headless Nick, squashing his head back onto his neck.

"Nick!" he roared. "How are you? Head still hanging in there?"
Sirius Black is one of our favorite characters. Who could forget when he attacks the Fat Lady?
Remember when Ron got so upset with Harry because he thought Harry didn't tell him about putting his name in the cup? The Triwizard champions were chosen by the Goblet of Fire on October 31.
What happened was very sad, but we both know there isn't anything we wouldn't do for our kids. Voldemort murdered Harry's parents on Halloween, setting off a series of events no one could have predicted, including all of us being able to unite because of our love for all things Harry!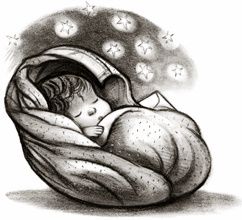 ***GIVEAWAY***
Harry Potter and the Sorcerer's Stone: The Illustrated Edition
by
J.K. Rowling
,
Jim Kay (illustrator)
Series:
Harry Potter #1
Published by
Arthur A. Levine Books
on October 6, 2015
Genres:
Children's Fiction
,
Illustrated
Pages:
256
Goodreads
Buy the Book
For the first time, J.K. Rowling's beloved Harry Potter books will be presented in lavishly illustrated full-color editions. Kate Greenaway-award-winning artist Jim Kay has created over 100 stunning illustrations, making this deluxe format a perfect gift as much for a child being introduced to the series, as for the dedicated fan.

Harry Potter has never been the star of a Quidditch team, scoring points while riding a broom far above the ground. He knows no spells, has never helped to hatch a dragon, and has never worn a cloak of invisibility.

All he knows is a miserable life with the Dursleys, his horrible aunt and uncle, and their abominable son, Dudley -- a great big swollen spoiled bully. Harry's room is a tiny closet at the foot of the stairs, and he hasn't had a birthday party in eleven years.

But all that is about to change when a mysterious letter arrives by owl messenger: a letter with an invitation to an incredible place that Harry -- and anyone who reads about him -- will find unforgettable.
Win a copy of Harry Potter and the Sorcerer's Stone: The Illustrated Edition (Valid wherever Book Depository Ships)
a Rafflecopter giveaway
What's your favorite thing about Harry Potter?
Related Posts