Welcome to Swoony Boys Podcast! This is our stop on the Life in a Fishbowl Tour hosted by our friends over at Bloomsbury. We were asked to do a character intro post and had so much fun putting it together! We can't wait for you to get to know this crew a little bit before you read their story.
There is also a giveaway at the bottom of the post that you don't want to miss! Are you ready to get to know more about author, Len Vlahos, this book, and its characters? Let's do this…
***About the Book***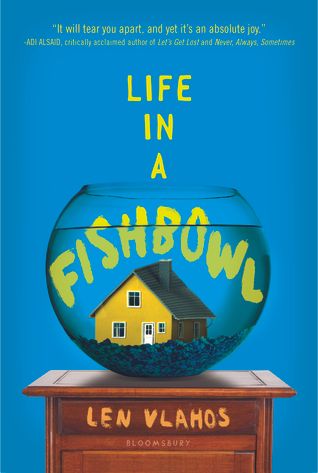 Life in a Fishbowl
by
Len Vlahos
Published by
Bloomsbury Publishing
on January 3rd, 2017
Genres:
Contemporary
Goodreads
Buy the Book
Fifteen-year-old Jackie Stone is a prisoner in her own house. Everything she says and does 24/7 is being taped and broadcast to every television in America. Why? Because her dad is dying of a brain tumor and he has auctioned his life on eBay to the highest bidder: a ruthless TV reality show executive at ATN.

Gone is her mom's attention and cooking and parent-teacher conferences. Gone is her sister's trust ever since she's been dazzled by the cameras and new-found infamy. Gone is her privacy. Gone is the whole family's dignity as ATN twists their words and makes a public mockery of their lives on Life and Death. But most of all, Jackie fears that one day very soon her father will just be . . . gone. Armed only with her ingenuity and the power of the internet, Jackie is determined to end the show and reclaim all of their lives, even in death.
***Character Intros***
"Meet the Stones"
Jared Stone–  Jared is forty-five years old. He is married to Deirdre and has two daughters, Jackie and Megan. He is serving his fourth two-year term on the Oregon state legislature and is also a graphic designer. He enjoys playing games on  the wii, especially golf, and spending time with his family.  Jared just found out he has a high-grade glioblastoma multiforme brain tumor. It's inoperable. He decides to place an ad online, selling himself in order to insure financial stability for his family.
Deirdre Stone– Deirdre could be considered a stereotypical suburban mom with a full-time job. She loves her house and her garden. She's an executive assistant to the CFO of a multinational insurance company. She's organized and routine oriented.
Jackie Stone– Jackie is fifteen years-old. Her room is her sanctuary, the only place she feels completely at ease. She never truly feels like she fits in anywhere. She loves the Internet, but more than anything she loves her dad.
Megan Stone– Megan is Jackie's younger sister. She's in eighth grade. She is pretty, strong, self-sufficient and a queen-bee among her peers. She loves clothes, make-up and fashion magazines.
Trebuchet– Trebuchet is the Stone's family dog. He is a black lab.
"Meet the Bidders"
Hazel Huck– Hazel is a seventeen year-old game lover from Huntsville, Alabama. She enjoys games of skill, games of chance, and especially role-playing games. She doesn't fit in with her well-to-do family. She spends every spare second she can on the Internet in her virtual worlds. An online Warcraft friend sent her the link to Jared Stone's ad.
Ethan Overbee– Ethan is thirty-two and lives in Santa Monica. He is completely lacking in empathy, but shows his appreciation through gifts. He's obsessed with his bicycle and is the youngest man to ever hold the position of deputy executive in charge of programming for the America Television Network (ATN). Ethan came across Jared Stone's ad while searching on eBay for a gift for his assistant.
Sister Benedict Joan– Sister Benedict Joan is the prioress of the Sisters of the Perpetual Adoration. She also teaches the third grade at Annunciation Catholic School. She likes the internet… a lot; and runs a blog called christscadets.blogspot.com, which she uses to spread the word of Christ. She came across Jared Stone's add when one of her blog followers posted a link to it.
Sherman Kingsborough– Sherman is twenty-three years old and very rich. His father died on his eighteenth birthday and his mother subsequently left to return to her home in Korea. Because he is rich and has no family to speak of, his moral compass was left to drift unchecked. Sherman denies himself nothing. He came across Jared Stone's eBay listing on his own.
***Meet Len Vlahos***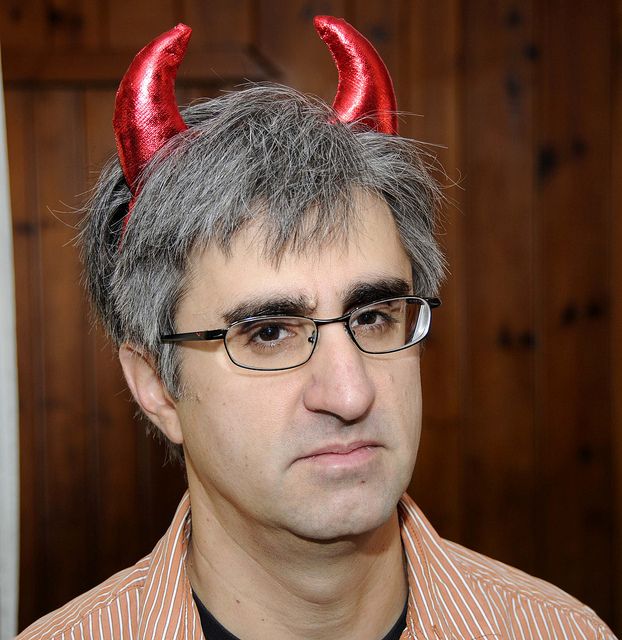 Len Vlahos dropped out of NYU film school in the mid 80s to play guitar and write songs for Woofing Cookies. They were a punk-pop four piece — think R.E.M. meets the Ramones — that toured up and down the East Coast, and had two singles and one full-length LP on Midnight Records.
The band broke up in 1987 and he followed his other passion, books. He's worked in the book industry ever since. And, of course, he writes. And he writes, And he writes, writes, writes.
His first novel, The Scar Boys — it's labeled as Young Adult, but he's never really liked labels — published January 2014. It is, not surprisingly, a rock and roll coming of age story. No vampires or dystopian future, just a messed up boy and his guitar. (He has nothing against vampires or dystopian futures. He loved The Passage, The Hunger Games, and The Road.)
Scar Girl, the continuation of The Scar Boys' story, is due out from Egmont USA in fall 2015.
He lives in Connecticut with his super awesome wife Kristen, and thier six year old son Charlie, and three and a half year old son, Luke, and he spends his days working at a small book industry non profit.
Find Len Here:
Website | Facebook | Twitter | Goodreads
***GIVEAWAY***
Copy Of LIFE IN A FISHBOWL! (US/Canada only)
a Rafflecopter giveaway
Good Luck, Pretties and Happy Swooning!
Make sure you check out the other stops on the Life in a Fishbowl Tour:
Jan 3

—Swoony Boys Podcast

Jan 4

—Ex Libris

Jan 5

—Peace Love Books

Jan 6

—Reading is Better with Cupcakes

Jan 9

—Here's to Happy Endings

Jan 10

—WhoRU Blog

Jan. 11

—Dazzled By Books

Jan. 12

—It Starts at

Midnight

Jan. 13

—The Story Sanctuary
Save
Save
Save
Save
Save
Save
Save
Save
Related Posts