So many books come out each week that it makes it hard to decide what to read. We want to make that a little bit easier on you by sharing our favorite releases from the week and telling you our top 3 reasons why we think you'll love them too!
This week one of our selections is Once and Future by Amy Rose Capetta and Cori McCarthy. Are you ready to hear more about this book and its author? Here we go…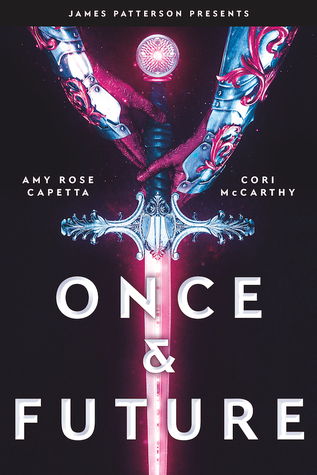 Once and Future by Amy Rose Capetta, Cori McCarthy
Series: Once and Future #1
Published by Little Brown Books for Young Readers on 3/5/2019
Genres: Fantasy, Retellings, Sci-Fi
Pages: 336
Goodreads Buy the Book

I've been chased my whole life. As an illegal immigrant in the territory controlled by the tyrannical Mercer corporation, I've always had to hide who I am. Until I found Excalibur.

Now I'm done hiding.

My name is Ari Helix. I have a magic sword, a cranky wizard, and a revolution to start.

When Ari crash-lands on Old Earth and pulls a magic sword from its ancient resting place, she is revealed to be the newest reincarnation of King Arthur. Then she meets Merlin, who has aged backward over the centuries into a teenager, and together they must break the curse that keeps Arthur coming back. Their quest? Defeat the cruel, oppressive government and bring peace and equality to all humankind.

No pressure.
3 Reasons You Should Read…
Once and Future
by Amy Rose Capetta and Cori McCarthy
A sci-fi retelling of King Arthur? Sign us up. Wait. A sci-fi retelling of King Arthur where King Arthur is a GIRL?! Oh, yeah. We were in the moment we read that summary.
The thing we liked most about this one was without a doubt the characters. It's a fully inclusive group and filled with so much diversity. It's safe to say there's someone for everyone within these pages.
If you're in the market for a YA retelling filled with diverse characters that you will want to tear through quickly but still want more of at the end- Once and Future should be on your list.
Related Posts