So many books come out each week making it hard to decide what to read. We want to make that a little bit easier on you by sharing our favorite release from the week and telling you our top 3 reasons why we think you'll love it too!
We had more than one pick this week–we can't help it! We'd be remiss if we didn't let you know about is Iron to Ironby Ryan Graudin. Are you ready to listen to us go on and on about this AMAZING book and its author? Here we go…
Iron to Iron by Ryan Graudin
Series: Wolf by Wolf #1.5
Published by Little Brown Books for Young Readers on March 8, 2016
Genres: Fantasy, Historical
Pages: 104
Goodreads Buy the Book

Once upon a different time, there was a boy who raced through a kingdom of death.

Sixteen-year-old Luka Löwe has one goal in mind: Win the 1955 Axis Tour and become the first Double Cross victor. If he can accomplish that, maybe his father will finally see him as a worthy son. He's completed the grueling trek from Germania to Tokyo before, but this time is different. Luka never expected to meet Adele Wolfe, another racer posing as her twin brother and with a singular dream--to live life on her own terms.

When Luka and Adele form an alliance, an unlikely bond forms, and even possibly love. But only one person can win the Axis Tour....Can everything Luka and Adele built together survive the race?
3 Reasons You Should Read
Iron to Iron by Ryan Graudin
One of the highlights of BEA for us is the Novl Brunch, where we learn about fun upcoming titles from Little, Brown. That's where we first learned about Wolf by Wolf, the first book in this series, and were instantly intrigued. We're so glad the series is continuing and we can't wait to see what's going to happen to Adele and Luka next!
We totally love girls who kick ass! Adele definitely fits the bill, and we find her inspiring!
This story is a fast read. At just 104 pages, we'll be able to breeze through it. The only downside to that is it gives us more time to pine over Blood for Blood, which doesn't hit shelves in November!
***Meet Ryan Graudin***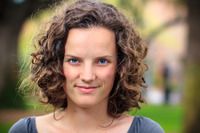 Ryan Graudin was born and raised by the sea in Charleston, South Carolina. She grew up on a steady diet of fairytales, salt-marshes, music and brothers who would reenact Redwall battles with her in the backyard. She went to an artsy sort of high school that allowed cello recitals in the hallways and impromptu poetry slams in the cafeteria. It was there she decided that writing was what she wanted to do more than anything.
So she wrote. She went to the College of Charleston and graduated in 2009 with a degree in Creative Writing. She met the love of my life and got married at 21. They started traveling the world together and never really stopped. They've taught English in South Korea, farmed in New Zealand, hiked through Peru, spied on lions in Kenya. Country number 20 is next on the docket.
She still lives close to the sea, with her husband and her wolf-dog. They try to grow gardens, but haven't had much success. Sometimes she gets bored and colors her hair or pierces her nose. One day she'll be brave enough to commit to a tattoo.
Find Ryan Here: Website | Facebook | Twitter | Goodreads
Related Posts