So many books come out each week that it makes it hard to decide what to read. We want to make that a little bit easier on you by sharing our favorite releases from the week and telling you our top 3 reasons why we think you'll love them too!
This week our selection is Goodbye Days by the amazing (and hilarious!), Jeff Zentner. Are you ready to hear more about this book and its author? Here we go…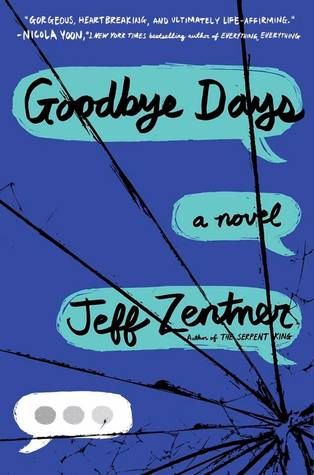 Goodbye Days by Jeff Zentner
Also by this author: The Serpent King
Published by Crown Books for Young Readers, Random House on March 7th, 2017
Genres: Contemporary
Pages: 416
Goodreads Buy the Book

Can a text message destroy your life?

Carver Briggs never thought a simple text would cause a fatal crash, killing his three best friends, Mars, Eli, and Blake. Now Carver can't stop blaming himself for the accident and even worse, there could be a criminal investigation into the deaths.

Then Blake's grandmother asks Carver to remember her grandson with a 'goodbye day' together. Carver has his misgivings, but he starts to help the families of his lost friends grieve with their own memorial days, along with Eli's bereaved girlfriend Jesmyn. But not everyone is willing to forgive. Carver's own despair and guilt threatens to pull him under into panic and anxiety as he faces punishment for his terrible mistake. Can the goodbye days really help?
3 Reasons You Should Read…
Goodbye Days by Jeff Zentner
As soon as we turned the last page of The Serpent King we knew that we would read anything Jeff Zentner wrote with zero hesitation. Goodbye Days solidified just how right we were. It is beautifully written, refreshingly authentic and a complete and total emotional gauntlet. Exactly what we've come to expect and love about Zentner's books.
One of the things that Jeff does best is giving us characters that we fall for, big time. This time we get to read from Carver Briggs' pov. His wasn't always an easy mind to be in, but it was one hell of a story and we found ourselves desperate for more when it was over.
If we haven't convinced you to read this one yet, it's probably only because you haven't read this post. Ha! But in all honestly, if you're looking for a book that will break your heart and put it back to together, line after line that will leave tear stains on the page, and a YA contemporary that you won't want to put down – go grab yourself a copy immediately. You won't regret it for a second.
Rating Report
Cover
Characters
Plot
Writing
Swoon
Overall:
5
***Meet Jeff Zentner***
Jeff Zentner lives in Nashville, Tennessee. He came to writing through music, starting his creative life as a guitarist and eventually becoming a songwriter. He's released five albums and appeared on recordings with Iggy Pop, Nick Cave, Warren Ellis, Thurston Moore, Debbie Harry, Mark Lanegan, and Lydia Lunch, among others.
Now he writes novels for young adults. He became interested in writing for young adults after volunteering at the Tennessee Teen Rock Camp and Southern Girls Rock Camp. As a kid, his parents would take him to the library and drop him off, where he would read until closing time. He worked at various bookstores through high school and college.
He speaks fluent Portuguese, having lived in the Amazon region of Brazil for two years.
Find Jeff Here:
Website | Twitter | Facebook | Goodreads
Related Posts