We're so excited that we get to present Henry Donnet from Cori McCarthy's latest title: Breaking Sky. First, let's check out the 411 on the book:
Breaking Sky
by
Cori McCarthy
Published by
Sourcebooks Fire
on March 10, 2015
Genres:
Contemporary
,
Dystopian
,
Sci-Fi
Pages:
416
Goodreads
Buy the Book
Fly to the last drop of fuel. Fight to the last drop of blood.

Showoff. Reckless. Maverick. Chase Harcourt, call sign "Nyx", isn't one to play it safe. In the year 2048, America is locked in a cold war – and the country's best hope is the elite teen fighter pilots of the United Star Academy. Chase is one of only two daredevil pilots chosen to fly an experimental "Streaker" jet. But few know the pain and loneliness of her past. All anyone cares about is that Chase aces the upcoming Streaker trials, proving the prototype jet can knock the enemy out of the sky.

But as the world tilts toward war, Chase cracks open a military secret. There's a third Streaker, whose young hotshot pilot, Tristan, can match her on the ground and in the clouds. And Chase doesn't play well with others. But to save her country, she may just have to put her life in the hands of the competition.
***About Henry Donnet***
Full Name:
HENRY DONNET
Call Sign:
PIPPIN
Position:
RIO (radar intercept officer)
Height:
5'7"
Hair Color:
Brown
Eye Color:
Brown
Age:
17
Originally from:
Trenton, New Jersey
Plane name and description:
DRAGON
, Streaker Jet Prototype 1
Years in the service:
3
Personality strengths:
Genius, creative, snark master
Personality weaknesses:
Secretive, walled-off
We can't wait to meet him in Breaking Sky!
***EXCERPT***
"I don't suppose you see a gas station." Pippin sat a few feet behind her, but his voice was closer, a direct link from his mask to her helmet's headphones. "Nearing bingo fuel, Nyx."
"Give me two minutes." Chase smelled a challenge. Or she imagined one. Anything to prolong the hop and do something fun.
She pulled back on the stick, pointing the nose of her jet straight at the midday sun.
Brilliance charged the crystal dome.
"Tower to Nyx. Come in, Nyx," Pippin mocked. "My sense of mortality insists I ask if we're coming down anytime soon. As much as I wanted to be an astronaut when I was five, Dragon isn't a star- ship. Where are we going exactly?"
"Somewhere. Anywhere." The sun blinded through her smoky visor, but she kept her eyes ahead. "Up."
***About Cori McCarthy***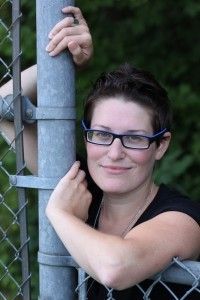 Cori McCarthy studied poetry and screenwriting before falling in love with writing for teens at Vermont College of Fine Arts. From a military family, Cori was born on Guam and lived a little bit of everywhere before she landed in Michigan. Learn more about her books at CoriMcCarthy.com.
Find Cori Here: Website | Facebook | Twitter | Goodreads
***GIVEAWAY***
Win a Copy of Breaking Sky by Cori McCarthy
a Rafflecopter giveaway
Good luck!
Related Posts