So many books come out each week that it makes it hard to decide what to read. We want to make that a little bit easier on you by sharing our favorite releases from the week and telling you our top 3 reasons why we think you'll love them too!
This week our selection is Words on Bathroom Walls by, Julia Walton. Are you ready to hear more about this book and its author? Here we go…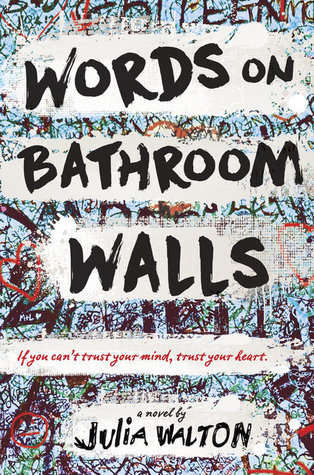 Words on Bathroom Walls by Julia Walton
Published by Random House, Random House Books for Young Readers on July 4th, 2017
Genres: Contemporary
Pages: 304
Goodreads Buy the Book

Fans of More Happy Than Not, The Perks of Being a Wallflower, and It's Kind of a Funny Story will cheer for Adam as he struggles with schizophrenia in this brilliantly honest and unexpectedly funny debut.

Adam has just been diagnosed with schizophrenia. He sees and hears people who aren't there: Rebecca, a beautiful girl who understands him; the Mob Boss, who harasses him; and Jason, the naked guy who's unfailingly polite. It should be easy to separate the real from the not real, but Adam can't.

Still, there's hope. As Adam starts fresh at a new school, he begins a drug trial that helps him ignore his visions. Suddenly everything seems possible, even love. When he meets Maya, a fiercely intelligent girl, he desperately wants to be the great guy that she thinks he is. But then the miracle drug begins to fail, and Adam will do anything to keep Maya from discovering his secret.
3 Reasons You Should Read…
Words on Bathroom Walls by Julia Walton
This week's pick is from a debut author and you know how happy that makes us! Not only is it her first novel, it's one heck of a first novel. This book is brutally honest and beautifully written.
It's all about characters for us and Adam is the kind of character that you are going to fall for quickly. His story might not always be an easy one to read, but it's an important one and we think you're going to enjoy the ride of being inside his head.
Mental health is a topic that isn't touched on enough in YA. This story takes a very realistic approach to mental health and schizophrenia. It's real, it's raw, and it's gripping. You won't want to put this one down until you've read the very last word. We promise.
Rating Report
Cover
Characters
Plot
Writing
Swoon
Overall:
4.5
***Meet Julia Walton***
Julia Walton has spent the majority of her professional life in captivity behind 6 ft cubicle walls. Her enclosure was comfortable and open to visitors during regular business hours. She was given adequate food, a soft nest, and plenty of insurance policies to pass the time. Yet still, she longed for freedom.
Now, she lives in Huntington Beach, CA with her husband and daughter where she can usually be coaxed out of hiding with tea, Crunchies, and Haribo gummy bears.
She received an MFA in Creative Writing from Chapman University.
When she's not talking to herself, reading to her daughter, or watching her favorite movies on an endless loop, she writes contemporary YA fiction.
She has the worst sense of direction on the planet.

Find Julia Here:
| Twitter |
Related Posts