We Are the Ants
by
Shaun David Hutchinson
Published by
Simon Pulse
on January 19, 2016
Genres:
Sci-Fi
Pages:
464
Goodreads
Buy the Book
Henry Denton doesn't know why the aliens chose to abduct him when he was thirteen, and he doesn't know why they continue to steal him from his bed and take him aboard their ship. He doesn't know why the world is going to end or why the aliens have offered him the opportunity to avert the impending disaster by pressing a big red button.

But they have. And they've only given him 144 days to make up his mind.

Since the suicide of his boyfriend, Jesse, Henry has been adrift. He's become estranged from his best friend, started hooking up with his sworn enemy, and his family is oblivious to everything that's going on around them. As far as Henry is concerned, a world without Jesse is a world he isn't sure is worth saving. Until he meets Diego Vega, an artist with a secret past who forces Henry to question his beliefs, his place in the universe, and whether any of it really matters. But before Henry can save the world, he's got to figure out how to save himself, and the aliens haven't given him a button for that.
If the world were going to end, but you could stop it, would you?
Shaun David Hutchinson's novels are not for the faint of heart and his newest release, We Are the Ants is no different. This book is raw and gritty and poignant and at times extremely difficult to read, but it is also filled with emotion and beauty and strength. Once finished, this book will stay with you for a long time.
The 411:
We Are the Ants might seem like sci-fi fantasy, but the realism this book is steeped in will truly hit you in the feels.

What We Loved:
Though hard to read at times, We Are the Ants is wonderfully written. Shaun David Hutchinson is a master storyteller. His imagination is pure brilliance, it's impossible to even fathom where his ideas come from. Sure there are plenty of real life events in play throughout the book—bullying, dealing with depression, facing a loved one slowly slipping into Alzheimer's, suicide, navigating the terrifying minefield that is high school—but add in aliens called sluggers and a button that may or may not save the world from mass destruction, and well you have one hell of a story. Hutchinson's words will pull you in right from the get go and won't let go, even after you reach the end.
Here is an excerpt from the first chapter that sets the tone for the entire book:
Out in the world, crawling in a field at the edge of some bullshit town with a name like Shoshoni or Medicine Bow, is an ant. You weren't aware of it. Didn't know whether it was a soldier, a drone, or the queen. Didn't care if it was scouting for food to drag back to the nest or building new tunnels for wriggly ant larvae. Until now that ant simply didn't exist for you. If I hadn't mentioned it, you would have continued on with your life, pinballing from one tedious task to the next—shoving your tongue into the bacterial minefield of your girlfriend's mouth, doodling variations of your combined names on the cover of your notebook—waiting for electronic bits to zoom through the air and tell you that someone was thinking about you. That for one fleeting moment you were the most significant person in someone else's insignificant life. But whether you knew it or not, that ant is still out there doing ant things while you wait for the next text message to prove that out of the seven billion self-centered people on this planet, you are important. Your entire sense of self-worth is predicated upon your belief that you matter, that you matter to the universe.

But you don't.

Because We Are the Ants.

I didn't waste time thinking about the future until the night the sluggers abducted me and told me the world was going to end.
Powerful stuff, yeah? And that's just in the first chapter!
We also loved Henry Denton. A lot. This is one extremely broken, sad, BRAVE kid. Man the stuff he has to go through and deal with would make anyone wish for aliens to take them away from it all. But, through it all, there is no doubt a thread, a tiny sliver of hope he clings to that maybe things aren't quite as bad as he thinks they are lives inside him as well as the belief that they WILL get better. It's this faith that makes you cheer for him and hope for the best. What else we loved about Henry is that he is unapologetically gay and not afraid of anyone to know it. Not that his sexuality doesn't cause problems for him, because it definitely does, but being gay is just who he is and he accepts it proudly.
You can't mention Henry without mentioning Diego. Diego Vega unexpectedly enters Henry's life and it's not wrong to say from the minute it does, Henry's life changes. Diego has secrets of his own, dark ones, but these two together were the light that Henry desperately needed. What we REALLY loved about Diego is that he doesn't force Henry to change his life, he just gives Henry the tools to do so.
I brushed my hair out of my eyes and tried to look at him, but when I did, I was too tempted to forget the past. It didn't matter that history was our way of keeping score, since the points didn't matter, but I couldn't just ignore it. "Diego, I like you but …"

Diego ran his thumb down the side of my face. His touch was soft, and I wanted him to kiss me so badly. "I spent nearly two years locked up in juvie, dreaming about the outside world. I thought about my choices, about the things I'd done and the things I hadn't. I've never been to Paris or water-skied or fallen in love. When they let me out, I swore not to waste one second of my life. My counselor used to tell me that we remember the past, live in the present, and write the future. Even if the world ends next month or in a million years, we can still write our future, Henry."

"I want that to be true." I leaned my forehead against Diego's, felt his breath on my nose.
All. The. Sighs.
The aliens, or sluggers as Henry has named them, are creepy and weird and are written so vividly that you can almost see their eyestalks and envision their green-brown slimy skin. The whole aspect of Henry's choice to end the world and put us all, himself included, out of our misery is so well done … and the different scenarios Shaun Hutchinson has highlighted are not only frightening in their possibility but so imaginative that they added even more depth to an already evocative book.
Another thing we love, and this might be most important, is Hutchinson's unapologetic and harsh depiction of some pretty dark topics. Bullying occurs every single day in schools throughout the country, and what Henry has to endure is beyond appalling. Suicide is an issue that touches many, as well as depression and mental illness, and the way he has addressed these both realistically and with empathy is a true testament to his writing prowess. Add in a dysfunctional family dynamic and Henry's feelings of inadequacy and confusion and such heartbreaking devastation over his boyfriend Jesse's recent suicide, and Hutchinson has touched on issues facing so many adolescents today, and not just the LGBTQIA ones.

Um...Not So Much:
Well, there are a whole lot of people in this book NOT to love, but they just make Henry's story more profound. There are no throw-away characters in We Are the Ants, every person plays an important role, even the vile ones. We won't tell you which ones they are, but trust us, you'll know them right away.

Bottom Line:
We Are the Ants needs to be on the top of everyone's Must Read list of 2016. This is an important book that deserves and NEEDS to be talked about. In the words of Diego Vega:
Remember the past, live in the present, and write the future.

Verdict:
Rating Report
Cover
Characters
Plot
Writing
Swoon
Overall:
4.5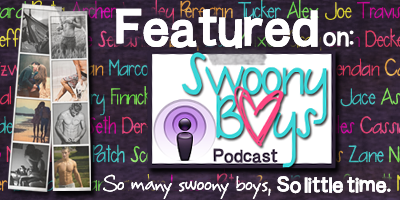 Related Posts